APSU Sports: Men's Football

Clarksville, TN – The veins in his neck bulged. The anger in his voice was evident.
After watching his defense permit a 53-yard run to Wesley Kitts in Monday morning's scrimmage, Austin Peay coach Rick Christophel still was an unhappy man nearly 45 minutes after the scrimmage concluded.
"One of the things that concerns me is we have to be able to stop the run," he said. "There are going to be big plays in the passing game when we don't have a pass rush, but we can't allow them 20-or-more yard runs. That is not good.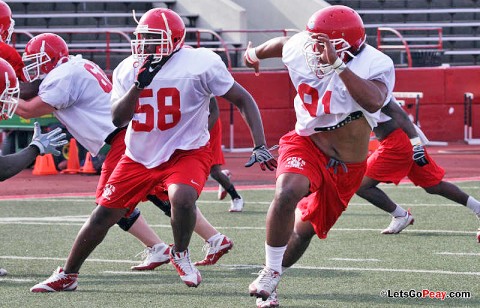 "Don't get me wrong, I like what Wesley did, but at the same time that was our first defense out there-that was not good."
Certainly his thoughts harkened back to last season when the Governors allowed 221.55 rushing yards per game, ranking 111th out of 117 teams. Although stopping the run envelops the entire defense it starts with the defensive line. To borrow an old advertising slogan, "it's up front that counts."
The Governors defensive line was a microcosm of the entire defense in 2010-it was young, especially after senior defensive tackle Steven Johnson was lost with a shoulder injury. In addition, graduating senior tackle Antonio Faulkner was the Govs top defensive lineman a year ago.
APSU's head coach truly believes his defensive front is much improved over 2010, that's why he was frustrated with the long run, Monday.
"I think we have more depth on the defensive line than we have had since I have been here," Christophel said. "Being able to redshirt guys like (juniors) Skyler Springfield and Anthony Marion as freshmen has helped. Anthony came in his first year around 228; he got up to around 248 between his freshman and redshirt freshman year but went home for the summer and dropped down to around 238. He stayed here this summer and now he is up to 275."
Although Christophel wants his linemen to be able to use their strength and bulk to help control the line of scrimmage, he also wants them active.
"We want guys up front that are mobile, we don't want a bunch of slugs," he said. "We don't want guys who can only go three plays and have to come out. I believe a lot in what (former Tennessee Titans defensive line coach) Jim Washburn does and that has been my defensive philosophy for years-we want guys to go hard five, six or seven plays and then tap out and let the next guy play."
Springfield and Marion enter the fall as the starting defensive interior, Springfield playing the nose tackle position he manned during last season's final six games. Springfield, despite some minor injuries, had an impressive spring. Meanwhile, Marion will play the tackle spot.
Backing up the pair is sophomore Reese Bullmash, who improved down the 2010 stretch and had two tackles for loss along the way, and Robbie Bryant, a former prep teammate of Bullmash's at Sprayberry High School in Marietta, GA. Also in the mix is freshman Matt Wise, who was injured during the preseason a year ago. 
In addition, a pair of promising international freshmen, Isaiah Tuisasosopo (6-3, 286) and Leonard Amarh (6-4, 282) could earn playing time early. The former is from Pago, Pago, American Samoa while the latter was born in Ghana, West Africa, although he played his prep football in Nashville. 
On the outside, the Governors are loaded with players who gained much playing time as freshmen. At one end is 6-5, 257-pound Iosua Siliva, who missed the spring with a shoulder injury, while being backed up by 6-5, 272-pound Preston Gilbreath. On the weak side, 6-2, 253-pound Rip Rowan is listed No. 1 on the depth chart with walk-on 6-3, 233-pound Earnest Smith his primary backup.  Redshirt freshman Jeremy Maze also returns.
Like the interior, the Govs appear to have two promising freshmen end prospects in 6-0, 267-pound DeAndre Carroll and 6-2, 250-pound John Houston Jr.   
"Our guys got stronger in the offseason," Christophel said. "Like I said, we have depth and I think all those guys are pretty mobile.
"I am excited about our freshmen. We will see if any of them have to play. In our two new interior guys Leonard Amarh and Isaiah Tuiasosopo, we have what I hope is good quality young depth.
"And John Houston and DeAndre Carroll are both talented freshmen who I think have their best football ahead of them."