Contact the Tennessee Tobacco QuitLine for Free Assistance to Stop Tobacco Use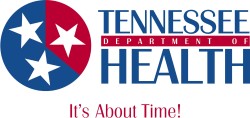 Nashville, TN – Tennesseans continue to choose the path to better health by stopping smoking. New data from the Centers for Disease Control and Prevention show a decline in smoking rates in Tennessee. The Tennessee Department of Health offers free support to all Tennesseans who want to quit smoking through the Tennessee Tobacco QuitLine, 1.800.QUIT.NOW.
"We are encouraged by this data demonstrating that Tennesseans want to lead healthy lives free from tobacco," said Health Commissioner Susan R. Cooper, MSN, RN. "Too many Tennesseans die each year from preventable illnesses linked to tobacco use. We urge those who smoke to make a plan to quit, and to contact the QuitLine for professional support."
CDC data for 2010 show 20.1 percent of Tennesseans smoke regularly or occasionally. That's a significant drop from 2001, when statistics showed 24.4 percent of Tennesseans identified as smokers. CDC now lists Tennessee as having the 11th highest rate of daily smokers in the United States, with a rate of 15.7 percent. West Virginia leads the country, with 23 percent of residents claiming to be daily smokers, followed by Kentucky with 19.3 percent.
Tennesseans who want to quit smoking have the advantage of free assistance through the Tennessee Tobacco QuitLine. The QuitLine provides personalized, confidential counseling to help each client set a plan for quitting use of cigarettes or other tobacco products. It just takes a phone call or a few keystrokes to get started:  contact the QuitLine at 1.800.QUIT.NOW (1.800.784.8669), or visit online at www.tnquitline.com.
QuitLine services are available to Tennesseans in both English and Spanish. The service is also available for the deaf and hard of hearing at TTY:  1.877.559.3816.
Those contacting the QuitLine have complimentary access to relapse prevention techniques, printed resource materials, information on nicotine replacement therapies and other services to aid in the quitting process. QuitLine hours are Monday through Friday, 7:00am until 10:00pm, Saturday 9:00am until 6:00pm and Sunday 10:00am until 4:00pm Central time.