APSU Sports Information: APSU Football

Cape Girardeau, MO – Running back Renard Celestin ran 22 yards for a touchdown, turning an Austin Peay State University turnover into a third-quarter go-ahead score, as Southeast Missouri defeated the Governors, 17-13, Saturday in Ohio Valley Conference action in Houck Stadium.
The loss extended Austin  Peay's losing streak to three games and dropped the Govs to 2-5 overall and 2-3 in the OVC. Meanwhile, Southeast Missouri, meanwhile, improved to 2-5 overall and 2-3 in conference play.
The TD run came one play after what might have been the game's pivotal point. Under heavy pressure, APSU senior quarterback Jake Ryan was hit as he threw down field. The ball spun out of the pressured quarterback's hand and was intercepted by the Redhawks Tim Hamm-Bey, who returned 36 yards to the Governors 22.  After the play, Ryan limped off the field with a knee injury to never to return to the contest.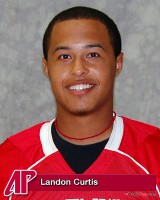 The interception gave the Redhawks the momentum they were seeking and the immediately turned it into a score. The Governors, meanwhile, had to turn to freshman quarterback Landon Curtis, who had not thrown a pass in his abbreviated college career.
Although Curtis acquitted himself well during his first extensive action-6 of 12 passing, 36 yards-he only was able to drive the Govs to an early fourth-quarter field goal. A late fourth-quarter drive, hampered by a holding penalty, ended in a second Hamm-Bey interception.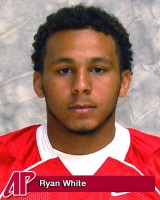 The Govs waste a 29-carry, 148-yard rushing effort from senior running back Ryan White. It was White's 12th career 100-yard rushing effort. It also gave him 3,057 career yards, moving him past both John Ogles and Jay Bailey into second place behind Chris Fletcher (4,688) in rushing yards.
White scored the game's first score, a seven-yard run, on the game's first possession, a 95-yard, 13-play drive. Unfortunately, the Govs could not maintain that offensive momentum.
Austin Peay post-game notes
The Govs first drive went 95 yards on 13 plays, eating up 6:46 on the clock. Senior running back Ryan White had eight carries on the drive. 
At halftime, senior running back Ryan White was just seven yards shy of his 12th career 100-yard rushing game. He had 93 yards on 15 carries. He reached the 100-yard mark on the first carry of the second half. He finished with 148 yards on 29 carries.
White's 29 carries were the most by a Gov since the senior had 32 attempts against Eastern Kentucky, October 24th, 2009.
Austin Peay failed to punt in the first half. It was the first time the Govs have not punted in the first half all season.  Campbell's first punt came with 9:17 left in the third quarter.
When Jake Ryan threw a third-quarter interception, he limped off the field with a leg injury, helping make the tackle on the interception return. As a result, freshman quarterback Landon Curtis was inserted into the game and threw a completion to Preston Rouse on his first college pass attempt.
With Ryan on the bench, Curtis led the Govs to a fourth-quarter field goal.  In fact, Stephen Stansell's 33-yard field goal had back-up kicker Walter Spears as his holder. It was Spears' first action as a Governor.
Junior placekicker Stephen Stansell booted a pair of field goals. Combined with his extra point, he had seven points on the day, giving him 142 for his career, leaving him seventh all-time in that category.
Weak safety Amius Smith led the Govs with 11 tackles. It was his second straight double-digit tackle performance.
Starting offensive tackle J.P. Washington and kick returner/running back Tee Howell did not make the trip as a result of "violation of team policy." Ben Stansfield, who started a pair of games a year ago as a freshmen, replaced Washington, while Tyler Clendenen handled the punt return duties.
After each team committed six turnovers a week ago, Austin Peay (two) and Southeast Missouri (one) combined for just three on Saturday.
It was the second of three homecomings for the Governors. Austin Peay will hold its own homecoming next weekend. Homecoming attendance at SEMO was 6,800.