November 19th, 2011 • 1:30pm CST
Cookeville, TN • Tucker Stadium / Overall Field (16,500)

Cookeville, TN – In its season finale, Austin Peay's football team still has something to play for – the coveted Sgt. York Trophy.
The Govs remain in contention for the in-state trophy, needing a win against Tennessee Tech, 1:00pm, Saturday, in order to bring the trophy to Clarksville for the first time.
The Golden Eagles, meanwhile, are in a similar situation. Heading into the final regular-season weekend,  Tennessee Tech is on the verge of their first Ohio Valley Conference football championship since 1975.
Austin Peay is coming off a 56-24 loss at Murray State which saw the Govs unable to recover from a pair of first-half fumbles that allowed the Racers to build a 26-0 lead. Govs receiver Devin Stark turned in a pair of touchdowns on passes from junior quarterback Jake Ryan and freshman signal caller Landon Curtis.
Ryan, who did not start for the second-straight game, threw for two touchdowns on 10-of-18 passing, but left the game after taking a hit in the third quarter. Curtis, meanwhile, completed 11-of-16 for 69 yards and a touchdown.
Senior running back Ryan White continues to be the Govs bread-and-butter, rushing for 92 yards on 20 carries at Murray State. White continues to climb the Govs all-time record books – needing 146 all-purpose yards to finish third all-time in the category. Stark has reached a single-season mark with seven touchdown receptions (t-6th), with the second-best mark of nine TD catches still in reach.
Tennessee Tech defeated then-No. 25 Eastern Kentucky, last week, putting itself in position to play for the OVC regular-season championship. Not only was it the Golden Eagles first win against EKU under head coach Watson Brown, it also was just the second home loss for the Colonels under head coach Dean Hood.
Junior quarterback Tre Lamb has been tough to solve during Tennessee Tech's climb atop the OVC. Lamb threw for 126 yards and two TDs, while also rushing for 70 yards and a touchdown at Eastern Kentucky. Lamb has one of the league's premier receivers in Tim Benford, who happens to be TTU's all-time leader in career receptions and receiving yards.
Running back Dontey Gay, meanwhile, is the school's eighth all-time leading rusher, standing less the 100 yards from becoming sixth all time.
This Saturday will conclude Austin Peay's 75th season of college football, which includes nine non-scholarship seasons (1997-2005). They enter the contest with a 274-473-16 record.
This is Austin Peay's 39th Ohio Valley Conference season. The Govs are 95-175-2 alltime in OVC play.
Austin Peay has enjoyed only 18 winning seasons in 75 years of football and only two winning seasons since the turn of the century–a 7-5 mark in 2002 as a non-scholarship program and a 7-4 record in 2007 in Rick Christophel's first season.
Not only will this be the season finale, but it also will represent the final Sgt. York Trophy Game of the year for both teams. APSU enters the contest with a 1-1 in Trophy games, having defeated Tennessee State, 37-34, but losing to UT Martin, 61-23. Tennessee Tech also is 1-1, defeating UT Martin, 34-31 and losing to Tennessee State 42-40.
Saturday's game with Tennessee Tech will mark be the last for seven Govs' seniors: safety Amius Smith, running back Ryan White, wide receiver Scott Thomas, offensive tackle James Barker, offensive tackle J.P. Washington, center Tim Schmid and long snapper Nick Newsome. After owning a school-record 26 seniors in 2009, the Govs had half that many (13) in 2010.
With its 40-0 victory against Central State, the Govs recorded their first shutout since November 1st, 2003, when they defeated St. Joseph's, 17-0. However, it was APSU's first shutout as a scholarship program since 1986 when the Govs defeated Middle Tennessee, 7-0.
When Austin Peay defeated Tennessee State, 37-34, October 1st, it allowed the Govs to open 2-0 in the OVC for the first time since 1977.
When APSU rallied from being down 27-6 to beat Tennessee State, October 1st, that 21-point deficit was the largest overcome by the Governors in school history. The previous largest deficit was 17 points, October 28th, 1978, when the Governors rallied from a 17-0 deficit to defeat Middle Tennessee, 28-17.
Golden Eagles to Watch
Junior QB Tre Lamb is nearing the 2000-yard passing mark, having thrown for 1,939 yards…his 215.4 ypg is fourth-best in OVC. Senior Tim Benford is Lamb's favorite receiver, leading OVC with 6.1 catches per game for an average of 87 yards a contest … also has team-best five TD catches… junior WR Zack Ziegler has 30 catches and 3 TDs… four other Golden Eagles have at least 10 catches…senior RB Dontey Gay leads OVC with 14 TDs on 817 yards rushing…junior LB Howard Griffin and senior DB Richmond Tooley each have 64 tackles.
Setting the Scene
The Series: APSU trails the series, 17-27
Last Meeting: October 9th, 2010: Tennessee Tech 34, Austin Peay 21
The Govs rejoined the Ohio Valley Conference for football in 2007 after returning to scholarship football in 2006. The Govs finished eighth in the OVC a year ago with a 1-7 league mark and were 2-9 overall. The Govs were picked to finish ninth in the
2011 OVC Preseason Poll. Meanwhile, Tennessee Tech was picked to finish fifth in the OVC preseason poll. They enter the final weekend with a 5-2 OVC record and in a three-way tie for the league lead.
Offensive Notes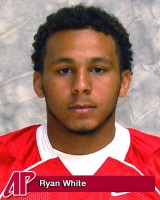 Austin Peay enters the game with a streak of scoring in 72 straight games. The Govs' last shutout loss was at Drake, 54-0, September 24th, 2005.
Senior running back Ryan White rushed 20 times for 146 yards against Central State. It was the 14th time in White's career he rushed for more than 100 yards. It also was the third straight game he has accomplished that feat and fourth this season.
The Govs offensive line did not allow a sack at Murray State. On the season, the line rank t-16th nationally, allowing only 1.10 sacks per game.
Senior running back Ryan White enters the game needing 40 yards rushing to eclipse the 1,000-yard mark for the second time in his career. After running for 92 yards at Murray State, White has 960 on the year. It also will be only the ninth 1,000-yard rushing achievement in APSU history.
After totalling 407 rushing yards against Central State, the Govs had only 125 yards on the ground at Murray State. Running back Ryan White accounted for 92 on 20 carries.
The 57 rushing attempts against Central State was the most single-game Governors rushing attempts since October 24th, 2009 when they had 54 times carries against Eastern Kentucky.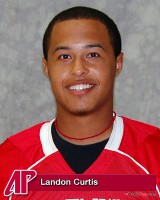 The Govs' 407 rushing yards – which saw four players rush for more than 50 yards; Ryan White-146, Wesley Kitts-85, Ean Pemberton-82 and Tee Howell-52 – against Central State was the first time APSU rushed for more than 400 yards in a game since November 23rd, 1996, when they had 554 yards against UT-Martin.
Freshman quarterback Landon Curtis made his first career start against Eastern Illinois. He completed 14 of 30 passes for 111 yards. For the season, he has completed 34 of 66 passes for 281 yards. He threw his first TD pass, a 10-yarder to Devin Stark, in the third quarter against Murray State.
Over the last three games, junior running back Wesley Kitts rushed for 175 yards on 24 carries, averaging 7.7 yards per carry.
In his final home game, senior wide receiver Scott Thomas opened the game at quarterback–his prep position–and closed the contest at the same position. In fact, he ran for an APSU fourth-quarter score. The previous week junior wide receiver Devin Stark lined up at quarterback in the "Wildcat" formation against Eastern Illinois. Stark was an all-region quarterback
in Memphis.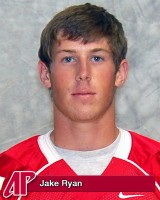 Junior quarterback Jake Ryan returned to action against Murray State, completing 10-of-18 passes for 101 yards and two TDs. Ryan missed two games after suffering a sprained medial collateral ligament in his left knee against Southeast Missouri.
With his 148-yard rushing performance against Southeast Missouri, Ryan White moved past John Ogles and Jay Bailey into second place in career rushing (he now has 3,410). His predecessor, Chris Fletcher (4,688) is the all-time leader.
The Govs final scoring drive against Central State went 98 yards. It was the second time this season the Govs had a 95-yard or better drive. Against, SEMO, October 22nd, APSU went 95 yards on 13 plays to open the ball game.
Junior wide receiver Devin Stark caught two TD passes at Murray State to give him seven on the season which represents the most since Govs' receiver Lanis Frederick had seven in 2006.
Junior wide receiver Devin Stark has 49 receptions on the season, the most by a Gov since Lanis Frederick grabbed a career-best 77 in the 2006 season.
When Jake Ryan threw for 314 yards against Tennessee State it was the first time a Govs quarterback threw for more than 300 yards in a game since Mark Cunningham's 308-yard performance, October 28th, 2006, at Charleston, W.Va., meaning Ryan's passing effort was the best by a Govs quarterback since returning to scholarship football.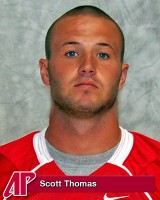 Senior running back Ryan White now is fourth all-time in career all-purpose yardage with 3,825 yards. Along the way, he passed the only two football Govs to have their respective jerseys retired, Harold "Red" Roberts (3,061) and John Ogles (2,960).
Junior quarterback Jake Ryan moved past his coach, Rick Christophel, in two career passing categories against Memphis, pass completions (Christophel had 175) and passing yards (Christophel had 2,073). Christophel played quarterback for APSU from 1971-74.
Junior wide receiver Devin Stark set a personal best with a nine-catch, 109-yard effort against Memphis. It was his first career 100-yard receiving effort.
Defensive Notes
After allowing only 36 points in the previous three games, APSU's defense allowed Murray State to score 56, Saturday. It was the third-highest total allowed by the Govs this season.
When Central State rushed for only 86 yards against the Governors, Saturday, it was the first time since October 24th, 2009 against Eastern Kentucky (83 yards) that Austin Peay has held an opponent to fewer than 100 yards rushing.
Although the Govs rank eighth in the OVC in sacks, they picked up a pair against Central State. In fact, both came from sophomore defensive end Iosua Siliva, his second and third career sacks. Sophomore nose tackle Reese Bulmash had the Govs only sack against Murray State.
A pair of youngsters, freshman safety Steven Rich (seven tackles) and walk-on sophomore linebacker Jared Sexton (six tackles) led APSU in tackles against Central State.
After intercepting just three passes over the first seven games, Austin Peay has intercepted four passes in the last three games, giving them seven on the season.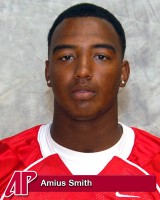 In giving up 56 points at Murray State, the Govs defense dropped to last in the OVC, allowing 35.4 points per game.
Freshman defensive back Jonathan Shuler led the Govs with 10 tackles at Murray State. It was the first career double-digit tackle effort for Shuler.
Senior weak safety Amius Smith tallied two straight double-digit tackle efforts against Jacksonville State (10) and Southeast Missouri (11).
Junior free safety Antwaun Majors still leads the Govs in tackles with 74, followed by Amius Smith (70). Majors has had a team-best three double-digit tackle efforts this season.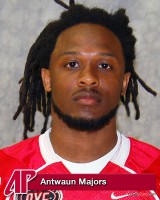 Sophomore defensive end Rip Rowan blocked an extra point and returned it for the defensive two-point conversion against UT Martin. He also had a tackle for loss and two quarterback hurries against the Skyhawks.
When sophomore cornerback Steven Ragin intercepted a pass in the first quarter against Eastern Kentucky, it was the Govs' first interception this season. Junior safety Antwaun Majors later recorded the Govs' second interception.
APSU's top three tacklers versus Eastern Kentucky, safety Antwaun Majors, linebacker Josh Carroll and end Earnest Smith, are former walk-ons who are now on scholarship.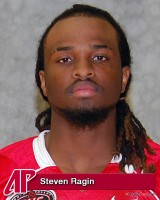 With five tackles against Memphis, senior weak safety Amius Smith surpassed the career 200-tackle mark. He now has 257.
Senior safety Amius Smith was named to the Phil Steele Preseason All-OVC team as a linebacker.
Sophomore tackle Reese Bulmash has taken over as the starting nose tackle in 2011 after serving as a reserve a year ago. The Marietta, GA, native's back up is redshirt freshman Robbie Bryant, who played offensive line a year ago. Bulmash and Bryant were prep teammates at Sprayberry High School two years ago.
Special Teams Notes
Freshman punter Ben Campbell is averaging 38 yards per punt through seven OVC games, with nine punts downed inside the 20, nine fair catches and three punts over 50 yards. In battling strong winds at Murray State, Campbell recorded a 32.7 yard average on seven punts.
Tee Howell's 65-yard punt return touchdown against Central State was the first punt return for a score since November 14th, 2009, when Terrence Holt returned a punt 71 yards against Tennessee State. It aslo stands as the season's longest punt return.
Junior placekicker Stephen Stansell made his only field goal attempt –a 40-yarder– against Murray State. He has booted six field goals over the past four games. In fact, his only misses during the recent stretch have been from 60, 52 yards and 51 yards.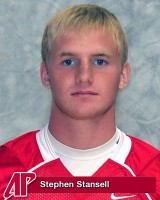 Ben Campbell averaged 48.8 yards per punt against Central State, making it the first time a Gov punter has averaged better than 45 yards per punt in a game since October 10th, 2010 when Ryan Key averaged 47 yards per punt against Tennessee Tech.
Stephen Stansell broke his streak of misses at three with a 46-yard field goal in the first quarter against Tennessee State. He proceeded to hit three straight, including the game winner from 35 yards out with 10.1 seconds left. As a result of his three field-goal effort against Tennessee State, Stansell was named OVC Specialist of the Week.
Rip Rowan blocked an extra point and returned it nearly 90 yards for the two-point defensive conversion during the third period against UT Martin, October 8th. It was APSU's first defensive extra point conversion since Tyrone Wilson returned a blocked kick against Western Kentucky, September 21st, 1996.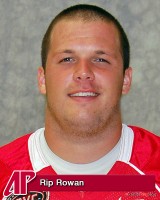 For a second straight season junior placekicker Stephen Stansell is on the Fred Mitchell Outstanding Placekicker nominee list and College Football Performance Awards Watch List.
When a botched snap prevented Stephen Stansell from attempting an extra point after the Governors only TD at Memphis, September 17th, it meant the APSU kicker failed to score in a game for only the second time in his career.
Stansell booted three field goals of 50 yards or more in 2010, setting an APSU record for most 50-yard field goals in a season.
Stephen Stansell had a new holder in 2011 as quarterback Jake Ryan took over for the graduated T.C. Jennings. With Ryan out, backup placekicker Walter Spears is handling the chore. Meanwhile, Nick Newsome is in his fourth season as the Govs starting long snapper.