Written by Kim Newton
NASA Marshall Space Flight Center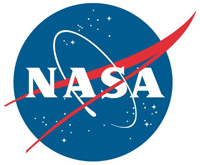 Huntsville, AL – NASA successfully completed the final flight in a series of tests of a new robotic lander prototype at the Redstone Test Center's propulsion test facility on the U.S. Army Redstone Arsenal in Huntsville, AL.
Data from this test series will aid in the design and development of a new generation of small, smart, versatile robotic landers capable of performing science and exploration research on the surface of the moon or other airless bodies in the solar system, such as asteroids or the planet Mercury.
Since early October, the Robotic Lander Development Project at NASA's Marshall Space Flight Center in Huntsville has subjected the lander prototype to a series of more complex outdoor flight tests maneuvers.
The team steadily increased the lander's flight profile, starting by hovering the lander – dubbed Mighty Eagle — at 3 feet, then 30 feet and finally a record 100-foot flight test.
During the 100-foot flight test, the lander autonomously flew for 30 seconds. The Mighty Eagle ascended to 100 feet, hovered and then demonstrated the equivalent of an autonomous landing on the lunar surface. The final maneuver simulated the required descent approach by horizontally translating 30 feet while descending and landing on target. The test demonstrated the lander's ability to maneuver to avoid hazards before performing a safe, controlled landing.
"The successful completion of the Mighty Eagle lander prototype provides a high level of confidence in our flight system design which significantly reduces cost and schedule," said Julie Bassler, Robotic Lander Development project manager at NASA's Marshall Space Flight Center in Huntsville. "Our combined NASA and contractor team went from the drawing board to successfully flight testing an autonomous, closed-loop, lander prototype system in less than two years," she said. "Mighty Eagle has performed well, demonstrating precision ascents, descents and horizontal translation flights to prove the lander can control itself and land safely."
"Our small team has worked tirelessly to develop a robust lander system," said Dr. Greg Chavers, lead systems engineer for the Robotic Lander Development Project at Marshall. "The prototype lander has the capability to launch, descend and land safely on its own — without a man in the loop — demonstrating the lander's autonomous and reusable test capability. Our team has matured the lander's guidance, navigation and control algorithms, which provided stable control of the lander, even through light wind and rain."
Mighty Eagle is a three-legged prototype that resembles an actual flight lander design. It is 4 feet tall and 8 feet in diameter and weighs 700 pounds when fueled with 90 percent hydrogen peroxide.
The lander receives its commands from an onboard computer that activates its 16 onboard thrusters — 15 pulsed and one gravity cancelling thruster — to carry it to a controlled landing using a pre-programmed flight profile. The prototype serves as a platform to develop and test algorithms, sensors, avionics, software, landing legs, and integrated system elements to support autonomous landings on airless planetary bodies, where aero-braking and parachutes are not options.
The next test phase of the test series is set to resume in early Spring when weather is more favorable for outdoor flight test. This new test series will test enhanced navigation capabilities.
Development and integration of the lander prototype is a cooperative endeavor led by the Robotic Lunar Lander Development Project at the Marshall Center; Johns Hopkins Applied Physics Laboratory; and the Von Braun Center for Science and Innovation, which includes the Science Applications International Corporation, Dynetics Corp., Teledyne Brown Engineering Inc., and Millennium Engineering and Integration Company, all of Huntsville.
The project is partnered with the U.S. Army's Test and Evaluation Command's test center located at Redstone Arsenal. The Redstone Test Center is one of six centers under the U.S. Army Test and Evaluation Command and has been a leading test facility for defense systems since the 1950s. Utilizing an historic test site at the arsenal, the project is leveraging the Redstone Test Center's advanced capability for propulsion testing.
For more information about NASA visit: www.nasa.gov