Austin Peay Governors vs. Middle Tennessee Blue Raiders
November 26th, 2011 | Dave Aaron Arena | Clarksville, TN

Clarksville, TN – Austin Peay is literally back to where it started. And the Governors hope to find a better answer the second time around.,
For the second time in a little more than two weeks, the Govs will face old rival Middle Tennessee. On November 11th, the Govs opened the 2011-12 season with a 80-71 loss in Murfreesboro.
Saturday's 7:00pm contest will serve as an opener of a second sort for APSU-the home opener.
Since that first game the two teams have been heading in different directions. Middle Tennessee is off to its best start since 1987-88 with a 5-1 record that includes wins on the road over UCLA and Loyola Marymount. LaRon Dendy, the 6-10 Iowa State transfer who hurt the Govs inside in the opener, is leading the way with a 15.5 ppg and is shooting better than 60 percent from the floor. Marcos Knight is at 13.8 ppg while JT Sulton also is averaging in double figures at 12.7 ppg.
APSU, meanwhile, still is seeking its first victory, entering the contest with a 0-6 record after dropping a 94-93 overtime decision to Detroit in the final game of the College Basketball Experience Classic in Bowling Green, Ohio. It marked the second straight near-miss for the Govs, who lost the previous night to George Washington, 54-52.
Although the Govs are winless, the good news is they appeared to have found their offensive footing against Detroit. For only the second time all season long the Govs shot better than 40 percent from the floor, connecting on 36 of 73 shots (49.3 percent).
The Governors also overcame a 17-point second-half deficit to force overtime. Forward Melvin Baker compiled his career's best performance against Detroit, scoring a career-high 21 points to go with 10 rebounds in recording his career's third career double-double.
Guard TyShwan Edmondson led all scorers with 22 points, including the game-tying three pointer that forced overtime.
Meanwhile, forward Josh Terry, who was named to the all-tournament team, scored all 14 of his points in the final half while collecting five steals and four assists. All in all the Governors placed five players in double figures.
About the Middle Tennessee Blue Raiders
The Blue Raiders currently top the Sun Belt in four statistical categories. MT's field goal percentage (.528), 3-point field goal percentage (.438), scoring margin (+15.8) and assists per game (16.7) currently rank first in the league.
MT also ranks as one of the best shooting teams on the national level. According to ESPN.com's statistical rankings, the Blue Raiders 52.8 shooting percentage ranks seventh in the nation.
Governors Pardon
This is Austin Peay's 80th season of basketball.
Dave Loos, APSU's all-time winningest basketball coach, also is the OVC's all-time wins leader with 351 victories. He also has 433 career coaching wins.
The Dave Aaron Arena playing floor was named Dave Loos Court, Summer 2007. Loos is believed to be one of only three current Division I men's coaches who are coaching on courts that bear their respective names-Duke's Mike Krzyzewski and Syracuse's Jim Boeheim-are the other two. Valparaiso's Homer Drew, who retired after the 2010-11 season, had the floor named after him last season.
Since 1993-94, Austin Peay has finished no worse than fifth in the OVC standings.
Austin Peay has reached at least the OVC tournament semifinals in 13 of the last 17 years.
What You Should Know
The Series: This is the 138th meeting between Austin Peay and Middle Tennessee, the two former VSAC and OVC rivals, with the Blue Raiders holding a 73-64 advantage. Prior to the Blue Raiders' 80-71 win in Murfreesboro back on November 11th, the two teams had not played since the 2007-08 season.
Deeper Meanings
What A Win Would Mean: The Govs would gain their first 2011-12 victory. They would improve to 1-6. It would be Austin Peay's 65th victory in the series. It would improve the Govs to 5-3 against the Blue Raiders since they joined the Sun Belt. It would be the Govs'101st victory against current members of the Sun Belt. It would be Loos' 434th career coaching victory and his 352nd APSU win. It would improve Dave Loos to 16-13 all-time against MTSU.
What A Loss Would Mean: The Govs would fall to 0-7 on the season, their worst start since the 1993-94 team opened at 0-7. The Govs would fall to 64-74 all-time in the series with the Blue Raiders. It would be their 125th loss all time against current
Sun Belt members. It would be head coach Dave Loos' 350th career loss and 297th Austin Peay defeat. It would drop Dave Loos to 4-4 all-time against current MTSU coach Kermit Davis.
All-College Basketball Experence
Forward Josh Terry was named to the College Basketball Experience All-Tourney team after standout fourgame effort. Terry averaged 14.0 ppg while shooting an impressive 66.7 percent from the floor. He also averaged 4.0 rebounds and 2.3 steals per game.
Terry scored double figures in each game during the tourney and was credited with a career-best four assists and five steals against Detroit. In addition, Terry guarded the opposition's best perimeter players, playing a large part in subpar games by George Washington guard Tony Taylor and Detroit guard Ray McCallum, a John Wooden award nominee.
Five Alive
The Governors, who have had trouble offensively in the early going, placed all five starters in double figures against Detroit. TyShwan Edmondson led the Governors with 22 points while Melvin Baker scored a career-best 21, followed by Josh Terry 14 (all in the second half), Will Triggs 14 and Jerome Clyburn 10.
Steal Away
A year ago, the Governors recorded 10 games with 10 or more steals. Against Detroit, the Govs tallied their season's first double-digit steal game with 13, with Josh Terry (five) and TyShwan Edmondson (four) accounting for nine of them.
Assisted Living
In Austin Peay's loss to Detroit, the Governors were credited with 20 assists on their 36 baskets, with Jerome Clyburn, Josh Terry and TyShwan Edmondson each handing out a team-best four. A year ago, the Governors tallied 20 or more assists on three occasions.
Shooting Pain
When the Govs shot 49.3 percent (36 of 73) from the floor against Detroit, Wednesday it was only the second time all season the Govs shot better than 40 percent from the floor.
The Govs shot a season-best 50.8 percent from the floor against host Bowling Green, Monday, only to follow that up with a season-low 34.5 percent against George Washington, making just 20 of 58 attempts. The Govs have shot below 40 percent in four of six games this season.
Lineup In Flux
With John Fraley out with injury, the Governors used three different starting lineups in the next three games. Against Bowling Green, forward Melvin Baker returned to the starting lineup for the first time since the opener and teamed with Will Triggs and Josh Terry up front with TyShwan Edmondson and Jerome Clyburn that contest and the two succeeding ones in the CBE Classic. The Govs utilized seven different lineups a year ago.
Baked Goods
Forward Melvin Baker enjoyed arguably his best performance as a Governor against Detroit. He not only scored a career-best 21 points, but he also tallied 10 rebounds, giving him his third career double-double.
Baker also tied a career-best with three blocked shots.
No Joshin' Around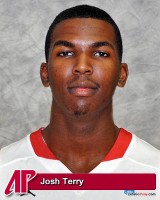 For a sixth straight game, senior forward Josh Terry scored double figures against Detroit with 14 points, all in the second half as he finished 6 of 9 shooting.
He also had five steals and four assists the season, Terry is shooting 61.4 percent from the floor for the season while the rest of the Govs are shooting a combined 37.1 percent.
Three-Point Woes
Since opening by making six three pointers versus MTSU, the Govs have made 18 three pointers in the last five games, including a 4-of-13 effort (30.8 percent) against Detroit.
Free-Throw Noes
To win on the road, one of the prerequisites is efficient free throw shooting. Unfortunately, that has been lacking for the Govs. Austin Peay converted 7-of-8 free throws at California. In the remaining five games, the Govs have converted just 69 of 120 attempts, 57.5 percent of their attempts.
APSU shot just 17 of 28 (60.7 percent) against Detroit. In fact, other than the 87.5 percent effort against Cal, APSU has not shot 70 percent from the line in any other game this season.
Assisted Dialing
When Jerome Clyburn dished out four assists against Detroit, it was the fifth time this season he has been credited with four or more assists this season.
Trigg-er Point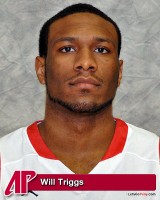 Sophomore forward Will Triggs, although struggling from the field on 5-of-14 shooting, scored 11 points against Oral Roberts. That snapped a streak of seven straight games–dating back to last season–of single-digit performances. Then he followed up that game with another 10-point outing against Bowling Green.
He also had 10 rebounds for his first double-double of 2011-12 and second of his career along with a career-best four assists. Triggs wrapped up the CBE with 14 points, seven rebounds and three assists versus Detroit.
Campbell Recipe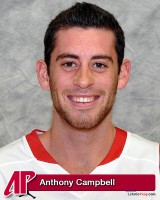 When Anthony Campbell scored 10 points against Bowling Green, Monday night, it was his first double-figure scoring game since December 4th, 2010–in nearly 11 months.
Campbell tore his ACL in early December last year and underwent late-December surgery.
Clyburn Energy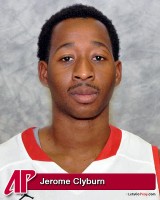 Junior point guard Jerome Clyburn scored double figures for the first time since the opener when he had 17 points against Bowling Green.
He connected on 6-of-9 shots while adding four assists.
Half-Baked
After being held out of the first half at Cal for disciplinary reasons, senior forward Melvin Baker responded with a superb second half. He scored 12 points on 5-of-9 shooting while finishing as the team's rebound leader with five.
Herdie Gerdie
Freshman guard Herdie Lawrence, who played just the final minute in the season opener against Middle Tennessee, more than displayed his offensive wares at California.
He came off the bench to score 10 points, including the Govs only two three pointers.
Next Game
Governors to see plenty of familiar faces at Lipscomb Monday, November 28th. Lipscomb's roster has several familiar faces on its 2011-12 roster. In fact, the Bisons have four Clarksville products, including freshman starting point guard Zavion Williams and forward Damarius Smith, brother of Govs' football player Amius Smith. Clarksville Academy twin brothers Malcolm and Martin Smith, also are seeing action for the Bisons.
Williams is having little trouble in his transition to Division I, averaging 16.2 ppg while averaging steals and 3.7 assists per game. The young Bisons are off to a 3-3 start, including the Mayan Division of the Cancun Challenge.
The game starts at 6:30pm.