Austin Peay Governors vs. Jacksonville State
Saturday, January 14th, 2012 | Tipoff: 7:30pm (CT)
Clarksville, TN | Arena: Winfield Dunn Center (7,257)

Clarksville, TN – Austin Peay will play host to Jacksonville State, 7:30pm, Saturday, in an Ohio Valley Conference contest. It is the only time this season that these two teams will play each other in the regular season.
Shooting has been an issue for the Govs this season, at least before the Govs' 80-65 victory, Thursday night against Eastern Kentucky. For the season, APSU is shooting 43.3 percent, but that was bolstered by a 29 of 48 (60.4 percent) night against Eastern Kentucky.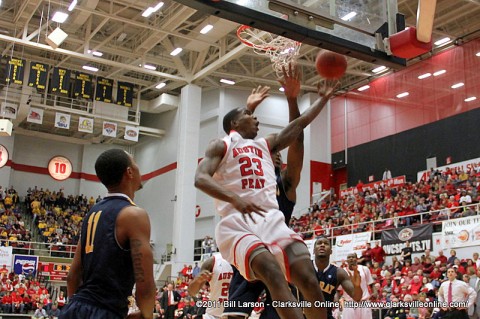 The inside duo of John Fraley (10 of 12) and Melvin Baker (6 of 9) combined for a 16 of 21 (76.1 percent) night. Fraley's 25-point effort matched his career high as he achieved his season's second double-double (he had 12 rebounds).
TyShwan Edmondson, the Govs' leading scorer on the season, tallied only six points but offset his scoring with six assists, matching his career best.
Freshman Herdie Lawrence came off the bench to spark the Govs on defense, helping limit EKU leading scorer Jaron Jones to just one field goal over the final 8:06. He also tallied 8 points in his best outing since early in the season.
As a result, Austin Peay was able to snap a four-game losing streak and garner its season's first OVC win.
About Jacksonville State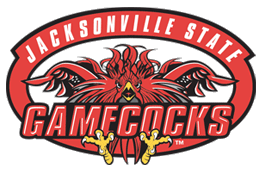 With 7:06 left in its game at Murray State, Thursday night, Jacksonville State found itself down by just four points, 50-46. Although the Gamecocks would eventually lose, 66-55, the message was clear. The Gamecocks are intent on turning the corner to Ohio Valley Conference respectability.
That loss came on the heels of JSU claiming a home victory against Tennessee State. Sophomore guard Brian Williams had 17 points in the Gamecocks victory against TSU and 18 more in the loss at Murray State as he has become the focal point of the Jacksonville State offense.
But it has been defense that has become the JSU hallmark. They are allowing 64.6 points per game while permitting only 41.7 percent shooting.
Governors Pardon
This is Austin Peay's 80th season of basketball.
Dave Loos, APSU's all-time winningest basketball coach, also is the OVC's all-time wins leader with 355 victories. He also has 437 career coaching wins.
The Dave Aaron Arena playing floor was named Dave Loos Court, Summer 2007. Loos is believed to be one of only three current Division I men's coaches who are coaching on courts that bear their respective names–Duke's Mike Krzyzewski and Syracuse's Jim Boeheim–are the other two. Valparaiso's Homer Drew, who retired after the 2010-11 season, had the floor named after him last season.
Since 1993-94, Austin Peay has finished no worse than fifth in the OVC standings.
Austin Peay has reached at least the OVC tournament semifinals in 13 of the last 17 years.
Austin Peay has made 27 straight appearances in the OVC tournament.
What You Should Know
The Series: This is the 17th meeting between Austin Peay and Jacksonville State University, two Ohio Valley Conference foes, with APSU holding a commanding 16-1 lead. The Governors have won the last 10 meetings in the series, including both a year ago–an 80-66 decision in Clarksville, January 22nd, 2011, and a 73-70 verdict in Jacksonville, February 15th, 2011.
Deeper Meanings
What A Win Would Mean: The Govs would gain their fifth 2011-12 victory…it would be the Govs' second straight victory…they would improve to 5-13….it would make the Govs 2-1 in January…it would make the Govs 2-1 in the 2012 portion of the schedule…it would be APSU's second OVC home win and fourth overall home victory this season… it would allow the Govs to improve their OVC mark to 2-3..it would improve APSU to 17-1 all-time against Jacksonville State…it would improve Dave Loos to 17-1 against Jacksonville State and 7-0 against current JSU coach James Green…it would be Loos' 438th career coaching victory and his 356th APSU win.
What A Loss Would Mean: The Govs would fall to 4-14 on the season…APSU would slip to 1-4 in the OVC…the Govs would fall to 3-4 at home this season…it would drop APSU to 16-2 all-time in the series…it would be JSU's first win in the Dunn Center in nine tries…it would be head coach Dave Loos' first loss to current Jacksonville State coach James Green…it would be head coach Dave Loos' 357th career loss and 304th Austin Peay defeat.
OVC Streak Ends
When Austin Peay defeated Eastern Kentucky, Thursday night, it gave APSU a 1-3 league start, ending their worst conference start since the 1992-93 team began 0-9.
Warming Up
On a cold, icy night outside, Thursday, the Governors warmed up with their best offensive night of the season against Eastern Kentucky. The Governors scored their most points during regulation (80) and shot a season best 60.4 percent (29 of 48) from the floor.
Board-Um
When Austin Peay out-rebounded Eastern Kentucky, 33-27, Thursday night, it marked the fifth time in the last six games they out-rebounded their opponents. In fact, the Govs are out-rebounding the opponent in OVC play by a 4.7 margin.
Threex -Treme
The Governors remain unranked nationally in three-point percentage as a result of needing an average of 5.0 makes per game. The Govs are averaging just 4.0 makes per game. On Thursday against Eastern Kentucky, the Governors attempted just seven three pointers–a season low–while making just two.
Big Bad John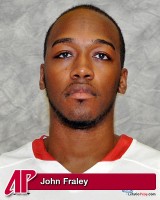 Senior center John Fraley matched his career high with 25 points against Eastern Kentucky–he also scored 25 against Jacksonville State a year ago. His 10 field goals made in the game also matched his career best set in that JSU road game a year ago. In addition, he grabbed 12 rebounds against the Colonels, his second double-double this season.
In two games against the Colonels this season, Fraley is averaging 20 points and 13 rebounds per game.
Block Buster
When John Fraley blocked a shot against Eastern Kentucky, Thursday, it gave him 105 career blocks, tying him with Adrian Henning for third place all-time in school history.
Doubling Up
In four OVC games, APSU center John Fraley is averaging a double-double, 13.5 ppg and 10.3 rpg. His rebound figure is the tops during league play, with Fraley being the only OVC player averaging double figures in rebounds.
Dime Thrower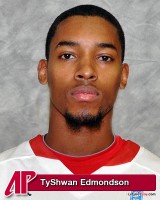 Guard TyShwan Edmondson, APSU's scoring leader, attempted a season-low five shots in scoring six points against Eastern Kentucky.
However, the 6-3 senior led the Govs with six assists, matching his career best in that statistical category.
Free-Throw Up-Tick
when Austin Peay connected on 20 of 31 free throws against Eastern Kentucky, that 64.5 percent shooting was an OVC low for the Govs. In fact, in the previous three league games the Governors had connected on 70 percent or better.
16 Can-dles
Senior forward Melvin Baker made it three straight double-figure scoring games when he tallied 16 points against Eastern Kentucky.
Baker was efficient on the night, making six-of-nine field goals and all four free-throw attempts. Baker has scored double figures in 11 of the last 12 games.
Herd(ie) Mentality
Freshman guard Herdie Lawrence scored eight points against Eastern Kentucky, his most offensive production since the season's second game at California when he tallied 10 points. However, Lawrence's offense was overshadowed by his defense.
In the final nine minutes, The 6-0 Lawrence, despite a height disadvantage, held EKU leading scorer Jaron Jones to just two points after the 6-5 forward scored 15 points previously.
Clearing The Bench
In defeating Eastern Kentucky, Thursday night, Austin Peay was able to play all Govs who were dressed for the game–14 were dressed and played against the Colonels.
Taking Care
In the last three games,  Austin Peay has committed a total of 35 turnovers, including 13 against Eastern Kentucky, Thursday. In the two games prior to the Morehead State loss, the Govs committed a total of 34 turnovers.
Line-Up Shuffle
Looking for answers to its recent struggles, Austin Peay used different lineups numbers eight and nine during the  OVC-opening weekend CLEARING 70: When Austin Peay scored 75 points in its loss to Murray State it was the first time four games the Governors had broken the 70-point barrier.
Next Game
Austin Peay Governors vs. Tennessee State Tigers
Monday, January 16th at 7:30pm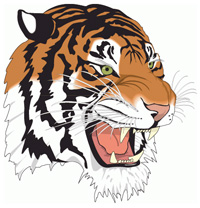 Governors welcome rival TSU, Monday Like Austin Peay, Tennessee State has gotten off to a slow OVC start, losing three straight road games before finally securing their second league win earlier this week against Morehead State, 77-72.
The Tigers are led by forward Robert Covington, an OVC Player of the Year candidate who is averaging 17.6 ppg and 7.8 rpg. He is shooting a blistering 45.6 percent from three-point range.
Sophomore Patrick Miller is the only other Tiger in double figures at 11.6 ppg. The Tigers, who returned much of their 2010-11 roster, have been mixing in several newcomers, including transfers Kellen Thornton, Jordan Cyphers and Muniru Bawa.