Nashville, TN – Over the past few years, bread puddings have emerged as the decadent darling of trendy chefs and cooks.
"These rich new versions of the classic bread pudding are a far cry from its humble beginnings," said Martha White® baking expert Linda Carman. "Bread pudding was the creation of frugal cooks looking for ways to use stale bread and make the most of their eggs, milk and sugar. Bread puddings have been made for hundreds of years all over the world, so a Southern version made with biscuits was bound to happen."

Although bread puddings may be made with crumbled biscuits soaked in the milk mixture, this version, made with sliced biscuits, retains the crisp biscuit texture on top with a layer of soft bread pudding on the bottom.
For an interesting twist, serve wedges with fresh strawberries and whipped cream to create a fusion of two classics – bread pudding and shortcake.
Summer Biscuit Bread Pudding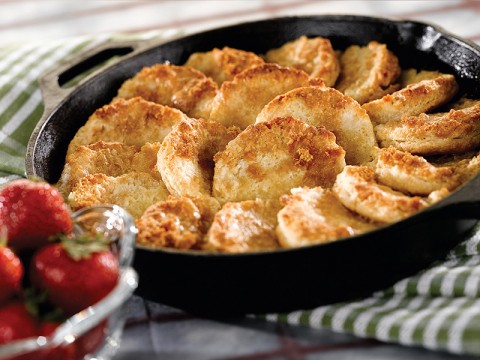 Pudding
8 or 9 leftover prepared Martha White® Hot Rize® Biscuits (recipe follows)
1/2 cup firmly packed brown sugar
1/2 cup granulated sugar
3 large eggs, beaten
3 cups half-and-half
1/4 cup butter, melted
1 teaspoon vanilla extract
Topping
2 cups sliced fresh strawberries
1 cup heavy cream, whipped with 2 teaspoons sugar
Directions
1. HEAT oven to 350°F. Split each biscuit in half horizontally. Arrange biscuits, split side up, in a circular pattern in a 10-inch cast iron skillet. Sprinkle brown sugar evenly over biscuits. Sprinkle granulated sugar over brown sugar.
2. WHISK eggs in large bowl. Whisk in half-and-half, butter and vanilla. Gently ladle over and around biscuits.
3. BAKE 45 to 50 minutes or until golden brown. Serve warm with strawberries and whipped cream.
Makes 8 servings
Martha White Hot Rize Biscuits
Ingredients
Crisco® Original No-Stick Cooking Spray
2 cups Martha White® Self-Rising Flour
1/4 cup Crisco All-Vegetable Shortening
3/4 cup milk
Directions
1. HEAT oven to 450°F. Spray a cookie sheet lightly with no-stick cooking spray. Place flour in large bowl. Cut in shortening with pastry blender or fork until mixture resembles coarse crumbs. Add milk. Stir with fork until soft dough forms and mixture begins to pull away from sides of bowl.
2. KNEAD dough on lightly floured surface just until smooth. Roll out dough to 1/2-inch thickness. Cut with floured 2 inch cutter. Place biscuits with sides touching on prepared cookie sheet.
3. BAKE 10 to 12 minutes or until golden brown.
Variation
Old-Fashioned Buttermilk Biscuits: Substitute 3/4 cup plus 2 tablespoons buttermilk for milk; add 1/4 teaspoon baking soda to flour, if desired.
Makes 14 biscuits
---
Crisco is a trademark of The J.M. Smucker Company.