Austin Peay Governors vs. Eastern Illinois
January 21st, 2012 | Tipoff: 6:00pm CT | Lantz Arena | Charleston, IL

Charleston, IL – Eastern Illinois point guard Jeremy Granger unquestionably is one of the Ohio Valley Conference's top performers.
Just ask APSU head coach Dave Loos. The senior point guard has been a thorn in the Govs side during his previous three seasons as a Panther.
This season, Granger is averaging 16.6 ppg, shooting 46.8 percent from the floor, and averaging 4.2 apg, He has helped the Panthers off to a surprising start in 2011-12. EIU owns a 9-8 overall record, but slipped to 2-3 in the OVC, Thursday, are incurring a disappointing home loss.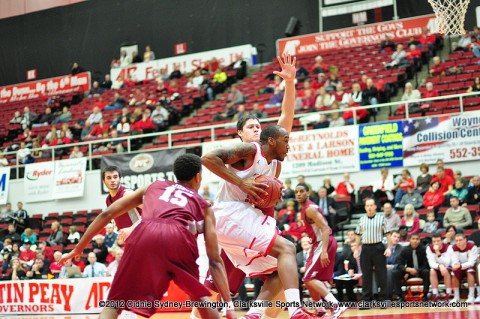 Granger has received some ample help this season. Sophomore forward Alfonzo McKinnie is one of the league's most improved players at 10.6 ppg and 7.2 rpg.  Head coach Mike Miller also has turned to his own Joey to provide offensive assistance. He is averaging 10.9 ppg as a freshman guard.
The Governors, meanwhile, are coming off their first OVC road win, Thursday, at SIU Edwardsville. Four players scored in double figures in the 80-67 victory.
Again it was the play of inside duo John Fraley and Melvin Baker that spurred the Govs' victory. Baker finished with a team-high 19 points while Fraley ended with 13 points and 15 rebounds. They combined for 15 of 20 shooting (75 percent), going 10-of-11 in the second half.
Forward Josh Terry added 14 points, six rebounds, four assists and four steals while junior point guard Jerome Clyburn produced his best performance in more than a month, scoring 12 points while dealing a career-best seven assists. He sparked the Govs' 8-0 to open the second half against SIUE by hitting back-to-back driving layups.
The victory was the Governors' fourth straight-a season best- and allowed them to move to 4-3 in the OVC.
Governors Pardon
This is Austin Peay's 80th season of basketball.
Dave Loos, APSU's all-time winningest basketball coach, also is the OVC's all-time wins leader with 358 victories. He also has 440 career coaching wins. The Dave Aaron Arena playing floor was named Dave Loos Court, Summer 2007. Loos is believed to be one of only three current Division I men's coaches who are coaching on courts that bear their respective names-Duke's Mike Krzyzewski and Syracuse's Jim Boeheim-are the other two. Valparaiso's Homer Drew, who retired after the 2010-11 season, had the floor named after him last season.
Since 1993-94, Austin Peay has finished no worse than fifth in the OVC standings.
Austin Peay has reached at least the OVC tournament semifinals in 13 of the last 17 years.
Austin Peay has made 27 straight appearances in the OVC tournament.
What You Should Know
The Series: This is the 36th meeting–and only meeting of 2011-12–between Austin Peay and Eastern Illinois, a pair of Ohio Valley Conference foes, with the Governors holding a 22-13 advantage. APSU won both meetings last season and 12 of the last 13. The Governors won last season's December 4th, 2010 meeting in Charleston in overtime, 77-73. TyShwan Edmondson's 33 points sparked a Governors rally from a 13-point defict. Then in Clarksville, February 24th, 2011, the Govs captured a 65-56 verdict.
Deeper Meanings
What A Win Would Mean: The Govs would gain their eighth 2011-12 victory…it would be the Govs' season-best fifth straight win…they would improve to 8-13…it would push the Govs two games above the .500 mark in the OVC at 5-3…it would make the Govs 5-1 in January…it would be Govs second straight OVC road win…it would be the Govs third road win of 2011-12…it would make Dave Loos 23-13 all-time against EIU… it would make Loos 13-1 against EIU coach Mike Miller…it would be Loos' 441st career coaching victory and his 359th APSU win.
What A Loss Would Mean: The Govs would fall to 7-14 on the season…APSU would slip back to .500 in the OVC at 4-4…the Govs would fall to 2-9 on the road this season…the Govs would drop to 1-3 on the road in the OVC…it would make the Govs 22-14 all-time in the series…it would be head coach Dave Loos' 357th career loss and 304th Austin Peay defeat.
Low Ball
For a second straight game Austin Peay was able to claim victory, Monday, despite failing to break 70 points
in the 69-63 decision. In the Govs' 60-57 win against Jacksonville State, Saturday, the 60 points was APSU's lowest victory point total this season, 12 lower than the 72 it scored in a 72-50 win versus Rochester, December 17th.
Defense Mechanisms
In four OVC wins, the Govs have limited opponents to less than 70 points each time, with an average 45-percent field-goal percentage. In fact, through seven league games, only Murray State has scored more than 70 points against APSU.
Finding The Touch
After winning for the first time this season shooting below 45 percent (43.8 vs. Jacksonville State), the Govs posted back-toback 50-percent or better shooting nights (50% vs. Tennessee State and 54% at SIU Edwardsville).
Boarded
When Austin Peay was outrebounded 38-29 by Tennessee State, it was only the second time in the last nine games it was out-rebounded. In fact, that 29 rebound figure was only the third time all season long the Govs were held to less than 30 rebounds. APSU squashed SIUE on the boards, owning a 36-27 advantage in the following game.
Back To The Roots
Over the Govs four game win streak, the offense has gone back to its roots. Head coach Dave Loos' inside-out style has led to dominant performances by senior post-men John Fraley and Melvin Baker. Fraley is averaging 15.5 ppg and 10.5 rpg, while Baker also is at 15.5 ppg. The inside duo also is shooting a combined 67.1 percent from the floor.
Thin Margin For Error
In posting a 4-3 OVC record so far, the Governors are averaging 70.4 ppg compared to allowing 67.7 ppg while shooting 47.7 percent compared to the opponents' 46.0 percent. Opponents have made 23 more three pointers than the Govs while APSU has made 18 more free throws in seven games.
Turnover Troubles
When Austin Peay was charged with 20 turnovers Monday against Tennessee State it not only was the most turnovers by the Govs during OVC play and the second most on the season as well–APSU had 23 against Lipscomb. In fact, before the TSU game the Govs had committed just 47 turnovers in the previous four games.
Free-Throw Up-Tick
When the Govs made 17 of 26 free throws against Tennessee State, that 65.4 percent shooting was only the second time in OVC play the Govs have shot less than 70 percent from the freethrow line. In fact, the Govs, who are shooting 67 percent overall from the line this season, are at 70.9 percent in OVC play.
Baker The Shot Maker
Over his last five games, Melvin Baker has become the Govs main offensive weapon. Not only is he averaging 15.2 points and 5.6 rebounds a game, he's also shooting 62 percent from the floor.
He had 19 points at SIU Edwardsville on 9 of 13 field goals. In fact, he's reached double figures in 14 of his last 15 games.
Heads Up
Since returning from a concussion that kept him out of nine straight games early this season, senior center John Fraley is averaging 10.7 ppg, shooting 59.7 percent, and 9.1 rpg. He is averaging 13 ppg and 10.0 rpg in seven OVC games thus far.
Where's The Windex
Senior John Fraley cleaned the glass for 15 rebounds in the Govs win at SIU Edwardsville. While that total is a season-high (Fraley also had 14 at EKU), it remains three off his career best. Feb. 3, 2010 at Tennessee State, the Clarksville native pulled 18 rebounds.
Thank You Sir, I'll Have Another
The Govs lead the OVC in averaging 12.4 offensive rebounds a game, which accounts for an average of 11.5 second chance points.
Three Extreme
The Governors remain unranked nationally in three-point percentage as a result of needing an average of 5.0 makes per game. The Govs are averaging just 4.0 makes per game, including just five, Thursday, at SIU Edwardsville.
Dime Thrower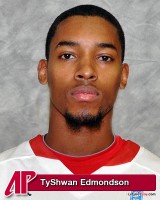 Guard TyShwan Edmondson, APSU's scoring leader during 2010-11, attempted a season-low five shots in games against both Eastern Kentucky and Jacksonville State and then just six against Tennessee.
However, the 6-3 senior led the Govs in assists in all three games, dishing out six against Eastern Kentucky, three more against Jacksonville State and four versus Tennessee State. Edmondson did break a four-game streak of single-digit scoring with 10 points against the Tigers.
Block Buster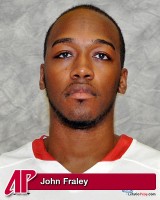 When senior John Fraley blocked a shot against Belmont, it gave him 100 for his career, making him the sixth Governor in history to block 100 or more shots.
Five games later against Jacksonville State, he blocked three shots, giving him 108 and moving him past Adrian Henning into third place all-time by himself. He now has 113.
Line-Up Shuffle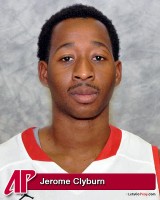 Looking for answers to recent struggles, Austin Peay used different lineups numbers eight and nine during the OVC-opening weekend at Eastern Kentucky.
At Morehead State, the Govs started Jerome Clyburn and TyShwan Edmondson in the backcourt, with Josh Terry and Melvin Baker at forward along with John Fraley at center. The Govs also used that same starting lineup since. APSU used seven different lineups for the entire 2010-11 season.
Starting Block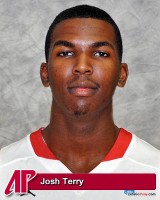 With Austin Peay utilizing nine different starting lineups this season only senior forward/guard Josh Terry has started all 20 games this season.
Making Most Of Opportunities
Austin Peay won for the first time this season, Saturday, against Jacksonville State where it had fewer free throw attempts (20-19) than its opponent. The Govs accomplished this feat again at SIU Edwardsville (15-10), with the five made free throws being the fewest in a game this season.
Next Game
Austin Peay Governors at Southeast Missouri Redhawks
7:00pm, Thursday, January 26th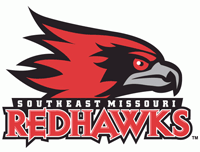 Three-game road trip wraps with SEMO Southeast Missouri has turned out to be one of the OVC's biggest surprises, as  third-year head coach Dickey Nutt has the Redhawks off to a 10-8 overall mark with a 5-1 OVC clip.
Much of their success can be credited to lights-out shooting by 6-7 senior forward Leon Powell (69.3 percent), 6-4 senior guard Marcus Brister (58.6 percent) and 6-8 sophomore forward Tyler Stone (54.2 percent). As a team, SEMO's .498 field goal percentage is eighth-best in the nation.
Prior to facing the Govs, Thursday, the Redhawks go on the road to face Tennessee Tech.