Austin Peay Women's Basketball at Murray State
Monday, February 13th, 2012 | Tipoff: 7:00pm (CT)
Murray, KY | Arena: CFSB Center (7,800)

Clarksville, TN – Austin Peay begins a regular-season closing stretch of four games in 12 days when it travels to Murray State for a 7:00pm, Monday, contest. The Lady Govs won this season's first meeting between the two teams, 71-63, January 7th. However, the two teams have gone in dramatically different directions since that meeting.
The Lady Govs will bring an eight-game losing streak into the contest and return to action following a six-day break after its 68-65 loss to Tennessee Tech, last Monday. Murray State has won seven of its 11 games since the first meeting and has won the first two games of its current four-game homestand.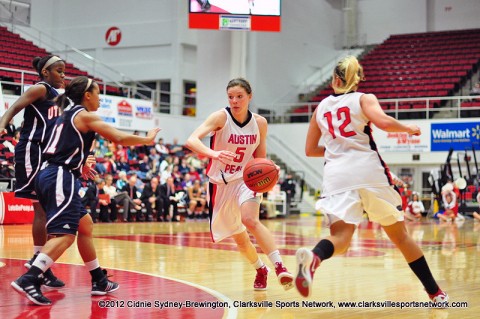 In a remarkably low possession-count contest – TTU had 68 possessions while APSU had 67 – both teams recorded season-low rebounding totals with 24 rebounds each. Both teams shot better than 50 percent from the floor, Austin Peay setting a season-best with 53.5 percent shooting. The Lady Govs tied a season high with 16 assists, including Leslie Martinez' eight-assist outing that was the best by an APSU player this season.
Austin Peay committed 21 turnovers, for only its eighth 20-turnover contest this season. After not recording a steal against UT Martin, February 1st, APSU's defense notched 10 steals against Tennessee Tech – its 15th double-digit steal outing this season. The Lady Govs tied their season's longest losing streak, suffering an eighth consecutive loss.
Meghan Bussabarger scored 12 points (5-6 FG) in her return to the floor after missing the previous six games. Kaitlyn Hill scored 11 points (her 5th double-digit scoring effort) and blocked a career-high three shots. Whitney Hanley led the Lady Govs in points (16), rebounds (8) and turnovers (7).
Crunch Time?
The race for the eighth and final spot in the upcoming OVC Women's Basketball Championship will come down to the regular season's final two weeks. The bottom five teams (7th-11th in the regular-season standings) are separated by four games.
Austin Peay, currently in 10th, is one game behind 9th-place Southeast Missouri which holds the final tournament spot (SIUE, the fourth-place squad, is not eligible for the postseason). The Lady Govs and Redhawks will square off in the regular-season's final game and if they finish with identical records, Austin Peay would currently win the tiebreaker with wins against Murray State and Eastern Kentucky (SEMO's wins are against Tennessee State and Jacksonville State).
Close But
Austin Peay's three-point loss to Tennessee Tech, last Monday, was its fifth loss by five points or less this season. Five of those losses have come during the Lady Govs current eight-game losing streak which opened with one possession losses to Jacksonville State (73-74) and Eastern Kentucky (59-61).
Pushing the scoring margin a little bit further, the Lady Govs have suffered 12 losses by less than 10 points this season, including seven games in this eight-game losing streak.
About Murray State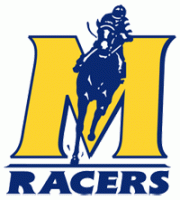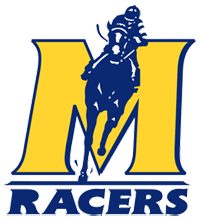 Murray State brings a two-game win streak into Monday's contest, defeating Tennessee State by six points, February 6th, and most recently holding on for a 63-62 win against Southeast Missouri, Saturday.
Erica Burgess, who scored 21 points in the win against Southeast Missouri, has sparked the Racers in conference play, averaging a team-best 16.0 points per game. Mariah Robinson (14.1 ppg) and Kayla Lowe (11.4 ppg) also are averaging more than 10 points per conference game this season.
Fast Break Points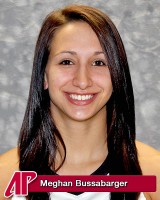 Injury Update: Austin Peay returned to full strength against Tennessee Tech when junior forward Meghan Bussabarger returned to action after missing the previous six games due to a concussion.
Bussabarger and Buley's injuries forced the Lady Govs to use its 13th and 14th different starting combinations this season. It is the second consecutive season Austin Peay has put forth at least 10 different starting lineups.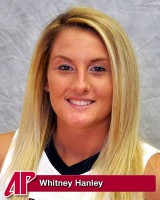 Senior guard Whitney Hanley is one of three OVC players (TTU's Tacarra Hayes and EIU's Ta'Kenya Nixson) to rank among the top 20 in scoring and rebounding and the top 15 in assists. She is the only player to rank among the league's leaders in those three categories as well as each of the league's three shooting percentage (FG, 3G, FT) categories.
Hanley became the 14th Austin Peay women's basketball player to reach the 1,000-point plateau with her 21-point performance at Lipscomb, November 14th. Her 1,419 career points is sixth on the Lady Govs all-time scoring list and she needs 24 points to become one of the Lady Govs top five scorers all-time, passing Amanda Behrenbrinker (1,442 points, 1994-98). She is 81 points away from the 1,500-point plateau – a mark only three Lady Govs have reached all-time.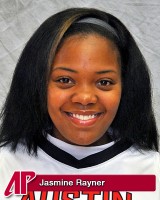 Senior forward Jasmine Rayner became the 15th Lady Govs player to reach the 1,000-point plateau with an eight-point outing against Eastern Kentucky, January 16th. She currently sits 14th on the scoring list, entering this game with 1,052 career points. Rayner needs 67 points to move past head coach Carrie Daniels who holds down the 13th spot with 1,118 career points.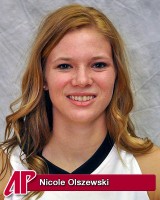 Austin Peay returned its four leading scorers from last season's team: Hanley (12.2 ppg), Rayner (10.5 ppg), junior forward Meghan Bussabarger (8.0 ppg) and sophomore guard Nicole Olszewski (8.0 ppg).
Hanley was named to the Preseason All-OVC team after receiving second-team All-OVC honors last season.
Austin Peay is 47-59 (.443) in regular-season OVC play under Daniels.
The Lady Govs are 16-25 (.390) in February under Daniels.
An Austin Peay Win Would
End its eight-game losing streak… end its three-game road losing streak… be its eighth consecutive win against Murray State… be its fourth win on the road (4-10) this season…  be its third straight win at the CFSB Center… improve Daniels' record to 69-115 overall, including a 48-59 record in OVC play… make the Lady Govs 421-586 overall since 1976-77.
An Austin Peay Loss Would
Be its ninth-straight loss, its longest losing streak this season… be its fourth consecutive road loss… drop it to 3-11 on the road this season… be its first loss to Murray State since February 7th, 2009, ending a seven-game win streak… be its first loss at the CFSB Center since January 10th, 2009, ending a two-game win streak in that building… drop Daniels' record to 68-116 overall, including a 47-60 record in OVC play… make the Lady Govs 420-587 overall since 1976-77.
Last Time Out
Austin Peay Lady Govs vs. Tennessee Tech
February 6th, 2012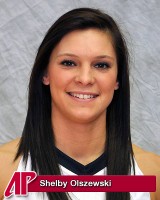 Clarksville, TN – Austin Peay did not score in the final four minutes of a 68-65 OVC loss to Tennessee Tech, Monday night at the Dunn Center.
Austin Peay led 65-64 with 4:04 remaining after Shelby Olszewski's intercepted a pass and drove the length of the court for the basket. She nearly had an opportunity to put the Lady Govs up three points on the next possession, stepping into a Tennessee Tech hand off for a steal. However, before she could not cross half court before the play was whistled dead due to an inadvertent whistle.
The Lady Govs were unable to convert after the resulting media timeout, the first of three missed field goals in the final four minutes. Tennessee Tech also had four possessions in the final minutes, committing a pair of turnovers. But the Golden Eagles made both of their shots – the first by Kellie Cook for the lead at 2:07 left and the final basket by Jala Harris with 22 seconds remaining – to take a three-point lead.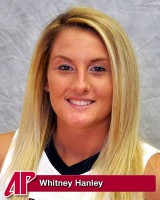 Austin Peay had two opportunities to tie the game in the final 19 seconds. Leslie Martinez' three-point attempt was blocked out-of-bounds giving APSU the ball with 6.8 seconds remaining. The Lady Govs tried several times to work Whitney Hanley free on the ensuing play but she was caught 25 feet from the basket and was unable to do anything before the final horn sounded.
Hanley finished with 16 points and eight rebounds to lead Austin Peay but was charged with seven turnovers. Meghan Bussabarger, who returned to the court after missing six games due to a concussion, scored 12 points on 5-of-6 shooting. Kaitlyn Hill notched her fourth consecutive double-digit outing with 11 points.
Austin Peay lost despite shooting a season-best 53.5 percent (23-of-43) from the floor and posting an outsized advantage at the free-throw line where they made 15 shots to TTU's five.
Tacarra Hayes finished with 18 points, but was held to two second-half points.
Rachel Glidden picked up the slack, scoring all 12 of her points in the second period, making 4-of-7 from three-point range. Jala Harris chipped in 14 points.
Lady Govs Last Meeting With Murray State
January 7th, 2012
Clarksville, TN
– Austin Peay State University women's basketball team used a 16-4 second half run to post a 71-63 come-from-behind victory against Murray State, Saturday, in Ohio Valley Conference action at the Dunn Center.
Trailing 40-34 with 11:26 remaining, Austin Peay scored 16 of the game's next 20 points. Junior Leslie Martinez scored back-to-back fast break layups during the push, capped by junior Meghan Bussabarger's conventional three-point play that gave APSU a 50-44 lead with 7:26 that they would not relinquish.
Murray State attempted to charge back in the final 2:30 with a barrage of three pointers but could not get closer than six points after Kayla Lowe's long-range three with 30 seconds remaining.
Senior Whitney Hanley led all scorers with 26 points – her fourth straight outing scoring more than 20 points. Bussabarger added 18 points and Martinez chipped in 14 points. All three grabbed eight rebounds.
Mariah Robinson led Murray State with 17 points. Ashleigh McBean, who scored 14 first-half points, finished with 16 points.
Next Game
Austin Peay Lady Govs meet Morehead State
When Austin Peay hosts Morehead State in a 5:15pm, Saturday contest it will be a matchup of two teams battling to end their respective nosedives in conference play. Morehead State has one win in its last seven games and has dropped from 2nd in the league (4-1 on January 17th) to 7th (5-7) in a span of 28 days.
The Eagles largely have been a two-headed monster during their recent downturn – Linda Dixon (18.6 ppg) and Courtney Lumpkin (22.9 ppg) accounting for 62 percent of the team's 67.3 points per game in its last seven outings.