APSU Sports: Austin Peay Men's Basketball


Nashville, TN – For the first 35 minutes of Austin Peay Governor's opening-round matchup against the Jacksonville State Gamecocks Wednesday night, TyShwan Edmondson and the Govs could do no wrong.
Unfortunately for the Govs, the Gamecocks played better over the game's final five minutes, erasing a six-point deficit as Brian Williams buried a go-ahead 3-pointer with 33 seconds left and handed the Govs in a 75-70 loss in front of a stunned Municipal Auditorium crowd.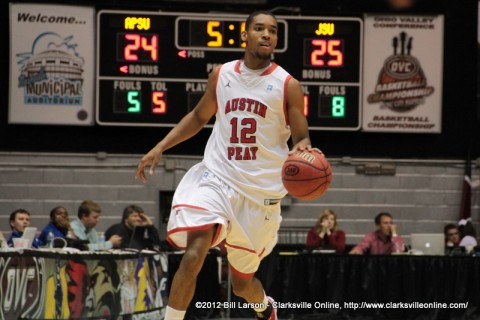 "We had a little lead at halftime," Austin Peay Governors head coach Dave Loos said. "We talked about how important it was to come out and play with the intensity that we ended the half with. We weren't able to do that."
After both teams combined for just 13 points through the game's opening five minutes, the Govs (12-20) seemed to find their rhythm midway through the period behind Edmondson.
The senior scored 19 of his game-high 22 points over the game's first 20 minutes – shooting 7-of-10 from the floor and accounting for nearly half of his team's points as the Govs took a 39-31 lead into halftime.
"I was just trying to be more aggressive," Edmondson said. "I was just trying to help the team out."
In the second half, however, Edmondson would go cold, making just 1-of-6 shots from the floor while committing four of his six costly turnovers.
As Edmondson's shooting cooled, the Govs seemed to respond behind solid play from Melvin Baker, who finished with 20 points on 8-of-13 shooting while tracking down 13 rebounds in his final game as a Gov.
Midway through the second half, it was Baker's five consecutive points that put the Govs back in front until Tarvin Gaines' tip-in with 10:51 remaining in regulation gave the Gamecocks a 53-52 lead.
After the teams combined for six lead changes over the game's final 10-and-a-half minutes, the Govs appeared to pull ahead 67-61 on Baker's jumper with 4:59 left in the game.
It would be the last field goal of the game – and the season – for the Govs.
"(Jacksonville State) changed defenses and started trapping around half-court," Loos said of the game's final few minutes. "We turned it over several times and then we threw it out of bounds a couple of times."
In all, the Govs committed five of their 17 turnovers in that final, disastrous five-minute stretch.
"I thought for the big part of the game we played pretty well," Loos said. "We missed some free throws but other than that I thought we played pretty well. (We) certainly wanted to play well in this tournament."
Seniors John Fraley and Josh Terry closed their Govs careers with 10 and eight points each.
"(Austin Peay) really played well enough to win a game," Gamecocks head coach James Green said. "I thought they came out and were as intense as any team we played this year. Obviously what Edmondson did in that first half was as about as great as you can play as an individual."
Despite fielding a roster that had never played a game in the OVC Tournament, the Gamecocks (15-17) showed steely resolve down the stretch, forcing turnovers and tracking down key offensive rebounds – none bigger than Ronnie Boggs' rebound which led to Williams' go-ahead score.
"I believe Ronnie had a good drive but missed it," Williams said. "But he kept fighting for it and he tipped it and then he found me on the wing. He made a good pass and I knocked it down."
Williams finished as the Gamecocks' leading scorer, scoring all of his 18 points in the second half.
With the win, the Gamecocks earned their first victory at the OVC Tournament since a run to the tournament semifinals in 2006.
The win also marked the first postseason victory since Green's arrival in Jacksonville.
"If our guys work then we can build some tradition with this group of guys," Green said. "But it won't just happen. You don't just show up for a game or five games or even a season. You've got to do it over and over like (Austin Peay) has."
On the opposite end, the loss brought an abrupt end to a disappointing season for the Govs, who struggled through their worst season in 19 years and one of the worst in Loos' 22-year tenure.
Loos did not offer a comment when asked about possibly considering retirement in the near future.
Instead, Loos returned questions to the end of the game and a frustrating year on the Govs bench.
"You can look at the last few minutes of this game," Loos said. "And it was a picture of our season."
Photo Gallery
Box Score
Jacksonville State vs Austin Peay
2/29/12 – 6:10pm at Nashville, TN (Municipal Auditorium)
Jacksonville St 75
Total
3-point
Rebounds
##
Player
p
fgm-fga
fgm-fga
ftm-fta
off-def
tot
pf
tp
a
to
blk
stl
min

03

WHITE, Grant

*

2-4

1-3

2-4

0-2

2

0

7

0

2

0

0

23

04

BOGGS, Ronnie

*

4-10

0-2

3-4

6-2

8

3

11

6

3

0

0

39

21

WILLIAMS, Brian

*

8-17

2-7

0-0

0-2

2

1

18

1

2

0

2

37

30

GAINES, Tarvin

*

5-10

0-3

2-2

1-3

4

4

12

1

1

0

1

27

33

COOK, Nick

*

3-6

0-0

0-0

3-4

7

4

6

3

1

4

2

32

05

LEGGETT, Mason

–

0-0

0-0

0-0

0-1

1

1

0

0

1

0

0

1

11

MAFRA, Rinaldo

–

1-2

0-0

3-4

3-0

3

4

5

0

2

1

0

10

14

RACKLEY, Darion

–

4-9

3-5

5-5

1-1

2

3

16

3

1

0

2

31

TM

TEAM

–

–

–

–

2-1

3

–

–

–

–

–

–

–

Totals…………..

–

27-58

6-20

15-19

16-16

32

20

75

14

13

5

7

200

46.6%

30.0%

78.9%

Team summary:
FG
3FG
FT
1st Half:

11-25

3-9

6-7

44.0%

33.3%

85.7%

2nd Half:

16-33

3-11

9-12

48.5%

27.3%

75.0%
Austin Peay 70
Total
3-point
Rebounds
##
Player
p
fgm-fga
fgm-fga
ftm-fta
off-def
tot
pf
tp
a
to
blk
stl
min

12

EDMONDSON, TyShwan

*

8-16

4-8

2-2

1-2

3

2

22

2

6

0

1

40

20

BAKER, Melvin

*

8-13

0-1

4-7

6-7

13

3

20

0

4

1

1

34

21

FRALEY, John

*

5-7

0-0

0-4

3-3

6

3

10

1

1

2

0

37

22

LAWRENCE, Herdie

*

1-2

0-1

1-1

0-2

2

2

3

2

3

0

1

20

23

TERRY, Josh

*

3-9

0-0

2-4

2-1

3

2

8

5

3

0

2

35

01

CLYBURN, Jerome

–

0-1

0-0

0-0

0-0

0

0

0

0

0

0

0

1

10

TRIGGS, Will

–

1-1

0-0

2-2

0-0

0

2

4

0

0

0

0

9

32

BLAKE, Justin

–

1-2

1-2

0-0

0-4

4

0

3

1

0

0

0

24

TM

TEAM

–

–

–

–

1-0

1

–

–

–

–

–

–

–

Totals…………..

–

27-51

5-12

11-20

13-19

32

14

70

11

17

3

5

200

52.9%

41.7%

55.0%

Team summary:
FG
3FG
FT
1st Half:

16-27

4-6

3-7

59.3%

66.7%

42.9%

2nd Half:

11-24

1-6

8-13

45.8%

16.7%

61.5%
| | | | | |
| --- | --- | --- | --- | --- |
| Score by Periods | 1st | 2nd | Total | |
| Jacksonville St | 31 | 44 | 75 | Record: (15-17) |
| Austin Peay | 39 | 31 | 70 | Record: (12-20) |
Officials: Bret Miles, James Hicks, Jon Campbell
Technical fouls: Jacksonville St-None. Austin Peay-None.
Attendance: 1725