Clarksville, TN – Clarksville Police have very few solid details on a shooting which took place in the area of Cobalt Drive around 8:45pm, March 26th, 2012.
There were multiple calls to the 911 center, each one detailing different events occurring within minutes of each other.  The 911 call takers were told that shots were fired and a vehicle had crashed in the area of 2800 Cobalt Drive.  Another call said that a man who had been shot was behind an apartment building in the 200 block of Terminal Road.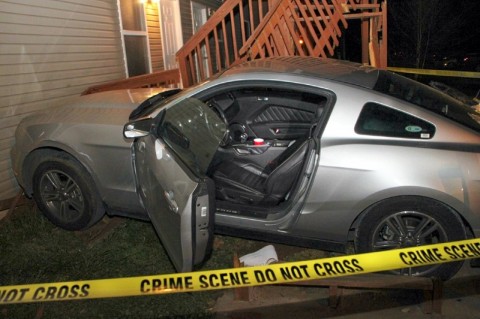 When Police arrived, they found a 26 year old male with multiple gunshot wounds on an apartment's porch in the 200 Block of Terminal Road. Officers also found an unoccupied Ford Mustang which had crashed behind apartments at 2858 Cobalt Drive.
Based on the preliminary investigation, the 26 year old male had been shot while in the Mustang behind Apartment Building 2858, exited the vehicle, fled on foot from his attacker, and made his way to the back porch of an apartment at the 200 Block of Terminal Road, at which time, Police were called.
The victim was taken to Gateway Medical Center and then transferred to a Nashville Hospital. The last known condition was Critical but Stable.
Clarksville Police and K-9 combed the area, but did not locate any suspects. The crime scene team is processing the scene, witnesses are being interviewed and the area is being canvassed to gather any other possible leads.
Anyone with information is asked to call the TIPSLINE, 931.645.8477.
Photo Gallery