Nashville, TN – What better way to usher in spring than with a casual Sunday brunch – including good food, good friends and a relaxed conversation.
"Almost everyone loves breakfast foods, but we don't often have time to sit down for a relaxed meal early in the morning. Brunch gives you the chance to show off your breakfast favorites at a time when you can relax and enjoy yourself," observed Martha White® baking expert Linda Carman. "Whether you make perfect scrambled eggs, light-as-air pancakes or the world's best biscuits, you should share your best with your guests. If you don't have a specialty, there are plenty of recipes perfectly suited for your level of cooking."
Planning the Perfect Brunch
Like most parties, good planning is the key to a relaxed, stress-free brunch. The first thing to think about is where you want to serve and seat your guests. If you want everyone to be able to sit together and talk, then the size of your table will determine how many people you invite.
To entertain more folks than you can comfortably seat around the table, a buffet always works well and allows guests to gather in more than one location. Be sure you have enough places for people to sit; it's not fun or relaxing to eat standing unless you're just having finger food. If your guests will be sitting in the living area, always make sure there is a stable spot for their beverages.
Décor for your brunch should be simple and beautiful, especially during spring. If you are looking for inspiration, look outdoors and let Mother Nature inspire your décor. Simplicity is key; so lay some pastel table linens, and gather pots of tulips or buttercups, or use a vase containing a few branches from a flowering tree or shrub. If you have flowers on the table, remember to keep them low enough to see over or tall enough to be above eye level.
The Menu
After you've determined the guest list, have fun planning the menu. Brunch should be relaxed and casual, and if you're relaxed and enjoying yourself, your guests will too. No one likes a frazzled host! Choose recipes you feel comfortable cooking and are easy to serve. If you are able, everyone loves a traditional breakfast with eggs, grits, country ham and biscuits, but there are plenty of other options, too.

A staple in a Southern brunch certainly is ham biscuits. If you are a master biscuit maker, by all means use your favorite recipe or for a little twist on the traditional, try Sour Cream Chive Biscuits with Country Ham. Adding eggs to the biscuit dough creates a little more substantial texture, making them easy to slice and eat.

Reminiscent of old-fashioned spoonbread, Italian Cheese and Spinach Cornbread Strata is made with cubes of cooked cornbread, spinach and cheese. As with traditional stratas, a mixture of milk and eggs is poured over the dish and baked to create a delicious custard-like texture. Top your menu off with a basket of muffins or a warm coffeecake. Moist and flavorful, Strawberry Crumb Cake is easy to make with a muffin mix but does not sacrifice flavor for convenience.

For more wonderful brunch casserole, biscuit and coffeecake recipes, go to www.marthawhite.com and click on the recipe section.
Sour Cream Chive Biscuits with Country Ham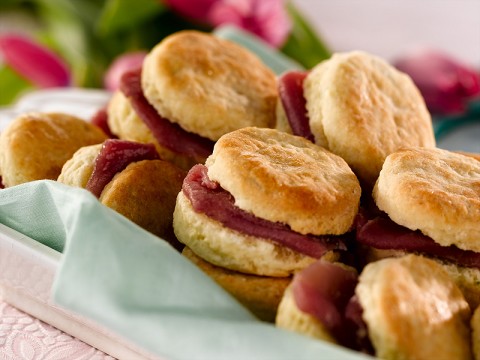 Crisco® Original No-Stick Cooking Spray
2 cups Martha White® Self-Rising Flour
1/2 cup cold butter, roughly cubed
2 tablespoons minced fresh chives
1/2 cup sour cream
2 eggs, beaten
1 tablespoon melted butter
30 small, thin pieces cooked country ham
Directions
1. Heat oven to 450° F. Spray baking sheet lightly with no-stick cooking spray. Combine flour and 1/2 cup butter in medium mixing bowl. Cut butter into flour with pastry blender or 2 knives until butter pieces are about the size of small peas. Add chives.
2. Add sour cream and eggs; stir just until dough is formed. Turn out onto floured surface; knead gently until just smooth. Roll to about 1/2-inch thick. Cut with floured 2-inch cutter. Place on prepared baking sheet.
3. Bake 10 to 12 minutes or until golden brown. Brush with 1 tablespoon melted butter. Slice; fill each biscuit with 2 pieces of country ham.
Servings
15 biscuits
Italian Cheese and Spinach Cornbread Strata
Crisco® Original No-Stick Cooking Spray
1 (6 oz.) pkg. Martha White® Cotton Country® Cornbread Mix
3/4 cup water
1 1/2 cups (6 oz.) shredded Italian cheese blend
2 cups frozen chopped spinach, thawed and squeezed dry
1/2 cup drained, chopped roasted red pepper
6 eggs
2 cups milk
1 tablespoon Dijon mustard
1/2 teaspoon salt
Sprinkle of nutmeg
Directions
1. Heat oven to 450° F. Spray 10-inch cast iron skillet with no-stick cooking spray. Prepare cornbread mix according to package directions using 3/4 cup water.(Cornbread will be thin.) Bake 15 to 18 minutes, or until golden brown. Remove cornbread from skillet; cool and cut into cubes. Spray skillet or shallow 2-quart baking dish generously with no-stick cooking spray.
2. Reduce oven temperature to 350° F. Place cornbread cubes in skillet or baking dish. Mix half of the cheese with the spinach and red pepper then spread over cornbread cubes. Sprinkle with remaining cheese.
3. In medium bowl, whisk together eggs, milk, mustard, salt and nutmeg until well blended. Pour evenly over ingredients in skillet or baking dish. Bake 40 to 45 minutes or until set and lightly browned.
6 servings
Strawberry Crumb Cake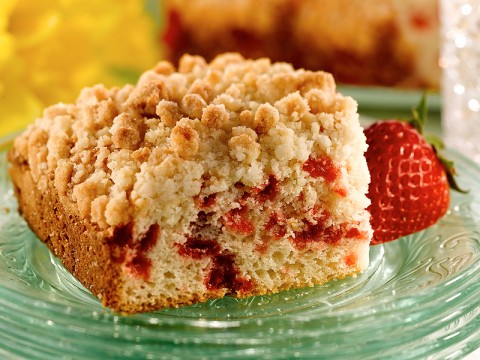 Crisco® Original No-Stick Cooking Spray
Topping
3/4 cup Martha White® All-Purpose Flour
1/3 cup sugar
4 tablespoons butter, melted and cooled
Cake
2 (7 oz.) pkgs. Martha White® Strawberry Muffin Mix
2/3 cup milk
1/2 cup sour cream
Directions
1. Heat oven to 375º F. Spray bottom of 8-inch square cake pan with no-stick cooking spray. In medium bowl, combine flour, sugar and butter. Stir until blended. (Mixture will be like soft dough). Set aside.
2. In large bowl, combine muffin mix, milk and sour cream. Stir until dry ingredients are moistened. Spread into pan. Crumble topping over batter. Bake for 35 to 40 minutes or until golden brown.
8 servings
---
Crisco is a trademark of The J. M. Smucker Company.
Sections
Arts and Leisure
Topics
Biscuits, Breakfast, Crisco, Eggs, Ham, J.M. Smucker Company, Linda Carman, Martha White, Nashville TN, Receipe