Jacksonville State vs. Austin Peay Baseball
Friday-Sunday, April 27th-29th, 2012 | Fri: 6:00pm | Sat: 2:00pm | Sun: 1:00pm
Clarksville, TN | Raymond C. Hand Park (777)

Clarksville, TN – For the second consecutive week, Austin Peay's baseball team will square off against the team sitting second in the Ohio Valley Conference standings when it hosts Jacksonville State in a three-game series.
The conference set will begin with a 6:00pm, Friday contest before resuming at 2:00pm, Saturday. The two squads will wrap the series with a 1:00pm, Sunday contest.
Austin Peay concluded a five-game road trip with an 8-4 victory at Tennessee, Tuesday, following a 2-1 OVC series win against Eastern Kentucky. The Govs are 7-5 (.583) in their last 12 games following a 7-game win streak that ended with a April 3rd loss to Belmont. Including that win streak, the Govs are 14-5 (.737) since March 22nd.
Austin Peay's offense has scored 8 or more runs in 14 of those 19 contests – posting a 13-1 mark when scoring eight runs – averaging 8.8 runs and batting .322 during that span.
Senior center fielder Michael Blanchard has sparked the recent stretch with a team-best .420 batting average and a .529 on-base percentage (14 walks) during those 19 games.
Six Governors are batting above .300 entering weekend No. 11, including junior shortstop Reed Harper, who is batting a team-best .333, with a .407 mark during the recent 19-game stretch.
Senior third baseman Greg Bachman leads the team with nine home runs and has posted 39 RBI while batting .306. Sophomore second baseman Jordan Hankins has a team-best 40 RBI while batting .314 this season.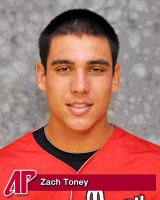 On the mound, the Govs will shake up their weekend rotation. Senior Zach Toney, who has a 1-0 record and 2.12 ERA (2nd among OVC starters) in OVC games this season, will get the nod for Game 1.
Sophomore Ryan Quick will slide into the No. 2 slot this weekend as he will look to snap a streak of three consecutive games surrendering 7-plus runs that has bumped his OVC ERA to 6.37 while he sports a 3-1 record.
Junior Casey Delgado, who has a 2-1 record and 3.53 ERA in OVC action, will hold down the No. 3 spot.
About Jacksonville State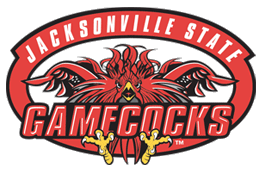 The Gamecocks return to action following a week off due to finals. JSU began the 2012 campaign winning just 2 of its first 16 games, but has posted a 10-5 mark in OVC play and has not lost an OVC series in 2012, winning 2 of 3 against Eastern Kentucky, Morehead State, Tennessee Tech, UT Martin and Murray State.
Senior third baseman Sam Eberle leads Jacksonville State with a .362 batting average that ranks sixth among OVC players; however, he is batting a league-best .456 in conference play. Senior first baseman Ben Waldrip leads the team in home runs (11) and RBI (34).
Senior Aaron Elias, the Gamecocks Game 1 starter, has a 2-1 record and 3.45 ERA in OVC play that ranks fifth among OVC starters in ERA. Junior Daniel Watts brings a 2-2 record and 3.74 ERA in OVC play into his Game 2 start and also ranks third among OVC pitchers with 56 overall strikeouts this season. Jacksonville State has not named a Game 3 starter, but junior Hunter Rivers has four OVC starts under his belt and is 2-1 with a 5.01 ERA in those league outings.
Twin-Killings Help Cause At Tennessee
Austin Peay's defense turned four double plays in its 8-4 win at Tennessee, April 24th. The Govs went the unconventional route on their first three twin killings.
Right fielder Rolando Gautier caught a fly ball and threw a runner out at home in the fifth frame. Third baseman Greg Bachman caught a line drive and threw out a runner at first in the seventh. Pitcher Mike Hebert struck out a batter and catcher P.J. Torres picked off a runner at second for two outs in the eighth. Austin Peay wrapped up the game with a conventional 6-4-3 double play.
It is the 10th time since 1996 the Govs have turned four double plays in a game.
Something About A Woman
Designated hitter Jon Clinard hit his season's 2nd home run – and third career blast – in the 1st inning of the Govs 8-4 victory at Tennessee, April 25th. That home run came just 10 days and six games after his season's first home run – a solo blast against Murray State, April 14th.
Coincidence or not, his fiancé Cati Tucker was among the spectators in both contests.
Delgado Deals Complete Game Win
Junior Casey Delgado picked up a complete-game victory at Eastern Kentucky, April 22nd, becoming the first Austin Peay pitcher since 2008 to toss a nine-inning complete game. In his four conference starts, Delgado has averaged 8 innings per outing and posted a 2-1 record with a 2.81 ERA.
That OVC stretch has helped him recover from a rough start that saw him post a 2-2 record and 10.12 ERA in his first five starts.
Probable Starting Pitchers
| | | | | |
| --- | --- | --- | --- | --- |
| Date | Time (CT) | Austin Peay Starter | Opponent's Starter | APSU Radio/Internet |
| Fri. | 6:00pm | LHP Zach Toney | RHP Aaron Elias | WVRY 105.1 FM |
| | | (Jr., 2-2, 4.20 ERA) | (Sr., 2-4, 4.25 ERA) | LetsGoPeay.com |
| Sat. | 2:00pm | RHP Ryan Quick | LHP Daniel Watts | WVRY 105.1 FM |
| | | (RSo., 3-1, 3.82 ERA) | (Jr., 3-5, 5.68 ERA) | LetsGoPeay.com |
| Sun. | 1:00pm | RHP Casey Delgado | TBA | WVRY 105.1 FM |
| | | (Jr., 4-3, 6.41 ERA) | | LetsGoPeay.com |
STATISTICAL COMPARISON: GOVS VS. GAMECOCKS
TEAM
BA
RPG
HR
RBI
SLG
OBP
SB-A
ERA
H/9
BB/9
SO/9
BAA
FLD
APSU
.293
7.1
45
252
.451
.392
46-70
4.75
9.13
4.82
7.37
.267
.965
JSU
.271
4.9
34
165
.407
.346
22-29
5.46
10.67
3.23
7.08
.298
.962