Austin Peay State University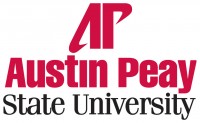 Clarksville, TN – One gets the impression that Dr. Tim Winters, Austin Peay State University classics professor, doesn't sleep much. A dedicated teacher, he's won most of the University's major faculty awards, such as the Socrates Award for Excellence in Teaching and the APSU National Alumni Association Distinguished Professor Award.
Add that to grading papers, writing scholarly articles, mentoring students and teaching study abroad courses in Greece every summer, and it leaves little time for what most of us know as rest.
But in his few off hours, Winters isn't sitting at home watching television or catching up on his sleep. He's out in the community, keeping local streets safe as a reserve officer for the Clarksville Police Department or visiting hospitals and nursing homes as an ordained deacon with the Immaculate Conception Catholic Church.
His dedication in this area rivals his academic career, and it led the Clarksville Area Chamber of Commerce to present him recently with the 2012 Distinguished Community Service Award. The award is presented every spring to an APSU faculty member who demonstrates exemplary service to his or her community. Dr. Minoa Uffelman, APSU associate professor of history, nominated Winters for the award.
"Dr. Winters is a selfless individual who always seeks to improve the lives of those around him, whether those individuals are students or members of the local community," Dr. Mickey Wadia, APSU professor of languages and literature, wrote in a memo supporting Uffelman's nomination.
The memo went on for two pages listing Winters' service to the community, such as going on four of Immaculate Conception Catholic Church's medical missions to Haiti, helping to organize a telethon for that country after it was devastated by an earthquake in 2010, playing drums in a band that volunteers at benefit concerts for organizations such as Special Olympics and the Humane Society, helping rebuild the home of a local police officer's widow for the ABC television show "Extreme Makeover" and working to preserve and restore the Nashville Parthenon at Centennial Park.
"He is a constant and positive force in the Clarksville community," APSU President Tim Hall wrote in a letter to Steve Kemmer, chairman of the Clarksville Area Chamber of Commerce. Kemmer agreed, and on April 24th, during the APSU Academic Honors and Awards Day Ceremony, he presented Winters with the community service award.