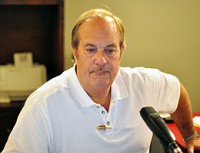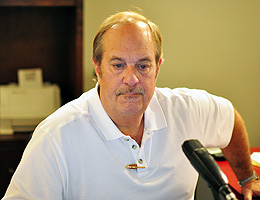 Clarksville, TN – Clarksville veterinarian Dr. Ron Whitford went on the attack in a broadcast interview today responding to an email "smear" campaign that alleges he is a "dangerous vet, and could kill your dog," and says he will spend one million dollars of his own money to sue those responsible for the unfounded attack.
Whitford says he will sue for twenty million dollars, then after paying legal fees, will use the settlement to "Spay and neuter every animal in Montgomery County."
The controversy surfaced after an email was uncovered from a woman named Stacia Bearden, and it claims that Dr. Whitford performed an operation on a friends dog that got sick and died, and upon further testing, determined that Dr. Whitford was responsible because he used "zip ties" during the procedure.
"The first thing that's wrong with that story is they say the dog in question was sick, and I was rude to them and they should take the dog back to the Animal Control. First of all, I would have never performed an operation on a sick dog.  Never have, never will,  says Whitford. I've been practicing for over forty years, and I have never had a problem with zip ties. They're used by one of the largest animal clinics in the country."
Whitford continues, "The story has now changed, and they now say that the dog in question belonged to a hairdresser who was friends of this lady's cousin. Now, we have been able to link this lady (Bearden) to some very prominent people in our community, very prominent. We've sent word to them asking what they know about Stacia Bearden and this story."
Whitford would not reveal who the "very prominent" people in Clarksville were. "Not until I have all the facts."
Whitford said he has also received an email from a former Leaf-Chronicle reporter, Sandy Britt, who allegedly threatened him with "If you don't watch yourself,  and stop trying to slam these groups for not doing what people think they're doing, then she (Britt) might have to go back to her old stomping grounds at the Leaf Chronicle and do you (Whitford) in.   Whitford said, "Go for it."
Dr. Whitford says the timing of all of this is just too coincidental. "As soon as we started our new spay-neuter clinic, all of this publicity took off. I personally gave ten thousand dollars of my own money to the Montgomery County Friends of the Shelter for low cost spay and neuter grants for local citizens. That first grant was my money. People say I'm in this for the money, I say that's a bunch of crap. I'm in it for the animals, and the county better take notice and do something about this problem or it's only going to get worse. The Clarksville-Montgomery County Humane Society has been collecting money for years and promising a clinic, where is it? What are they doing with all that money they collect?"
Several members of the newly formed Montgomery County Friends of the Shelter are former volunteers with the local Humane Society, and tell Clarksville Online that the reason they left was because Humane Society board members would not let them see the books, and see where the money was going. The Clarksville-Montgomery County Humane Society has a paid staff, and provides low cost spay-neuter vouchers to qualified individuals that are honored at most local veterinary clinics. Whitford's St. Bethlehem Animal Clinic is not one of those clinics, and his spay-neuter clinic is not listed on their website.
Whitford says he's offered to supervise the Montgomery County Animal Control for "one dollar per year" and they (Montgomery County Mayor Carolyn Bowers) have not taken him up on it. He also said, "I told Mayor Bowers that I would serve on the animal control committee and offer my expertise to her on this problem, and she hasn't taken me up on that either."
In a previous interview with Mayor Bowers, she told Clarksville Online that "There have been discussions to move Animal Control under the Sheriff's Department." The interim director is currently Sgt. Tim Clifton, a school resource officer with the Montgomery County Sheriff's office.
"I don't care who supervises Animal Control," said Whitford. "These animals are living in terrible conditions, and they are sick, and have the potential to spread disease to more animals, and even humans. I just want them to address this problem, because it will only get worse."
Clarksville Online will continue to follow this story. To hear the interview visit, www.wjzm.com/podcast .
For more on the story, see: Clarksville Veterinarian Target of Attack