Clarksville, TN – On September 29th, around 12:30pm, Officers were called to the 2200 Block of a Madison Street business in reference to a shooting in progress call. When officers arrived, they found a man in the business parking lot, standing outside of  his pickup, covered in blood.
Officer Craig Chatigny observed the man had small cuts on his arms and that the passenger side of the window had been shot out. The victim knew the man who shot at him and identified him as Joseph Coker who lived on Wilson Road.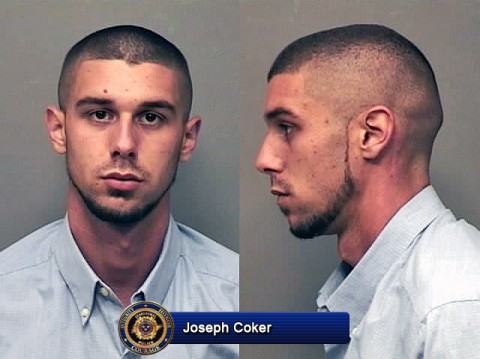 Detective Alan Morgan responded to the scene and took over the investigation. The victim advised Detective Morgan, Coker had pulled to the side of the road, waited for him to pass by, pulled a gun, shot through the passenger window, and the round lodged into the ceiling of the truck.
Coker was located at his residence at 2453 Wilson Road and taken into custody. Coker admitted to shooting at the victim, because he believed the victim had a gun with him; the victim's car was searched and no gun was found.
During the course of the investigation, officers were informed Coker sold marijuana and were allowed to search Coker's residence. There was a handgun, shotgun, a felony amount of marijuana, drug paraphernalia, and over $2900 in cash found and seized from inside the residence.
On September 29th, 2012, around 8:00pm, Joseph Douglas Coker was booked into the Montgomery County Jail.
After Coker was booked in, another open investigation moved forward in which Coker had been identified as a suspect in several shots being fired at the same 29 year old victim's residence at East Meadow Circle on August 25th, 2012.
Detective Howard Gillespie through the use of threatening text messages from the day of the residential shooting, witness and victim statements, and a vehicle identification linked Coker to the shots being fired at the victim's residence. The detective also was able to ascertain Coker and the victim at one time were friends and had been involved in the sale/transfer of prescription drugs and narcotics in the past.
On October 1st, 2012, Joseph Douglas Coker was served in jail with another Aggravated Assault warrant, which boosted his bond to a total of: $290,250.
Joseph Coker
Name: Joseph Douglas Coker (W/M)
DOB: 2/1/89
Given address: 2453 Wilson Road, Clarksville, TN
Arresting Officer: Alan Morgan
Booked Into: Montgomery County Jail
Charged With: Aggravated Assault, Drugs for Possession for Resale, Unlawful Drug Paraphernalia, and Possession of a Firearm during Commission of a Felony
Bond: $265,250.