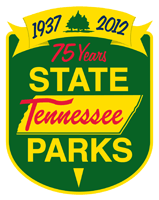 Nashville, TN – The year 2012 marks Tennessee State Parks' 75th Anniversary, and to help commemorate this important milestone, Long Hunter State Park will host the 31st Annual Pow Wow and Fall Festival October 19th-21st, featuring Native American artists, musicians, dancers, food and storytellers.
Sponsored by the Native American Indian Association of Tennessee, this time-honored gathering draws thousands of people from across the country and offers a great opportunity to explore a variety of tribal customs and cultural experiences.
"We are very excited to celebrate Tennessee State Parks' 75th Anniversary this year," said Park Manager Thurman Mullins. "For 31 years, the annual NAIA Pow Wow has provided a unique forum to showcase Native American history, while educating families and students about its importance in helping shape our nation. The festival is designed to help preserve this heritage for future generations and we look forward to seeing the many wonderful artists and performers who will be on hand to share their talents."
In addition to musicians and dancers, the festival will feature craftspeople selling their wares and handicrafts at various vendor booths, along with a number of games and activities for the whole family, including live performances will be held throughout the three-day event. A tipi village will offer visitors a glimpse of early life in America.
Activities will begin at 9:00am each day, running into the evening. Admission is $6.00 for adults, $3.00 for children ages 6 to 12 and senior citizens, and children aged 5 and under will be admitted free of charge. NAIA-TN is offering a Free School Day on Friday, October 19th, from 9:00am until 2:00pm for all students, teachers and school faculty members.
Proceeds from the 2012 Pow Wow will benefit NAIA's Scholarship and Emergency Relief Funds. Chartered in 1983, NAIA's Tennessee chapter is the only statewide nonprofit organization with an all-Indian board of directors elected by the membership and represents the concerns of more than 15,000 Native American Indian residents in Tennessee.
The Tennessee State Parks system was established through legislation in 1937, and those laws – with modifications and additions over the years – remain the framework for park operations today. As in most states, Tennessee began in cooperation with federal programs that instigated individual parks.
Later, Depression era recovery programs gave a boost to the idea and the possibility of creating parks. The Civilian Conservation Corps and Works Progress Administration worked on land conservation, but also delved further into the actual planning and construction of what would become the first of 54 Tennessee State Parks.
Today, there is a state park within an hour's drive of just about anywhere in Tennessee.  A 2009 University of Tennessee study highlights the positive economic impacts that state parks provide local communities, particularly in rural areas of the state.
The study found that for every dollar spent on trips to Tennessee State Parks, an additional $1.11 of economic activity was generated throughout the state.  When the direct and indirect expenditures were combined, the impact of Tennessee State Parks to the state's economy was $1.5 billion in total industry output, supporting more than 18,600 jobs.
"Our vision statement highlights the inherent value of our natural environment, along with the value of the many physical reminders of Tennessee's past," added Deputy Commissioner Brock Hill.  "Tennessee's state parks have played such an important role in our history, and they play a critical role in our health and quality of life, which will benefit Tennesseans well into the future."
Tennessee's state parks deliver a rich fabric of natural landscapes, wild places, preserved ecologies, outdoor recreational opportunities and protected historic scenes and resources – together representing the heritage of Tennessee in the landscape.
Tennessee's 54 state parks and 82 state natural areas offer diverse natural, recreational and cultural experiences for individuals, families or business and professional groups.  State park features range from pristine natural areas to 18-hole championship golf courses.  For a free brochure about Tennessee State Parks, call toll free at 1.888.867.2757. For upcoming events in connection with the 75th Anniversary of Tennessee State Parks, please visit the state parks website at
www.tnstateparks.com
.
In commemoration of the 75th Anniversary of Tennessee State Parks, the Tennessee Department of Environment and Conservation launched an innovative new microsite at www.tnstateparks75.com. Established in partnership with the Tennessee Department of Tourist Development, the microsite displays Tennessee State Parks' rich heritage and showcases the many outdoor adventures awaiting state park visitors through rich media and dynamic content.
Long Hunter State Park is situated along the shore of J. Percy Priest Lake. It consists of four units: Couchville, Baker's Grove, Bryant Grove and Sellars Farm. Picnicking, swimming, hiking, backpacking, boating, fishing, nature photography and wildlife observation are among the activities available to park visitors.
Planned activities include interpretive and recreation programs for the general public and environmental education programs for school and other interested groups.  For more information about Long Hunter State Park, please visit www.tnstateparks.com/LongHunter or call 615.885.2422.
For more information and specific event times and activities at the 2012 Pow Wow and Fall Festival, please call the NAIA's Nashville office at 615.232.9179 or e-mail them at . Additional information about the event can be found on the NAIA Web site at www.naiatn.org.