APSU Sports: Austin Peay Men's Basketball

Cancun, Mexico – Austin Peay State University nailed three consecutive three pointers amidst an 11-0 second-half run as the Governors rallied from 12-point deficit to defeat Western Carolina, 72-71, Tuesday afternoon during Mayan Division action of the Triple Crown Cancun Challenge, being played at the Moon Palace Resort.

The victory snapped the Governors two-game losing streak and pushed them back to the .500 mark at 2-2. Western Carolina, meanwhile, falls to 1-4 on the season.

The victory certainly came as a result of several ebbs and flows during the game. APSU fell behind 8-0 but led by Anthony Campbell were able to tie it at 14-14 with 11:47 to play. But much of the half's remainder belonged to Western Carolina, which went on a 14-2 run to build a 12-point advantage, 28-16.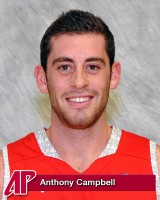 APSU could get no closer than 10 points the remainder of half and would have been down by 14 at intermission without Campbell's perimeter jumper at the buzzer.

The deficit remained double digits for much of second half's first five minutes. But the Govs then made the first of two key second-half surges. The first was a 12-2 surge that saw APSU cut the margin down to two, 50-48, as Campbell scored five during the run, including a three pointer.

Then came the decisive run. With APSU down 58-57 with 7:53 left, junior Travis Betran sparked the Govs. First freshman guard Corey Arentsen found Betran for a three-pointer to give APSU a 60-58 lead. After Western Carolina missed a three, Betran popped up and made a second straight three pointer, again from Arentsen.

A missed Catamount layup was followed by an Arensten three, forcing Western Carolina to call a timeout down 66-58. The Govs momentum continued as Western Carolina came up empty on its next possession with Lawrence capping the 10-0 run with an off-balance driving layup to give APSU its biggest advantage, 68-58 with 4:38 left.

But the veteran Catamounts battled back, taking advantage of APSU consistent concern in the early season-turnovers. When Trey Sumler, the preseason All-Southern Conference guard selection nailed a three pointer with 1:56 left, it made it a 70-65 game with 1:56 left.

Lawrence kept the door open for Western Carolina when he was unable to convert a free throw with the Govs up by five with 52 second left. James Sinclair responded with a bucket to make it a three point game, 72-69, with 47 seconds left.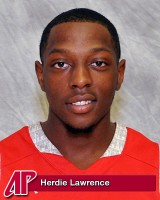 That set the stages for a bizarre ending. Western Carolina elected to play pressure defensive and not foul. After an APSU timeout the shot clock was not resumed, forcing the officials to call timeout with 16.6 seconds left. When the Govs inbounded the ball, Campbell attempted to get it to Lawrence, with the sophomore guard stepping out of bounds attempting to retrieve the errant pass.
That left Western Carolina with 14 seconds to tie the game. Sumler was unable to shake free of the determined Betran, leaving it to James Sinclair for the three-point attempt. It was missed. The Cataomounts Tawaski King grabbed the rebound with his team still needing a three pointer. He went up underneath only to have Freeman blocked his first shot attempt. His second dropped through at the buzzer, one point short for Western Carolina.
Betran, with 13 second-half points, led the Govs with 22 while Campbell, who had 12 at intermission, added 21.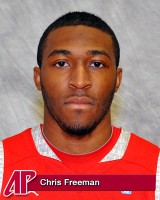 Chris Freeman, starting in place of the absent Will Triggs, shook off a struggling first half to finish with 11 points and 10 rebounds, his second double-double of the young season.
Arentsen had a eight points and a team-high four assists while fellow freshman, center Chris Horton, scored only two points but blocked four shots while altering several others in the second half.
The Govs, who had endured a shooting slump that saw them shoot no better than 40 percent from the floor in five straight halves including Tuesday's first half (37.5 percent), scorched the Cancun ballroom for 70 percent (14 of 20) shooting in the second half.
Triggs, who misplaced his passport in Chicago, is expected to join his teammates for Wednesday's game.
Box Score
Western Carolina vs Austin Peay
11/20/12 12:30pm at Moon Palace Resort (Cancun, Mexico)
Western Carolina 71
Total
3-point
Rebounds
##
Player
p
fgm-fga
fgm-fga
ftm-fta
off-def
tot
pf
tp
a
to
blk
stl
min

00

TANKELEWICZ, Tom

f

2-6

1-5

0-0

0-0

0

2

5

0

1

0

1

12

32

KING, Tawaski

f

5-11

0-0

2-6

6-1

7

2

12

3

0

0

0

34

40

ROSS, Preston

f

7-12

0-1

0-0

3-6

9

3

14

4

0

1

2

35

05

SUMLER, Trey

g

7-12

1-3

1-2

1-4

5

1

16

1

4

0

0

34

24

BOGGS, Brandon

g

4-14

1-3

0-0

1-2

3

2

9

1

1

0

1

24

01

HALL, Kenneth

–

0-1

0-0

0-0

1-0

1

1

0

0

1

1

0

4

02

BROWN, Mike

–

0-1

0-1

0-0

1-2

3

0

0

2

0

0

0

6

03

HARRELSON, Rhett

–

1-3

1-3

0-0

0-1

1

0

3

1

0

0

2

14

14

MENDENHALL, Josh

–

1-2

0-0

0-0

1-0

1

1

2

0

1

1

0

6

25

SINCLAIR, James

–

4-10

2-7

0-0

1-4

5

3

10

6

1

0

2

31

TM

Team

–

–

–

–

2-0

2

–

–

–

1

–

–

–

Totals…………..

–

31-72

6-23

3-8

17-20

37

15

71

18

10

3

8

200

43.1%

26.1%

37.5%

Team summary:
FG
3FG
FT
1st Half:

18-34

4-11

2-4

52.9%

36.4%

50.0%

2nd Half:

13-38

2-12

1-4

34.2%

16.7%

25.0%
Austin Peay 72
Total
3-point
Rebounds
##
Player
p
fgm-fga
fgm-fga
ftm-fta
off-def
tot
pf
tp
a
to
blk
stl
min

15

FREEMAN, Chris

f

4-9

0-0

3-4

2-8

10

2

11

3

3

2

0

36

25

CAMPBELL, Anthony

f

7-13

3-7

4-5

1-4

5

2

21

2

4

0

2

37

05

HORTON, Chris

c

1-2

0-0

0-0

1-2

3

2

2

0

0

4

0

21

04

BETRAN, Travis

g

8-13

4-7

2-2

0-6

6

0

22

3

2

0

0

36

23

LYNCH, AJ

g

1-3

0-2

0-2

0-0

0

0

2

1

3

0

0

18

11

GREER, Thomas

–

0-1

0-0

0-0

0-0

0

0

0

1

0

0

0

5

20

ARENTSEN, Corey

–

3-8

2-5

0-0

2-1

3

0

8

4

1

0

2

25

22

LAWRENCE, Herdie

–

2-3

0-1

2-3

1-3

4

3

6

3

3

0

0

18

33

HASSE, Matt

–

0-0

0-0

0-0

0-1

1

2

0

0

0

0

0

4

TM

TEAM

–

–

–

–

1-1

2

–

–

–

–

–

–

–

Totals…………..

–

26-52

9-22

11-16

8-26

34

11

72

17

16

6

4

200

50.0%

40.9%

68.8%

Team summary:
FG
3FG
FT
1st Half:

12-32

3-13

3-5

37.5%

23.1%

60.0%

2nd Half:

14-20

6-9

8-11

70.0%

66.7%

72.7%
| | | | | |
| --- | --- | --- | --- | --- |
| Score by Periods | 1st | 2nd | Total | |
| Western Carolina | 42 | 29 | 71 | Record: (1-4) |
| Austin Peay | 30 | 42 | 72 | Record: (2-2) |
Officials: Darryl Smith, Dan Fouser, Forrest Sigler
Technical fouls: Western Carolina-None. Austin Peay-None.
Attendance: 902
2012 Triple Crown Sports Cancun Challenge
Sections
Sports
Topics
Anthony Campbell, APSU, APSU Athletics, APSU Basketball, APSU Men's Basketball, APSU Sports, Austin Peay State University, Cancun Mexico, Chicago IL, Chris Freeman, Chris Horton, Corey Arentsen, Governors, Govs, herdie Lawrence, Moon Palace Resort, Travis Betran, Triple Crown Cancun Challenge, Western Carolina, Will Triggs