Clarksville, TN – On November 22nd, 2012, around 3:00am, Clarksville Police Officer Sven Szczerbiak spotted a Saturn Ion at the intersection of Madison Street and Richview Road which was stopped at a green light and not moving.
When he checked on the driver of the vehicle, Logan Blakeley, was found passed out and the engine was running. Once Blakeley was awake, the officer could smell alcohol, found Blakeley slow to react to instructions, and was unsteady on his feet.
He was administered standard field sobriety tests which he did not pass, at which time, he was taken in custody.  Officer Szczerbiak also found an orange case containing a metal pipe, marijuana, rolling papers, and a vacuum sealed freezer bag.
Agent Lon Chaney, Special Operations Unit, was called out to further investigate the drug aspect of the investigation.
When the vacuum sealed bag was open, there was $30,000 in cash found inside.
During an interview with Blakeley, it was determined that the money had been proceeds from drug sales and he was just in town for a visit.
The money was seized and Blakely was taken to jail.
Logan Blakeley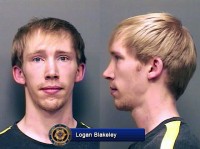 Name: Logan Roderick Blakeley (W/M)
DOB: 12/8/90
Given Address: 1705B White Oak Road, Chattanooga, TN
Arresting Officer: Sven Szczerbiak
Charged With: DUI, Simple Possession, and Unlawful Drug Paraphernalia
Booked Into: Montgomery County Jail
Bond: $1500.00