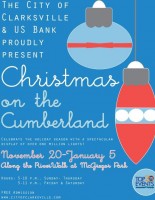 Clarksville, TN – Bring out your kids to Christmas on the Cumberland this evening to enjoy all the christmas festivities from 5:00pm till 10:00pm. Santa Claus will be visiting with children, and giving out toys to the younger kids. There will be Christmas Cookie Decorating in the River Center as well as the display of over 1,000,000 lights along the Cumberland River. There is no charge to participate and everyone is welcome.
Last night several hundred children visited with Santa, Below is a gallery of those images. One little girl received a watch valued at $80, another little girl received a bicycle.
Christmas on the Cumberland runs through January 5th, 2013 from 5:00pm-10:00pm Sunday through Thursday, and 5:00pm-11:00pm Friday and Saturday. The holiday festivities are being presented by the City of Clarksville and US Bank and is sponsored by The Leaf-Chronicle, Lamar Advertising, Clarksville Family Magazine, DiscoverClarksville, and ClarksvilleOnline.com.
Photo Gallery
About Bill Larson
Sections
Arts and Leisure
Topics
Christmas, Christmas on the Cumberland, Holidays, Santa Claus