Written by Sgt. Duncan Brennan
101st Combat Aviation Brigade
Forward Operating Base Fenty, Afghanistan – Being a first sergeant is a labor of love. It is a lot of hard work and long hours, but the responsibility is a reward in, and of itself. The diamond of a first sergeant shows that the Army is entrusting soldiers to consistent and professional leadership.
For 2nd Squadron, 17th Cavalry Regiment, Task Force Saber, at Forward Operating Base Fenty, Afghanistan, the first sergeants enjoy mentoring soldiers. These senior NCOs are personally invested in all their Soldiers.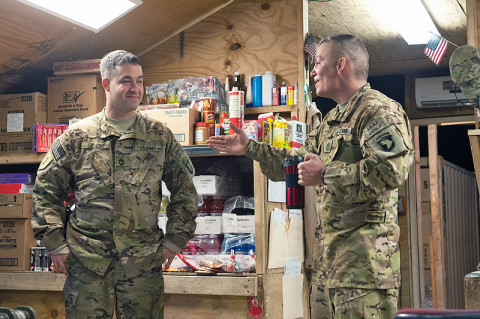 Soldiers' welfare is one of the cornerstones of the Creed of the Noncommissioned Officer. This is something that first sergeants in TF Saber take very seriously.
"I'm a first sergeant," said 1st. Sgt. Thomas Coveney, F Troop, 2-17 CAV, a native of Boston, MA. "I'm responsible for beans, bullets and making sure my guys are happy."
Add training and discipline and you have the foundation of taking care of soldiers. For most first sergeants, their companies are mostly manned by enlisted soldiers and NCOs. For 1st Sgt. Tommy Daigle, B Company, 5th Battalion, 101st Combat Aviation Brigade, the opposite is true.
"I have 20 enlisted soldiers in my company, including myself," said Daigle, a native of Wilton, NH. "I've got 19 warrant officers and five commissioned officers."
Leading soldiers that outrank you can be difficult. When professionalism and leading-by-example are the primary tools of leadership, it can be done.
"I'm not afraid of getting my hands dirty," said Daigle. "I like to get out with my crew chiefs and learn from my soldiers."
Mentorship is essential to growing the next generation of leaders.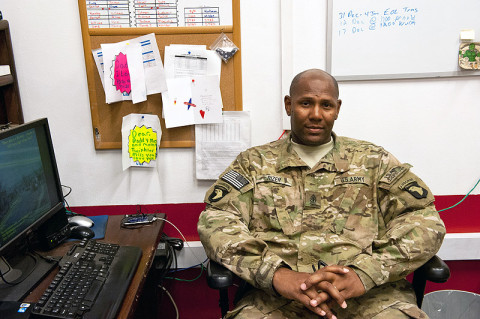 "I love having a direct impact on grooming the future leaders of the Army," said 1st Sgt. Marlon Morning, Headquarters and Headquarters Troop, 2-17 CAV. "I've been a first sergeant for four companies. I enjoy the coaching, teaching and mentoring of Soldiers and the ability to take care of them."
During deployments changing circumstances can have unanticipated effects. For 1st Sgt. Arthur Rizer, E Troop, 2-17 CAV, training is the key to success.
"In garrison, everything is set," said Rizer, a native of Valdosta, GA. "In war, everything is variable and you have to adapt. On a deployment, you see what training and preparation the Soldiers did and how it shows every day."
For first sergeants, training is about building trust and teamwork within the company. Trust and competency are at the core of what it means to be leaders.
"I have to be technically and tactically proficient," said 1st Sgt. Casey Vanzant, B Troop, 2-17 CAV. "Soldiers have to trust that the first sergeant knows what's going on."
Through hard training, and hard work soldiers achieve success. First sergeants take pride in the accomplishments of their soldiers.
"The Army is more rewarding as a first sergeant," said Vanzant, a native of Dryden, VA. "I love it when I see Soldiers come through the promotion board and get awards. I hope that I've played a part in developing them."
Wearing the diamond brings with it a great responsibility.
"To anyone that wants to be a first sergeant, I say go for it," said Morning. "Being a first sergeant is not a job, it is a privilege as a first sergeant in the Army."
Photo Gallery