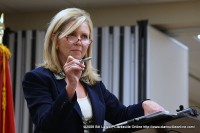 Clarksville, TN –  Congressman Marsha Blackburn is dealing with the loss of her father after Hilman Wedgeworth passed away Wednesday.
Mr. Wedgeworth was a retired sales and management professional from Armco Steel/National Supply Company and co-owner of M&D Sales in Laurel Mississippi.  He served his country as a member of the US Army during WWII.
Service will be on Saturday, February 2nd, 2013, 10:00am, Memory Chapel Funeral Home, Laurel, MS.  Dr. Randy Turner, pastor of First Baptist Church, Laurel, MS is officiating.
He was a founding member of the Jones County Sheriff's Volunteer Deputy program and was the outstanding deputy in 1994.  He was recognized for his volunteer work by the Jones County Chamber of Commerce with inclusion in the Civic Awards Hall of Fame in 2003.  He was also honored by the Red Cross, the MS FFA and MS FHA organizations.  He served as a member of the Farmer's Home Administration Loan program advisory board.
Pallbearers will be members of Mr. Wedgeworth's Sunday School Class at First Baptist Church and his grandsons.
He is survived by his wife of 67 years, Mary Jo Morgan Wedgeworth; son, James(Jane) Wedgeworth of Hilton Head Island, SC: daughter Marsha(Chuck) Blackburn of Brentwood, TN; daughter Karen Miller of Nashville.  Grandchildren are Mary Morgan(Paul) Ketchel of Nashville, TN, Chad Blackburn of Nashville, TN; Brandi Jane(Jason) Graham of NYC, NY; Marsha (Drew) Hunter of Chapel Hill, NC; Chip Wedgeworth, Charlotte, NC; David Wedgeworth of Greeneville, SC; McKensie Miller of Nashville.
Great grandchildren are Jack and Chase Ketchel of Nashville and Preston Hunter of Chapel Hill, NC.
In lieu of flowers, contributions can be made to:
Mississippi 4-H Club Foundation
Wedgeworth Memorial Fund
ATTN: Courtney Headley
BOX 9641
Mississippi State, MS  39762
Or to:
Lauren Rogers Museum of Art
Wedgeworth Memorial Fund
Lauren Rogers Museum of Art
P.O Box 1108
Laurel, MS 39441