Written by Sgt. Alan Graziano
3rd Brigade Combat Team, 101st Airborne Division (AA) Public Affairs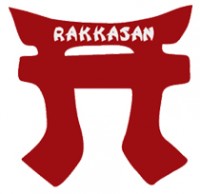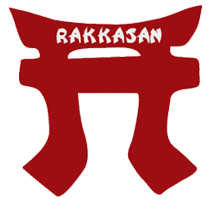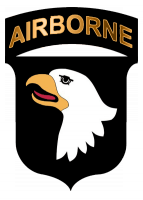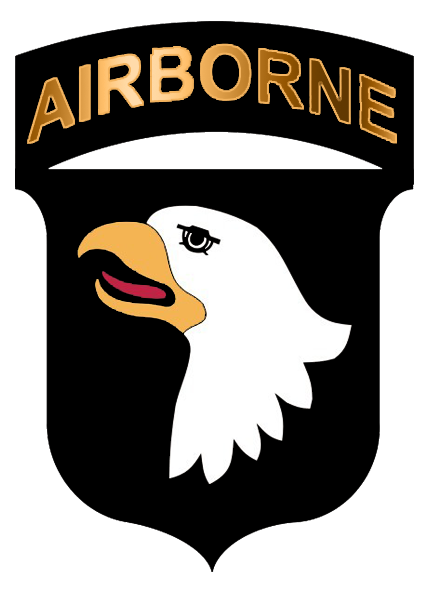 Fort Campbell, KY – The "Rakkasans" of the 187th Infantry Regiment, 3rd Brigade Combat Team, 101st Airborne Division (Air Assault) have been trusted to carry out some of the nation's most difficult missions for many years and through every war since World War II.

The regiment's 70th anniversary was celebrated with an activation ceremony here February 20th, although the official anniversary was February 25th.

"Each year, during this week, we try to invite back all of our legendary heroes of all the past and present Rakkasans so we can reconnect and pay tribute to our fallen Rakkasans that have participated in every conflict since World War II," said Maj. John Page, the Rear-Detachment commander of 3rd BCT.

The milestone ceremony also was a way to teach the younger Rakkasans about the organization's unparalleled history as the torch is passed onto them by previous generations.

Presenting the comments on behalf of the currently-deployed 3rd BCT Commanding Officer, Col. R.J. Lillibridge, Page highlighted the unit's unique situation.
"Ironic as it is that on the 70th anniversary, and being the most deployed brigade in the Army, we are deployed yet again," he said. "Col. Lillibridge, the brigade commander, and Command Sgt. Maj. Crabtree would love to be here – this is one of the best things about being in command of the Rakkasans – but they are in RC-East conducting combat operations."
Page spoke about the many different chapters of the 187th Infantry Regiment's history.
"We have an extremely long legacy of heroes between World War II, Korea, Vietnam, Lebanon, the Gulf War and the Global War on Terrorism," he said. "We've participated in multiple wars and conflicts. We've had accolades and heroes that have gone way above and beyond."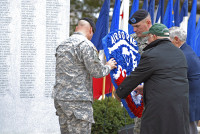 Recognizing the values exemplified by the regiment's heroes from past wars, Page said that it's important for today's Rakkasans to follow suit.

"The youngest soldiers have a legacy that we recognize to become a Rakkasan," he said. "It sets the standard very high for the most deployed brigade in the Army. We paid tribute today and tried to reconnect with some of our older Rakkasans and kind of help the younger ones understand what that title means."

Although the regiment has accomplished great things, Page also noted that the valorous Rakkasan history has required great sacrifice from heroes who should never be forgotten.

"But today is also a day to remember the Rakkasans who made the ultimate sacrifice during our wartime history – the names on this wall and pylons, and to remember their families, friends and loved ones who have borne the heaviest burdens of this war," he said. "Few words I say today can lessen their losses, but know that we will never forget who they were, what they stood for and all that they sacrificed for their brothers and sisters in arms."

Irving Weinsoff, president of the 187th National Rakkasan Association, spoke of his fallen brothers and passing the torch onto the newest generation of Rakkasans.
"I want you to know that there is a Rakkasan Association. We come here several times a year and we sit on those benches, and those are our friends up there," Weinsoff said, pointing at the names of fallen Rakkasans on the Regimental Pylon.
"I'm from the Korean War, other guys here are from Vietnam and a couple from World War II," he said. "I want you all to know one thing: they all died to serve this country and the words 'Let Valor Not Fail (the brigade's motto).' I would like to pass that on to you. We never retreat, always forward."
After discussing the landmark operations of the regiment's history, Page spoke about the ever-evolving nature of the organization through the years.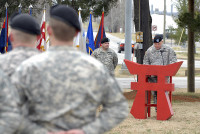 "Our 70 years of history have been of constant change," he said. "Originally constituted as an airborne regiment, we have also been an airborne regimental combat team, an airborne battle group, a brigade, and today, a brigade combat team. Yet, our lineage and the example of past and present Rakkasans have served to bind us together."
He ended his speech by highlighting the newest chapter of ongoing Rakkasan history.
"Today, our Rakkasans are serving once again in Afghanistan, in the provinces of Khowst and Paktya, to include the Shali Khot Valley. We are there to finish what we started in 2001," he said. "We are serving side-by-side with our Afghan army and police counterparts, to give the next generation of Afghans a chance at peace after over 30 years of war."
Sections
News
Topics
101st Airborne Division, 187th Infantry Regiment, 3rd Brigade Combat Team, Air Assault, Fort Campbell KY, Global War on Terror, Gulf War, Khowst Province, Korea, Lebanon, Paktya Province, R. J. Lillibridge, Rakkasans, Regional Command East, vietnam, World War II