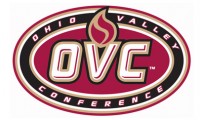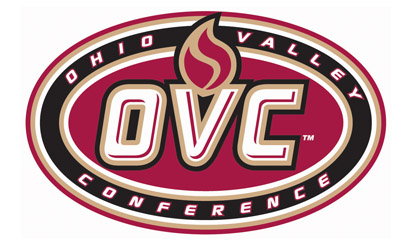 Brentwood, TN – After the completion of the winter sport championships, Eastern Illinois University has taken the lead in the 2012-13 Ohio Valley Conference Commissioner's Cup all-sport trophy standings; the Cup is a symbol of overall athletic excellence in Conference-sponsored championships.
After trailing by 2.5 points after the fall championships, the Panthers finished first in men's indoor track & field and third in women's indoor track & field to jump into the lead by four points over fall leader and defending champion Eastern Kentucky.
EIU's point total of 85 points was followed by Eastern Kentucky (81), Southeast Missouri (77), Belmont (65.5), UT Martin (56.7), Murray State (52.6), Jacksonville State (49), Tennessee State (48.5), Morehead State (47.3), SIUE (46.5), Austin Peay (42) and Tennessee Tech (35.5).
The 2012-13 season marks the fifth for the re-formatted Commissioner's Cup, which was previously known as the All-Sports Trophy. The award (which started in 1962-63 for men's sports and 1980-81 for women's sports) was previously divided into a Men's All-Sport Champion and a Women's All-Sport Champion. Points were awarded for each of the 18 sponsored sports and each school was required to count its totals from each sport in its grand total.
Beginning in 2008-09 only one trophy was awarded (Murray State won the first honor followed by two-straight wins by Eastern Illinois and then an EKU win a season ago). Schools are required to count point totals for four main sports (football, volleyball, men's basketball and women's basketball) along with their next eight highest point totals from the remaining sports, regardless of gender. Belmont, Morehead State and SIUE, which do not compete in OVC football, count baseball as one of its four required sports.
Under the old system current leader Eastern Kentucky won 15 Men's All-Sport Trophies and seven Women's All-Sport Trophies. Both are all-time bests in each category.
The points system for scoring is as follows. For all sports (except rifle, men's indoor and men's outdoor track – which have six or fewer participating teams), the first place team earns 12 points, the second place team earns 11 points, etc. For rifle, men's indoor and men's outdoor track and field, the first-place team earns 12 points and subsequent point increments are calculated by dividing the total number of OVC member institutions by the number of institutions sponsoring the sport (for rifle that number is 2.4 less, for men's indoor track that number is 2.0 less and for men's outdoor track that number is 1.75 less).
New to the scoring system last season was a bonus point for the winner of OVC Tournaments (soccer, volleyball, basketball, tennis, softball and baseball). UT Martin earned that bonus point for soccer and women's basketball while Belmont won the bonus point for volleyball and men's basketball.
There are eight OVC Championships remaining this year (women's tennis, men's tennis, women's golf, men's golf, women's outdoor track & field, men's outdoor track & field, softball and baseball).