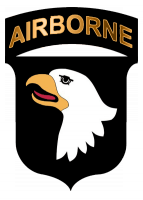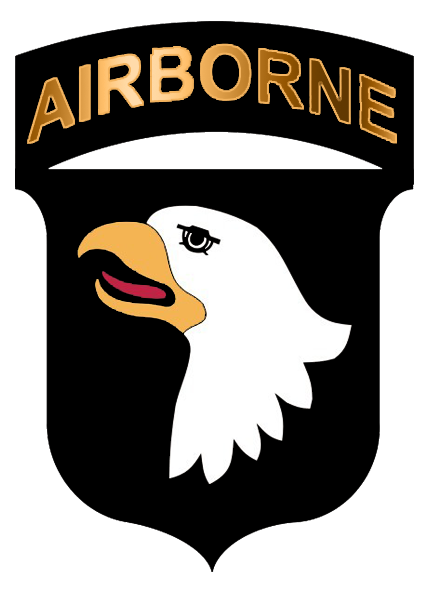 Fort Campbell, KY – For 71 years the soldiers of the 506th Infantry Regiment part of the 4th Brigade Combat Team (Currahees), have been giving their all in defense of our nation. Their ranks have produced many tales of bravery and distinguished service.
Some of the soldiers who served with distinction were honored on April 11th during the Regiment's yearly Distinguished and Honorary Members of the Regiment Recognition Ceremony which is held before the active duty soldiers of the 4th Brigade Combat team.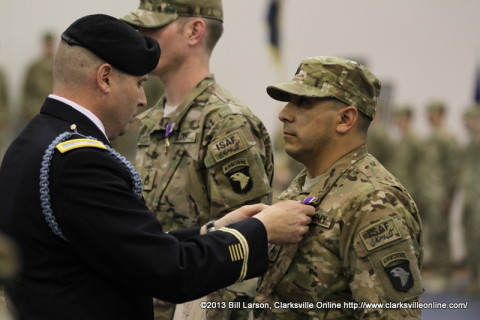 180 soldiers have been recognized as Distinguished Members of the Regiment since 2007, along with 44 Honorary Members. This year they inducted 17 Distinguished Members of the Regiment, and 2 Honorary Members including the daughter of Col. Sink, the first regimental commander, Mrs. Robin Sink McClelland, into the 506th Infantry Regiment.
Distinguished Members of the Regiment (DMOR) are current and former members (veterans) of the 506th Regiment or 4BCT who have been recognized for their service to the Regiment or 4th Brigade Combat Team, and/or continued distinguished service to the US Army, their communities, and the Nation.
Honorary Members of the Regiment (HMOR) are individuals who have made a contribution or provided a service to the 506th Regiment or the 4th Brigade Combat Team, but who have never served with the 506th Regiment or the 4th Brigade Combat Team.
The ceremony began with the presentation of The Purple Heart to Sgt. Thomas M. Delgado and Sgt. Matthew Guess.
Following the Medal presentations, and the recognition of the new Distinguished and honored Members of the Regiment, remarks were given by Colonel (Retired) Richard Seitz, the Honorary Colonel of the 506th Infantry Regiment; as well as from Colonel Valery C. Keaveny Jr., the current commander of the 4th Brigade Combat Team.
The Distinguished Members of the Regiment (DMOR)
Major (Retired) Donald E. Zahn
Major (Retired) Zahn is an original Toccoa man, having served in both H and C companies, and rising through the ranks receiving a battlefield commission. He received a Distinguished Service Cross for his actions during a German attack in Normandy. He has three combat jumps to Normandy, Operation Market Garden, and Bastogne, and was the Officer in Charge of guarding Adolf Hitler's Berghof mansion. He also received two Purple Hearts and the Bronze Star for heroic service. Following WWII, Major Zahn served twenty years in the reserves and remained active with the Boy Scouts of America, the American Legion, and the Veterans of Foreign Wars.
Although Major Zahn could not attend the ceremony, his daughter and grandson, Nancy and Chad Holvenstot were on hand to accept on his behalf.
Lieutenant General (Retired) Randolph W. House
Lieutenant General House initially served in Vietnam as commander of C Co, 158th Aviation Battalion, leading many air missions in support of 506th rifle companies at Firebase Ripcord, and was the air mission commander of the evacuation of Firebase Ripcord. After a year of combat flying, LTG House extended his tour in Vietnam to be company commander of Charlie Company, 2-506 Infantry, and led the company in the Lam San 719 battles just south of the DMZ. Since his time in the 506th, LTG House served in many positions, commanding at all levels, culminating as the CG of the 8th Army in Korea and then Deputy Commander of US Pacific Command. LTG House is a Silver Star recipient and continues to be active with veterans' associations, including the Ripcord Association and the Vietnam Helicopter Pilots Association.
Colonel (Retired) James S. Roach
Colonel Roach served with 2-506 from 1967-1970, including two tours in Vietnam. He served as the Battalion Reconnaissance Platoon Leader, Delta Company Commander, and Charlie Company Commander. Following his time in the 506th, COL Roach served as the director of the JFK Center at Fort Bragg and eventually rose to command the 7th Special Forces Group (Airborne) from 1993-1995. After retiring from active duty with 25 years of service, COL Roach has served in numerous civilian positions supporting U.S. embassies and missions in the U.S. and the Middle East, and recently returned Kabul, Afghanistan as a U.S. Embassy Military Liaison Officer.
Lieutenant Colonel (Retired) James McCall
Lieutenant Colonel McCall was a platoon leader with Delta Company, 2nd Battalion during combat operations on and around Fire Base Ripcord in Vietnam in 1970. Then 1LT McCall led his platoon on many engagements in which they were outmanned and outgunned, including the rescue of Recon Team Bravo on Hill 1000. LTC McCall's awards include the Silver Star, Legion of Merit, Bronze Star with V-Device (one oak leaf cluster), and the Purple Heart. After his service in the 506th, LTC McCall continued to serve in the Louisiana Army National Guard as counter-drug coordinator and in the Louisiana State Police.
Lieutenant Colonel (Retired) Terrence M. Smith
Lieutenant Colonel Smith served 18 months in Vietnam as a Platoon Leader, Company Commander, and Intelligence officer with HHC, A Co., C. Co., and D Co. of 2-506. He received two Silver Stars, 2 Bronze Stars, 2 Purple Hearts, and 3 Vietnamese Crosses for Gallantry. He re-entered the Army in 1981 and served as a General Dentist, and clinic chief of several clinics. Since his retirement in 1994, Lieutenant Colonel Smith has remained active with the American Legion, VFW, Disabled American Veteran's Association, Ripcord Association, and many more veterans and orthodontic associations.
Lieutenant Colonel (Retired) Cully Warren
Lieutenant Colonel Warren served as a rifle platoon leader in D Company and a Battalion Assistant S3 in 2-506 in Vietnam from 1970-1971. As a platoon leader, he received the Silver Star for bravery during combat in an enemy bunker complex, along with the Purple Heart. As Battlalion Assistants S3, Lieutenant Colonel Warren was a key leader in planning air mobile operations for the rifle companies. After the Vietnam War, LTC Warren commanded two rifle companies and a mechanized infantry battalion in Europe. His service culminated as a joint planner for the Panama invasion in December 1989. After his retirement, LTC Warren has continued association with Currahee Ripcord veterans, always maintaining strong relationships, earnestly reaching out to Vietnam veterans and their families.
Chaplain (Lieutenant Colonel, Retired) LeRoy Fox
Chaplain Fox served as the 2-506 battalion chaplain from 1970-1971 in Vietnam. Chaplain Fox performed his ministries in the toughest of field locations, always present with the Currahee soldiers on their hardest days in battle, always demonstrating his love of God, Country, and the American Soldier, always with a message of hope. After the Vietnam War, Chaplain Fox continued his Army service ministering to wounded soldiers and their families at Fitzsimmons Army Hospital in Fort Carson, Colorado, and he served an additional 20 years in the Army National Guard. He maintains relationships with many 2-506 and 101st veterans and has provided valued pastoral comfort and counseling to those veterans and their families who have faced difficult life situations.
Major (Retired) Jack Flaherty
Major Flaherty served with 2-506 in Vietnam from 1970-1971, as Rifle Platoon Leader in D Company, and, after promotion to Captain, he served as the Battalion S2 at foreword firebase TOCs. During the Firebase Ripcord battles, Major Flaherty received the Silver Star for bravery in the fight on Hill 1000, along with the Purple Heart. As Battalion S2, he provided timely enemy intelligence reports and guided mission planning and operations for the Reconnaissance Platoon. After the Vietnam War, he continued his service with multiple overseas deployments with the 10th Special Forces Group. MAJ Flaherty continues to be a valued informal leader for the Ripcord Association, and continues to serve his community in a variety of capacities, and earnestly reaches out to Vietnam veterans and their families.
Mike Mullican
Mr. Mullican was assigned as a Team Leader in Vietnam in the Weapons Platoon of Company A, 3-506 from 1967-1968.. He saw action in the 1968 Tet Offensive and displayed unconditional bravery and loyalty in the Battle at the Ca Ty River where eight members of his platoon were killed in action and thirteen were wounded, including Mr. Mullican. For his service, SGT Mullican was awarded the Bronze Star and the Purple Heart. After his service with 3-506, Mr. Mullican came home and earned a degree in construction management. He is currently Secretary of the John P. Geraci Chapter of the 101st Airborne Division Association. He is extremely active in many different veterans organizations, and assists in visiting wounded Currahees at Walter Reed Hosptial. On the anniversary of the Battle at Ca Ty River every year since 1982, Mr. Mullican organizes a trip with fellow A Company vets to visit the Vietnam Veteran's Memorial in Washington D.C to pay their respects to fallen Currahee brothers.
Charles R. Lieb
Mr. Lieb served in combat with as a platoon leader in C/2-506 and S-3 Air in the 2-506 TOC at Firebase Ripcord. Mr. Lieb received for his combat service in Vietnam the Silver Star, two Bronze Stars with "V" Device, and three Purple Hearts. Following his time in the 506th, Mr. Lieb continued to serve as a Company Commander in the 5th Mechanized ID, and an ROTC Instructor at San Jose State University. In his civilian career, Mr. Lieb has served on many Boards of Directors, to include the International Car Wash Association, the Boys and Girls Club of Green Bay, the Green Bay Packers, and St. Mary's Hospital. He is currently a member of many veterans associations, and is a Founding Sponsor of the National Museum of the United States Army and a Charter Member of the National World War II Museum.
Gary Lee Watrous
Mr. Watrous served as a Rifle Platoon Leader, Recon Platoon Leader, and Assistant S-3 Air in 2-506. While serving as Assistant S-3 Air at Firebase Ripcord, he was terribly wounded directing air strikes and artillery during the day of evacuation on 23 July, 1970. For his Vietnam service, he received the Bronze Star with "V" device, Bronze Star, Air Medal, and Purple Heart. After separating from service he worked for the First National Bank of Groton, New York for 38 years and is currently the Senior Vice President and Senior Loan Officer. He is a member and leader of countless community organizations, associations, and local and state Boards, as well as numerous veterans associations. Mr. Watrous was the organizer of the a war memorial park in downtown Groton to honor a local Medal of Honor winner and other decorated community veterans.
Paul E. Burkey
Mr. Burkey served in combat with Charlie 2-506 from November of 1969 through October of 1970 as a squad leader, platoon sergeant, and acting platoon leader. Mr. Burkey received three Bronze Stars with "V" device during his time with the 506th, while performing duties as acting platoon leader for five months. After his time in the Army, Mr. Burkey has owned his own auto body shop for 25 years. He is a member of the Ripcord Association and an extremely active member of his local VFW Post. He served for many years as Vice Commander of the Post prior to his election in 2004 as the Commander of the Post.
Len Long
Mr. Long served as the platoon sergeant of the Reconnaissance Platoon for 2-506 from 1970-1971. Often with no assigned platoon leader, Staff Sergeant Long led his platoon during both the Ripcord battles in the summer of 1970 and later, during the Lam Son 719 battles in March and April of 1971. He received the Bronze Star for Valor in November 1970, along with the Purple Heart. He continues to be a valued leader for veterans of the Reconnaissance Platoon, and has visit wounded soldiers at Walter Reed hospital, worked with veterans at the Martinsburg, Virginia Veterans Center to apply for suitable jobs. He continues to serve the community in a variety of capacities.
Frank W. Marshall
Mr. Marshall served in Vietnam in 1970 with Alpha Company, 2-506. Then SP-4 Marshall and his company led the assault to open up Firebase Ripcord, and he was wounded in an ambush. When his company was attacked by over 400 NVA soldier in July, SP-4 Marshall suffered shrapnel wounds to his arm and leg and burns to his face in three separate encounters in the 6 hour battle. He was awarded the Bronze Star with "V" Device, The Bronze Star, Two Purple Hearts and two Air Medals. He is extremely active in veterans organizations in Philadelphia. Among these he was Chairman and Founder of the Philadelphia Veterans Fair for the Philadelphia United Veterans Council, and a member of the "Last Patrol", a successful fundraising effort for the Philadelphia Vietnam Veterans Memorial. He has received countless awards from veterans organizations, and is the Past Commander of the United Veterans Council.
SGT (R) Maxwell D. Ramsey
Sergeant Ramsey was a member of Charlie Company, 1-506 from 2004 to 2006. He served one tour in Iraq on the eastern side of Ramadi. SGT Ramsey served as a rifleman, gunner, team leader and RTO for one of the most decorated platoons in the regiment. While operating as a gunner on a night mission, SGT Ramsey's Humvee hit an Improvised Explosive Device and he lost his left leg. During his time at Walter Reed, SGT Ramsey became a spokesman for severely disabled wounded warriors, even running with President George W. Bush around the White House on his prosthetic limb. He returned to duty with the 506th and was assigned to the Division Parachute Demonstrations team. Since his injury, he has achieve 650 more jumps, and is intent on passing 1000. After retirement, he was part of a prosthetic leg prototype testing program for the Army and has been engaged with various veterans groups. SGT Ramsey hosts a weekly veterans radio program which brings awareness to the issues facing our military men and women and he continues to be dedicated to helping those in need.
Command Sergeant Major Ryan Alfaro
Command Sergeant Major Alfaro served as a Currahee from 2004 to 2011. He was a Platoon Sergeant in 2nd Platoon Able Company from 2004-2007, where he deployed to Ramadi, Iraq. After promotion to First Sergeant, he was selected to be the Baker Company First Sergeant from 2007-2009, where he deployed his company to Afghanistan from 2008-2009. He was then selected to be the HHC Brigade First Sergeant from 2009-2010, again preparing his company to go to Afghanistan. While waiting to attend the Sergeants Major Academy, he was selected to serve as the Brigade Rear Detachment Sergeant Major, where he was responsible for 900 Rear Detachment Soldiers for 11 months of the deployment. Command Sergeant Major Alfaro is currently the Battalion Command Sergeant Major of the Infantry Basic Officer Leaders Course in Fort Benning, Georgia.
Captain Donald Renay Workman
Captain Donald Renay Workman was awarded the recognition posthumously, his recognition was accepted on his behalf by two of the men who served with him, Sergeant Major (Retired) Richard P Doyle and Anthony F. Cox. He served with 1-506 from 1969-1970 after graduating from West Point in the Class of 1968. Known as "Ranger", Captain Workman spent his entire tour in the field, as a rifle platoon leader, recon platoon leader, and finally, company commander of Delta Company, 1-506. Captain Workman was Killed in Action on July 21st, 1970, on Hill 805 in Thua Thien Province, South Vietnam while directing the extraction of his troops from AO Ripcord. CPT Workman received the Silver Star Medal, Bronze Star Medal, Air Medal, Army Commendation Medal, and the Purple Heart. Captain Workman's soldiers are united in saying he never wavered from being a strong leader and he always tried to build confidence in the face of fear, constantly reminding his soldiers in rough times that "We are the Hunter and not the Hunted."
The Honorary Members of the Regiment (HMOR)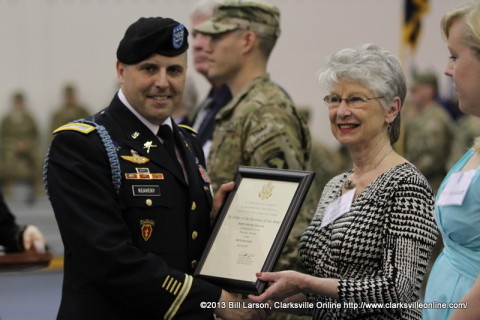 Robin Sink McCelland
Mrs. Sink-McClelland was born in Fort Bragg, North Carolina to Colonel and Mrs. Robert F. Sink. Her father was the first regimental commander of the Currahees and their leader throughout World War II. Growing up as an army brat, Mrs. Sink-McCLelland maintained contact with 506th WWII veterans who served with her father. Throughout her life, she has been keenly aware of her father's role in the regiment and has been an active presence at regimental affairs. She participated in the dedication of the General Robert F. Sink Library at Fort Campbell and donated boxes of Sink memorabilia to the 101st Airborne Museum. Long after her father's death, she remained in touch through the "FIVE-O-SINK", the regimental newsletter that had held the 506th men together since their training at Camp Toccoa in 1942. She dedicated it to the post-war reunions and activities, and organized the first official WWII 506th PIR Reunion in 1981. She has accompanied veterans on visiting the site of every regimental headquarters in France, Holland, and Belgium. She has continued to be editor of the FIVE O SINK newsletter to this day, and recently released the final issue.
Leoni Wenstedt
Ms. Wenstedt is a Dutch citizen and a resident of Eindhoven, the Netherlands which was liberated by the 506th in September 1944. Ms. Wenstedt is the granddaughter of Pete M. Pulles, who spent 25 years collecting information on the WWII men of the 101st, and the daughter of Petra Pulles, an Honorary Member of the Regiment. Since the start of the Screaming Eagles of World War II Foundation in 2000, Ms. Wenstedt has been involved in the organization and its activities. The Operation Torch tours for veterans of the 101st Airborne Division were organized by Ms. Wenstedt. In 2010, she almost singlehandedly organized the Airborne Memorial Walk in Eerde, the Netherlands, in order to raise money for the Wounded Warrior Fund, and designed postcards to be sent to warriors at Walter Reed Hospital. She has a deep historical knowledge of the 101st in World War II and frequently leads tours, even touring the 101st Parachute Demonstration Team. She is currently studying tourism in college and plans to start an organization which will eventually safeguard the history of the 101st Airborne Division in Europe.
About Colonel Valery C. Keaveny, Jr.
Commander of the 4th Brigade Combat Team
Colonel Valery C. Keaveny, Jr. was commissioned as an infantry officer upon graduation from Florida Tech in 1989. He holds a Bachelors of Science in Aviation Management/Flight Technology from Florida Tech, a Masters of Military Arts and Sciences from the United States Army Command and General Staff College, and a Masters in Strategic Studies from the United States Army War College.
His previous assignments include Rifle Platoon Leader, Scout Platoon Leader, and HHC Executive Officer in 5th Battalion, 9th Infantry Regiment (Manchu), Aide de Camp to the 6th Infantry Division (Light) Assistant Division Commander (Maneuver), and 2nd Brigade Assistant S3 at Fort Wainwright, Alaska. In the 25th Infantry Division (Light) at Schofield Barracks, Hawaii, he served as the 2nd Brigade S1 and as Company Commander of C Company, 1st Battalion, 21st Infantry (Gimlets). He then served at Fort Campbell, Kentucky with the 101st Airborne Division (Air Assault) as the Division G3 Air, Assault Command Post OIC, and Commander of the Division's Long Range Surveillance Detachment. Subsequently, COL Keaveny served as the Senior Long Range Surveillance Unit Observer/Controller at the Joint Readiness Training Center at Fort Polk, Louisiana. COL Keaveny was then assigned to Fort Richardson, Alaska where he served as the US Army Alaska G3 Chief of Operations, S3 and Executive Officer for 1st Battalion, 501st Infantry (Airborne), S3 for the 4th Brigade Combat Team (Airborne) / 25th Infantry Division (Light), and Commander of the 3rd Battalion, 509th Infantry (Airborne). Following battalion command, COL Keaveny served as the Senior Brigade Command and Control Trainer/Mentor at the Joint Readiness Training Center, Fort Polk, Louisiana. His last assignments were as a student in the United States Army War College Advanced Strategic Arts Program and as the Special Assistant to the Commanding General, 101st Airborne Division (Air Assault).
His combat and operational service includes Operation Uphold Democracy, Operation Enduring Freedom, and Operation Iraqi Freedom.
Colonel Keaveny's awards and decorations include the Bronze Star Medal (2nd Award), Meritorious Service Medal (6th Award), Army Commendation Medal (4th Award), Army Achievement Medal (4th Award), Valorous Unit Award (2nd Award), and Army Superior Unit Award (2nd Award).
He has earned the Combat Infantryman's Badge, Expert Infantryman's Badge, Master Parachutists Badge, Pathfinder Badge, Air Assault Badge, and Ranger Tab.
About Colonel (Ret) Richard Seitz
Honorary Colonel of the 506th Infantry Regiment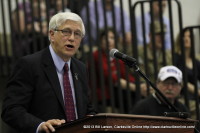 Colonel (retired) Richard Seitz was commissioned a Second Lieutenant, Infantry, in June 1969 from the United States Military Academy at West Point, New York. He retired from active duty in 1993 after 24 years of service.
His military schools include the Infantry Officer Basic Course, US Marine Corps Amphibious Warfare School, Army Command and General Staff College, and National War College. His degrees include a BS in Engineering from West Point, an MA in International Relations from Boston University and a Fellowship in International Affairs from Harvard University.
His combat service was in Vietnam with the 2nd Battalion 506th Infantry, 3rd Brigade, 101st Airborne Division in 1970-1971. During this 18-month period with the 2-506th Infantry, Colonel Seitz served as a Rifle Platoon Leader, a Reconnaissance Platoon Leader, Assistant Battalion S-3 and a Rifle Company Commander.
Other troop assignments included Rifle Company Commander, 1st Battalion, 505th Infantry, later Asst S-3, 3rd Brigade, 82d Airborne Division at Ft Bragg, NC. In Korea, he served as Aide-de-Camp to the Division Commander, later S-3 3rd Brigade, 2nd Infantry Division. In Germany, he served as Inspector General, later Battalion Executive Officer, 3rd Battalion 41st Infantry, later Battalion Commander, 4th Battalion, 41st Infantry, later G-3, 2nd Armored Division (Forward).
His Pentagon assignments included two tours on the Army Staff, one with the Office of Program Analysis and Evaluation and the other as Division Chief, Strategic Plans and Policy. With the Joint Staff, Col Seitz served in J7 as Division Chief, Joint Exercises.
Since his retirement, Colonel Seitz has been with Booz Allen Hamilton, an international consulting firm. He and his family live in Reston, Virginia. Colonel Seitz is a Distinguished Member of the 506th Infantry Regiment. For both the 101st Airborne Division Association and the 506th Infantry Regiment Association, Col Seitz leads the support programs for wounded soldiers and their families recovering at Walter Reed Army Hospital. Colonel Seitz also serves on the Board of Directors for the 506th Airborne Infantry Regiment Association.
About the  Currhees

The Regiment was given the motto "Currahee," a Native American Cherokee word which means "stands alone"—a name that would become synonymous with its combat history. On March 1, 1945, the 506th was assigned to the newly formed 101st Airborne Division.  The Division's first commander, Major General William C. Lee observed that "the 101st has no history, but it has a rendezvous with destiny." The 506th Infantry was destined to write its history in places such as Normandy, Arnhem, Bastogne, the Central Highlands of Vietnam and Cambodia, Iraq, and Afghanistan.
Under Colonel Robert F. Sink's command, the Regiment proved itself over the skies of France as the lead element of the massive Allied D-Day invasion, June 6, 1944. With the objective to seize the high ground immediately behind the Normandy beach in order to prevent the Germans from reinforcing their shoreline defensive positions, the Regiment distinguished itself as the Soldiers of the 506th when they successfully conducted a night airborne insertion into German occupied France and secured their objectives. For its exploits at Normandy, the 506th Infantry Regiment received a Presidential Unit Citation. The 506th later parachuted into combat as a part of Operation Market Garden and earned its second Presidential Unit Citation for actions while successfully resisting the vicious German assaults at Bastogne. The final significant event during World War II occurred when the 506th drove into Southeastern Germany and overran Hitler's famed "Eagle Nest" in Berchtesgaden. On Nov. 30, 1945, the 506th Infantry was inactivated at Auxerre, France.
The Regiment was twice reactivated as a training unit at Breckenridge, Ky., July 1948 to April 1949 and August 1950 to December 1953, and later reactivated in May 1954 at Fort Jackson, S.C.  On April 25, 1957, the 506th was reorganized as part of the 101st Airborne Division at Fort Campbell.  In December 1967, the 506th deployed to the Central Highlands of Vietnam.  While in Vietnam, the Regiment was converted from Airborne to Airmobile Infantry.  They served four years in Vietnam, earned twelve battle streamers and were awarded a fourth Presidential Unit Citation for actions at Dong Ap Bia Mountain at the north of the A Shau Valley.
The 506th was deactivated in 1984.  The 1st Battalion, 506th Infantry regiment was later reactivated in 1987, to serve at Camp Greaves in the Korean Demilitarized Zone. They served in Korea until August 2004 when they deployed in support of Operation Iraqi Freedom.  From August 2004 to July 2005, the 506th made huge strides in reducing the insurgent menace in their battle space.  They conducted numerous search, raid, and sweep missions resulting in the detention of hundreds of insurgents and the destruction of a multitude of weapons and ordinance caches. The 1st Battalion, 506th Infantry Regiment deactivated Sept. 15, 2005.
The 506th Infantry Regiment was re-activated on Sept. 15, 2005 at Fort Campbell as the 506th Brigade Combat Team, providing regimental designation to the newly created 4th Brigade Combat Team, 101st Airborne Division (Air Assault). The entire Brigade, structured under the Army Modularity Concept, deployed for combat a short two months later to Iraq for a year in support of Operation Iraqi Freedom 05-07. The Brigade's Soldiers added to the rich legacy of the 506th, setting the Army standard for route sanitization, conducting thousands of combat missions in Baghdad and Ar Ramadi, capturing or killing over 1,000 insurgents, and training Iraqi Army and Police forces. The Brigade's task organization included 22 battalion-sized elements. The 1-506th Infantry Battalion fought in Ar Ramadi, while 2-506th Infantry Battalion fought in South Baghdad. The remainder of the Brigade fought in East Baghdad, securing a population of over 4.9 million residents and a landmass of over 1,600 square kilometers. Soon after a successful redeployment, the Brigade, in the midst of personnel and equipment reset, became the Army's Division Ready Brigade, once again poised for short-notice worldwide operations.
As the Currahees "Stood Alone" as the Army's Division Ready Brigade, they deployed to Afghanistan in support of Operation Enduring Freedom in March 2008. The 4th Brigade Combat Team deployed to Afghanistan and transitioned to Combined Task Force Currahee, consisting of almost 6,000 service members from the United States, Poland and the Czech Republic to promote peace and prosperity to the people of Paktya, Paktika, Khost, Ghazni, Logar and Wardak, as part of Combined-Joint Task Force 101. The Currahees returned to Fort Campbell from the operation in March 2009.
In February of 2010, the Brigade received orders to deploy to Afghanistan for the second time.
As part of the final portion of the 2010 surge of Soldiers into Afghanistan as ordered by President Barak Obama, the 4th Brigade Combat Team deployed to Afghanistan in August of 2010 and transitioned into Task Force Currahee as part of Combined-Joint Task Force 101.
The Currahees were deployed to Paktika Province in Eastern Afghanistan in August 2010. Incidentally this was a familiar province to Currahees from their 2008 to 2009 deployment. However this deployment Task Force Currahee moved into only this province, quadrupling the number of Currahees in the area of operation.
Task Force Currahee, partnered with the Afghan National Security Forces and the Government of the Islamic Republic of Afghanistan was responsible for Paktika Province, Eastern Afghanistan in order to promote a stable and peaceful environment free from the tyrannical rule of the Taliban.
After spending nearly a year continuing to build and foster relationships in the province, Currahees completed their redeployment back to Fort Campbell in August of 2011.
They are currently in the process of preparing for another deployment to Afghanistan.
Photo Gallery