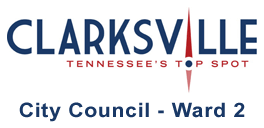 Clarksville, TN – This Thursday, June 6th, 2013 at 7:00pm, will be the first reading and vote on the Fiscal Year 2014 City of Clarksville Budget.
I hope that you had a chance to watch the budget work session videos and review the budget documents. If not, they are listed at the bottom of this article.
If you have concerns that you would like to share with the full City Council and the Citizens of Clarksville, please contact the City Clerk before noon on Wednesday June 5th, 2013 at 931.648.6121 to be placed on the agenda to speak during public comments at the June 6th, 2013 meeting.
This would be your opportunity to be heard.
I have heard from several people regarding their concerns with the Mayor shuffling around the staff of her office and giving them substantial pay raises with out a budget amendment and approval of the full voting body.
Another item that I have heard concerns from citizens on is the building of an employee health clinic with out approval of the full voting body.  At this meeting the hiring of a new CFO will also be discussed.
Written by Deanna McLaughlin
Clarksville City Council – Ward 2
Links
May 13th, 2013 Video of the City Council Budget Work Session
May 16th, 2013 Video of the City Council Budget Work Session