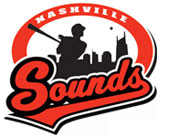 Papillion, NE – The Nashville Sounds suffered their third straight loss to division-leading Omaha, falling 4-1 to the Storm Chasers on Sunday afternoon at Werner Park.
Nashville (38-71), which has dropped five of its last six after opening with four wins in their first five contests out of the All-Star break, is just 4-11 against Omaha this season.
Left fielder Eugenio Velez went 3-for-4 to account for half of the Sounds' six hits on the afternoon.
Omaha took a 1-0 lead in the top of the first inning when Ben Broussard lifted an opposite-field, two-out RBI double to left to plate catcher Max Ramirez, who had singled with two outs against Sounds starter R.J. Seidel. On the play, Velez made an unsuccessful dive for the ball to allow Ramirez, who broke for second on the pitch, to lumber all the way home from first.
Neither starting pitcher factored in the decision despite a pair of solid outings.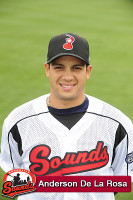 Omaha starter Danny Duffy stifled Nashville batters during his five-inning stint, striking out seven while allowing two hits over five shutout frames. He threw 87 pitches in his continued progression as he returns from "Tommy John" surgery.
Seidel worked 5 2/3 innings for the third consecutive start, finishing one out shy of a quality start in each contest. He allowed one run on seven hits while striking out three batters during his outing.
Anderson De La Rosa knotted the contest at 1-1 in the seventh with a two-out RBI single to right off Omaha reliever Francisley Bueno. Sean Halton, who ripped his 20th double of the year and moved to third on a groundout, scored on the knock.
Omaha responded immediately, retaking the lead with three runs in the home half of the seventh against Tim Dillard.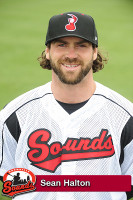 The Storm Chasers, who sent nine batters to the plate during the frame, loaded the bases with no outs on a pair of walks sandwiched around a fielder's choice sacrifice bunt by Paulo Orlando. Christian Colon and Max Ramirez followed by grounding back-to-back go-ahead RBI singles through the drawn-in left side of the infield to give the home team a 3-1 advantage. Travis Webb replaced Dillard on the Nashville hill and struck out Broussard before inducing a grounder from Pedro Ciriaco that erased Irving Falu on a forceout at the plate for the second out of the frame. However, the Nashville lefty then issued a walk to Manny Pina to force in the third run of the inning to widen the Sounds' deficit to 4-1.
Dillard (1-2) was saddled with the loss for the Sounds after failing to retire any of his five batters faced in the contest, allowing three runs.
Nashville didn't go down without a fight in the late inning, however.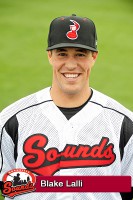 The Sounds put a pair of runners into scoring position against Donnie Joseph in the top of the eighth, but the Omaha southpaw recovered to strike out Stephen Parker and induce a deep inning-ending flyout to the warning track in right from Hunter Morris to escape the jam unscathed.
Nashville got the potential tying run on base in the ninth against Joseph following walks drawn by Blake Lalli, Kentrail Davis, and Blake Davis, bringing Josh Prince to the plate with the bags full. The Omaha left-hander struck out Prince on three pitches, however, to once again quell the Sounds' threat and bring an end to the contest.
Bueno (3-3) picked up the victory in relief for Omaha and Joseph nailed down his fifth save of the year by recording the final six outs, four via strikeout.
The Sounds will look to avoid a sweep when the division rivals wrap up their four-game series as well as their 16-game season series with a 7:05pm finale on Monday evening. Left-hander Aaron Laffey (4-5, 5.57) will toe the slab for the Sounds to face Omaha southpaw Justin Marks (4-10, 5.67).
Box Score
Omaha Storm Chasers (53-56) 4, Nashville Sounds (38-71) 1
July 28th, 2013
1
2
3
4
5
6
7
8
9
R
H
E
Nashville Sounds
0
0
0
0
0
0
1
0
0
1
6
0
Omaha Storm Chasers
1
0
0
0
0
0
3
0
x
4
11
0
BATTING
2B: Halton (20, Bueno), Velez (1, Joseph, D).
TB: Velez 4; Prince; De La Rosa, A; Halton 2.
RBI: De La Rosa, A (19).
2-out RBI: De La Rosa, A.
Runners left in scoring position, 2 out: Parker, S 2; Morris, H 2; Prince 2.
Team RISP: 1-for-6.
Team LOB: 9.BASERUNNING
SB: Prince (17, 3rd base off Duffy/Pina), Velez (1, 2nd base off Duffy/Pina).
PO: Velez (1st base by Duffy).
BATTING
2B: Broussard (5, Seidel).
TB: Falu 2; Hernandez, Go; Broussard 2; Ciriaco; Pina; Colon, C 2; Ramirez, M 2; Orlando.
RBI: Broussard (10), Colon, C (44), Ramirez, M (51), Pina (2).
2-out RBI: Broussard; Pina.
Runners left in scoring position, 2 out: Ciriaco; Broussard; Berry 3; Ramirez, M 2.
SAC: Orlando.
Team RISP: 2-for-11.
Team LOB: 11.BASERUNNING
SB: Colon, C (9, 2nd base off Seidel/De La Rosa, A), Falu (15, 2nd base off Olmsted/De La Rosa, A).
CS: Falu (7, 2nd base by Seidel/De La Rosa, A).FIELDING
Pickoffs: Duffy (Velez at 1st base).
Omaha Storm Chasers
Player
IP
H
R
ER
BB
SO
HR
ERA
Danny Duffy
5.0
2
0
0
2
7
0
4.50
Francisley Bueno (BS, 4)(W, 3-3)
2.0
2
1
1
0
2
0
3.15
Donnie Joseph (S, 5)
2.0
2
0
0
3
4
0
3.72
Totals
9.0
6
1
1
5
13
0
4.05
Dillard pitched to 5 batters in the 7th.
Pitches-strikes: Seidel 82-54, Leach 5-3, Dillard 20-9, Webb 15-10, Olmsted 18-11, Duffy 87-52, Bueno 28-19, Joseph, D 44-23.
Groundouts-flyouts: Seidel 4-7, Leach 0-1, Dillard 1-0, Webb 1-0, Olmsted 0-0, Duffy 3-2, Bueno 3-0, Joseph, D 0-2.
Batters faced: Seidel 24, Leach 1, Dillard 5, Webb 4, Olmsted 5, Duffy 18, Bueno 8, Joseph, D 11.
Inherited runners-scored: Leach 2-0, Webb 3-1.
Umpires: HP: Blake Davis. 1B: Ryan Blakney. 2B: Scott Mahoney. 3B: D.J. Reyburn.
Weather: 73 degrees, sunny.
Wind: 6 mph, Out to RF.
T: 3:16.
Att: 5,562.
Venue: Werner Park.
July 28, 2013