Clarksville, TN – After having five different coaches over the past five seasons, the Austin Peay State University volleyball team will see the same face sitting on the bench for a change, as Taylor Mott returns to begin her second campaign leading the program.
With Jenny Hazelwood's exit following the 2008 season, to return to her alma mater Mississippi State University, it started what has been a carousel of changes — for a myriad of different reasons — at the top for the program.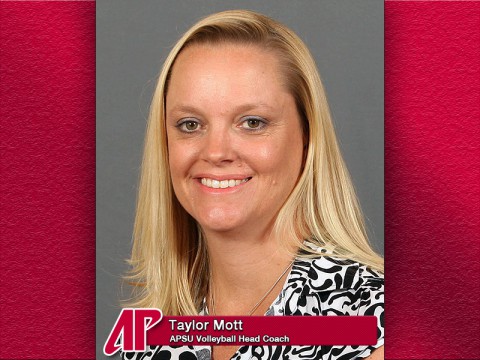 Following Hazelwood was Mike Johnson (2009), Haley Janieck (2010), Bill Egbert (2011) and finally Mott last year.
Still, despite the resent and constant turnover of head coaches, the volleyball team posted three winning seasons over that period, three Ohio Valley Conference tournament appearances and one OVC championship that earned the Lady Govs a NCAA tournament berth.
"It's really nice to have the same coach two years in a row," said senior middle blocker Lauren Henderson, who was recruited and played for a different coach in each of her first three years at APSU. "I was excited that I wasn't going to have a different coach all four years I was here.
"It saves time in the preseason when you have the same coach and you don't know going in that you will have to learn a new system. Along with that, there are only three new kids that have to learn the system (this year), which is easy because we help them out in practice and up in the classroom with the system is and how they can mesh in easier."
But anyone will tell you stability is still a huge part of keeping a program pointed in the right direction and Mott's return is the beginning of that stable building block to get the Lady Govs back to the top of the conference standings.
"The biggest thing that I've noticed is at this time last year we were still trying to find out what we were going to do," Mott said. "This year we know what to expect and the girls know what to expect, so practice had been exciting in not having to start over again.
"I think we could step out and play right now today. It wouldn't be pretty, with us being a little bit rusty, but compared to last year it's a big difference."
It's that difference Mott hopes to use to build on the overall 17-16 record from last year, as the Lady Govs return nine players (plus one redshirt) from last years' team.
"We have some really good returners," Mott said. "We also have Samantha Ebright – who was here last year and practiced with the team but redshirted — so she has a year of experience coming back and we've excited about that."
Mott is also excited about her three new freshman into the mix, two of which she hopes solidifies a defense that was shaky at times last year.
"Most of the players we brought in this year are defensive players," she said. "Because we really struggled last year defensively, so I'm excited to see what can happen when we can pass a little bit better and give out hitters a little bit better chance to score.
"At times last year I really didn't know how we won matches because our defense was so bad. Not only do I think our returners have gotten a lot better, because we spent a lot of time in the spring on defense, but our new players will help us. Defense wins matches and even if you have really good hitters if you can't pass or play defense it really doesn't matter."
The Lady Govs, who are picked to finish second in the West Division in the OVC, open their second season under Mott's August 30th, as they travel to Tampa, FL, to play in the University of South Florida Invitational.
Austin Peay's first home match is October 1st versus Murray State University.