Tampa, FL – Austin Peay State University's volleyball team stole a set in a loss to host South Florida in Saturday's opening match before securing its season's first win with a three-set sweep of The Citadel to conclude its stay at the USF Invitational.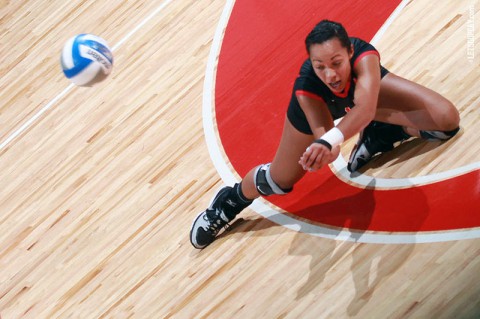 In Saturday's opener, Austin Peay (1-3) grabbed the second set from host South Florida in wire-to-wire fashion, leveling the match at a set a piece. The Bulls came out of the break and saw its defense step up with five blocks as part of 15 APSU attack errors in a 25-19 set win. South Florida closed the match with a wire-to-wire win in the fourth set.
Junior outside hitter Jada Stotts recorded 17 kills in against USF but committed 11 attack errors. Senior middle blocker Lauren Henderson and freshman outside hitter Sammie Ebright each had six kills, but were tagged for five and four errors, respectively.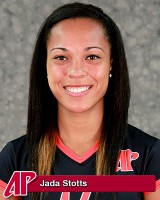 "Again we committed to many unforced errors against South Florida," said Lady Govs head coach Taylor Mott. "At times we looked like a pretty good team, but we gave away too many points."
The Lady Govs battled The Citadel early in each set of its sweep but pulled away late each time. In the first two sets, Austin Peay gained control at 8-7 and didn't look back. The third set saw the Lady Govs trailing at 14-12 before they used a 5-2 run to take control.
Austin Peay posted 49 kills in the match, Stotts recording 20 kills and senior middle blocker Lauren Henderson checked in with nine kills.
"We made fewer errors against The Citadel and it showed in the score," said Mott. "We were more aggressive overall and took the game to them.
"We played some great competition this weekend and I definitely feel we got better with each match. We need to keep working to improve our consistency and passing in serve receive."
Following the tournament, Stotts was named to the all-tournament squad. She recorded an impressive 71 kills – 5.07 kills per set – and shared the team lead with 48 digs in the four matches. It is her third all-tournament team honor.
Box Score – Game 1
The Citadel vs Austin Peay
(August 31st, 2013 at Tampa, FL)
The Citadel
ATTACK
SET
SERVE
SRV
DEF
BLOCK
GEN
##
Player
SP
K
E
TA
PCT
A
SA
SE
RE
DIG
BS
BA
BE
BHE
Points

1

Ise d'Angelo

3

8

6

26

.077

0

0

0

3

4

0

1

0

0

8.5

6

Katie Briggs

3

3

3

13

.000

0

0

0

0

0

1

2

2

0

5.0

9

Lauren Hurt

3

6

0

12

.500

0

1

0

0

2

1

0

2

0

8.0

10

Samantha Espy

3

1

1

8

.000

1

0

1

1

6

0

0

0

0

1.0

11

Amanda Rudnik

3

0

0

2

.000

0

0

1

2

3

0

0

0

0

0.0

12

Rachel Keefer

3

0

1

3

-.333

23

0

1

0

6

0

0

0

1

0.0

4

Erin Bucherl

3

0

0

3

.000

0

0

0

1

14

0

0

0

0

0.0

5

Mallory Moore

2

1

2

11

-.091

0

0

0

0

0

0

0

1

0

1.0

7

Megan Sowell

1

1

1

7

.000

0

0

0

0

1

0

0

0

0

1.0

8

Bailey Kernodle

3

6

0

11

.545

1

0

0

1

2

0

1

0

0

6.5

Totals

3

26

14

96

.125

25

1

3

8

38

2

4

5

1

31.0

TOTAL TEAM BLOCKS: 4.0
TEAM ATTACK BY SET
Set
K
E
TA
Pct
Sideout
Pct

1

13

5

35

.229

13-24

54%

2

8

7

33

.030

11-25

43%

3

5

2

28

.107

12-24

50%

36-73

49%

SET SCORES
1
2
3
TEAM RECORDS
The Citadel

(0)

18

18

17

0-3

Austin Peay

(3)

25

25

25

1-2
Austin Peay
ATTACK
SET
SERVE
SRV
DEF
BLOCK
GEN
##
Player
SP
K
E
TA
PCT
A
SA
SE
RE
DIG
BS
BA
BE
BHE
Points

1

FIELDS, Cami

3

1

1

2

.000

30

1

0

0

3

0

0

0

2

2.0

2

HULL, Calyn

3

8

5

20

.150

0

0

1

0

5

0

1

0

0

8.5

4

EBRIGHT, Sammie

3

5

0

15

.333

1

0

0

0

2

0

1

0

0

5.5

8

LANDON, Liz

3

5

1

14

.286

2

1

1

0

7

0

2

1

0

7.0

12

HENDERSON, Lauren

3

9

6

17

.176

0

2

1

1

0

0

1

0

0

11.5

14

STOTTS, Jada

3

20

3

42

.405

0

2

2

0

7

0

1

0

0

22.5

3

ADAMS, April

3

0

0

0

.000

0

0

0

0

12

0

0

0

0

0.0

5

BALES, Lizzy

3

0

0

0

.000

0

0

1

0

9

0

0

0

0

0.0

7

MARSELLIS, Aubrey

3

0

0

1

.000

15

0

0

0

0

0

0

0

0

0.0

10

STROTHER, Samantha

1

1

0

1

1.000

0

0

0

0

1

0

0

0

0

1.0

13

LITCHFIELD, Syd

3

0

0

0

.000

1

2

2

0

5

0

0

0

0

2.0

Totals

3

49

16

112

.295

49

8

8

1

51

0

6

1

2

60.0

TOTAL TEAM BLOCKS: 3.0
TEAM ATTACK BY SET
Set
K
E
TA
Pct
Sideout
Pct

1

15

3

38

.316

14-19

73%

2

14

5

33

.273

11-18

61%

3

20

8

41

.293

13-18

72%

38-55

69%

Site: Tampa, Fla. (The Corral)
Date: Aug 31, 2013

Attend: 212 Time: 1:12
Referees: Darin Clark, Tracie Brinkley

| | | | | |
| --- | --- | --- | --- | --- |
| | 1 | 2 | 3 | Total |
| Tie scores | 4 | 5 | 7 | 16 |
| Lead changes | 2 | 3 | 3 | 8 |
Box Score – Game 2
Austin Peay vs South Florida
(August 31st, 2013 at Tampa, FL)
Austin Peay
ATTACK
SET
SERVE
SRV
DEF
BLOCK
GEN
##
Player
SP
K
E
TA
PCT
A
SA
SE
RE
DIG
BS
BA
BE
BHE
Points

1

FIELDS, Cami

4

0

1

5

-.200

37

1

2

0

21

0

0

0

0

1.0

2

HULL, Calyn

4

4

6

37

-.054

0

0

0

2

13

0

2

0

0

5.0

4

EBRIGHT, Sammie

4

6

4

25

.080

0

0

0

0

4

0

3

1

0

7.5

12

HENDERSON, Lauren

4

6

5

24

.042

1

0

0

0

3

0

1

2

0

6.5

14

STOTTS, Jada

4

17

11

51

.118

0

0

2

0

11

2

1

0

0

19.5

15

PLYBON, Hillary

4

7

4

16

.188

2

1

1

0

5

0

5

1

1

10.5

3

ADAMS, April

4

1

0

2

.500

0

0

0

1

9

0

0

0

0

1.0

5

BALES, Lizzy

2

1

0

1

1.000

0

0

0

0

0

0

0

0

0

1.0

7

MARSELLIS, Aubrey

2

1

0

1

1.000

0

0

0

0

0

0

0

0

0

1.0

13

LITCHFIELD, Syd

4

0

0

0

.000

0

0

1

0

9

0

0

0

0

0.0

TEAM

1

Totals

4

43

31

162

.074

40

2

6

4

75

2

12

4

1

53.0

TOTAL TEAM BLOCKS: 8.0
TEAM ATTACK BY SET
Set
K
E
TA
Pct
Sideout
Pct

1

11

5

45

.133

13-25

51%

2

13

5

37

.216

11-22

50%

3

11

15

45

-.089

12-25

47%

4

8

6

35

.057

9-24

37%

45-96

46%

SET SCORES
1
2
3
4
TEAM RECORDS

Austin Peay

(1)

22

25

19

12

0-2

South Florida

(3)

25

22

25

25

2-1
South Florida
ATTACK
SET
SERVE
SRV
DEF
BLOCK
GEN
##
Player
SP
K
E
TA
PCT
A
SA
SE
RE
DIG
BS
BA
BE
BHE
Points

1

RODRIGUEZ GOMEZ, And

4

7

2

24

.208

0

1

2

0

1

3

5

1

0

13.5

2

WHALEN, Carissa

4

4

4

19

.000

0

0

0

0

1

0

2

0

0

5.0

7

FAIRS, Erin

4

19

7

46

.261

0

0

2

1

23

1

2

1

0

21.0

8

DEVLIN, Wylie

4

0

2

2

-1.000

24

0

2

0

13

0

0

0

0

0.0

11

HAMPTON, Dakota

4

5

1

25

.160

0

1

0

0

19

0

2

1

0

7.0

12

MULLINS, Jennica

4

5

3

14

.143

0

0

0

0

2

1

4

1

0

8.0

4

VAN SANT, Amy

4

0

0

0

.000

3

1

1

0

12

0

0

0

0

1.0

5

BIVINS, Kayla

4

10

4

21

.286

0

0

0

1

2

0

3

2

0

11.5

15

THOMSEN, Rachyl

1

1

1

3

.000

0

0

0

0

0

0

0

0

0

1.0

17

SOARES, Natalia

4

0

0

0

.000

22

1

2

0

5

0

0

0

0

1.0

20

DICKINSON, Jaime

1

0

0

2

.000

0

0

0

0

0

0

0

0

0

0.0

23

BROWN, Ciara

1

1

0

4

.250

0

0

0

0

0

0

0

0

0

1.0

Totals

4

52

24

160

.175

49

4

9

2

78

5

18

6

0

70.0

TOTAL TEAM BLOCKS: 14.0
TEAM ATTACK BY SET
Set
K
E
TA
Pct
Sideout
Pct

1

16

9

48

.146

13-22

59%

2

15

7

42

.190

11-25

43%

3

9

6

39

.077

12-19

63%

4

12

2

31

.323

10-13

76%

46-79

58%

Site: Tampa, Fla. (The Corral)
Date: Aug 31, 2013

Attend: 520 Time: 1:54
Referees: Tracie Brinkley, Eric Vlahov

| | | | | | |
| --- | --- | --- | --- | --- | --- |
| | 1 | 2 | 3 | 4 | Total |
| Tie scores | 5 | 1 | 6 | 0 | 12 |
| Lead changes | 2 | 0 | 1 | 0 | 3 |