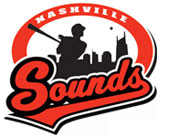 Nashville, TN – Hunter Morris belted a two-run homer and Hainley Statia made a game-saving catch in the top of the ninth to lead the Nashville Sounds to a 2-1 victory over the Iowa Cubs on Monday afternoon in the season finale at Greer Stadium.
With today's crowd of 4,586 fans, the Sounds finished with their largest seasonal attendance in six years (355,003).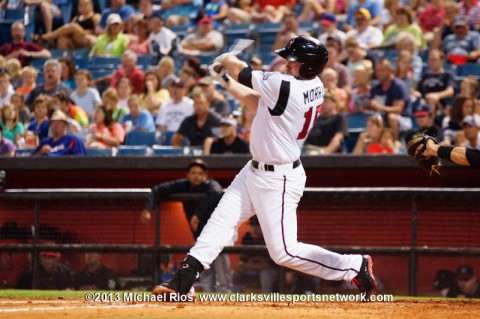 Nashville (57-87), which took three of four in the season-ending series against the I-Cubs, finished the season with just the 14th losing record in the club's 36-year history.
Morris spotted the Sounds a 2-0 lead in the bottom of the first inning with an opposite-field, two-run homer to left-center off Kyle Hendricks that careened off the guitar-shaped scoreboard. The blast, which also scored Eugenio Velez, was the slugger's team-leading 24th roundtripper of the year.
Velez (3-for-4) extended the Sounds' longest hitting streak of the season to 22 games with a fourth-inning infield single. The knock also upped his league-best consecutive games on-base streak to 36 straight contests. He finished his red-hot Sounds tenure with a .377 average in 38 games.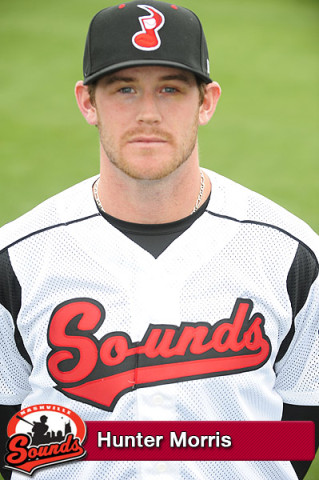 Aaron Laffey started for Nashville on three days' rest and worked three scoreless frames.
Cubs second baseman Tim Torres (2-for-3) halved the Nashville lead to 2-1 in the top of the fifth when he belted a solo homer to left-center off Tim Dillard, the infielder's fifth big fly of the year.
Dillard (4-2) picked up the victory in relief for the Sounds after allowing one run on one hit (the Torres homer) in his three frames of action.
Johnnie Lowe followed with two scoreless innings for Nashville before the Cubs made things interesting against Jesus Sanchez in the ninth.
After walking the leadoff batter, Sanchez struck out the next hitter before Greg Rohan lifted a high fly ball to left, where Statia made a leaping grab with his glove extended above the wall to rob him of a potential go-ahead homer. Sanchez followed by coaxing a game-ending groundout from Luis Flores to secure the win and nail down his seventh save.
Hendricks (3-1) suffered his first loss of the year despite turning in a quality start for the Cubs. He allowed two runs on six hits in six innings of action.
Baseball returns to Greer Stadium in April 2014 when the Sounds begin their 37th season of competition. Season tickets are available now by calling 615.690.HITS or visiting the Greer Stadium box office.
Box Score
Nashville Sounds (57-87) 2, Iowa Cubs (66-78) 1
September 2nd, 2013
1
2
3
4
5
6
7
8
9
R
H
E
Iowa Cubs
0
0
0
0
1
0
0
0
0
1
7
0
Nashville Sounds
2
0
0
0
0
0
0
0
x
2
8
2
a-Grounded out for Lim in the 8th.
BATTING
2B: Torres, T (6, Laffey), Borbon (5, Lowe).
HR: Torres, T (2, 5th inning off Dillard, 0 on, 0 out).
TB: Maysonet 2; Sappelt 2; Rohan; Torres, T 6; Borbon 2.
RBI: Torres, T (11).
Runners left in scoring position, 2 out: Hendricks.
GIDP: Ha, Flores, L, Maysonet.
Team RISP: 1-for-4.
Team LOB: 6.BASERUNNING
CS: Ha (2, 2nd base by Dillard/De La Rosa, A).FIELDING
DP: 3 (Torres, T-Maysonet-Rohan 2, Maysonet-Rohan).
BATTING
2B: De La Rosa, A (15, Lim).
3B: Velez (3, Hendricks).
HR: Morris, H (24, 1st inning off Hendricks, 1 on, 2 out).
TB: Velez 5; De La Rosa, A 2; Davis, B; Parker, S; Statia; Morris, H 4.
RBI: Morris, H 2 (73).
2-out RBI: Morris, H 2.
Runners left in scoring position, 2 out: Prince 2; Lowe.
GIDP: Davis, B, Morris, H, De La Rosa, A.
Team RISP: 0-for-4.
Team LOB: 6.FIELDING
E: Morris, H (9, fielding).
DP: 3 (Parker, S-Velez-Morris, H 2, Velez-Davis, B-Morris, H).
Pitches-strikes: Hendricks 67-47, Lim 19-11, Mateo 15-8, Laffey 41-21, Dillard 29-24, Lowe 26-17, Sanchez, Je 17-11.
Groundouts-flyouts: Hendricks 10-3, Lim 1-0, Mateo 1-0, Laffey 4-1, Dillard 5-0, Lowe 4-0, Sanchez, Je 1-1.
Batters faced: Hendricks 23, Lim 4, Mateo 5, Laffey 13, Dillard 10, Lowe 7, Sanchez, Je 4.
Umpires: HP: Brian Hertzog. 1B: Hal Gibson III. 3B: Adam Schwarz.
Weather: 85 degrees, partly cloudy.
Wind: 5 mph, R to L.
T: 2:12.
Att: 4,586.
Venue: Herschel Greer Stadium.
September 2, 2013