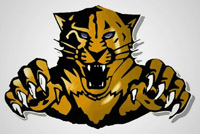 Clarksville, TN – Clarksville Academy's volleyball team may have won the biggest match in the program's history – or at least in recent memory, September 24th at Procter Gymnasium – as the Lady Cougars outlasted the District 10-A regular-season champion East Robertson High School, 3-2, by scores of 6-25, 25-22, 19-25, 25-21, 22-20.
In fact, Clarksville Academy (6-7, 6-3 District 10-A) handed the Lady Indians their first loss of the season in district play, dropping them to 20-11 overall and 9-1 in District 10-A.
"I'm so excited for our girls," Clarksville Academy coach Lori Tooley said. "We got off to a slow start and they had to be reminded of their skills and keep their mental game together.
"This year we have a lot of skill on our team, we just haven't quite put all the pieces together yet, so we're climbing that hill and hopefully we'll end well this season."
It definitely didn't look that way early on for the Lady Cougars, as East Robertson scored the first 15 points of the match on its way to a 25-6 opening game win.
But things would start to turn in the second game, with Clarksville Academy scoring four straight points early-on – including back-to-back kills by Meg Askew to give the Lady Cougars their first lead of the day, 7-5.
It would be game on after that, with the two teams trading the lead back-and-fourth 10 times before Clarksville Academy rallied to score the final four points of Game 2 – including a kill by Alexa Griffith to end the game and tie the match 1-1.
"It was a really amazing win and I'm so proud of the team and the way we pulled together," Griffith said. "We lost that first game, but we had a lot of heart and we really wanted this game and we started playing like we wanted it.
Griffith finished the match with 35 assists, five kills, five aces and a block.
"As the games went on, I could see in the eyes of my teammates that they wanted it too. I'm a senior and this is definitely the biggest win we've had."
Game 3, was close early with the two teams trading leads six times before East Robertson build a 13-8 lead.
Clarksville Academy would rally to tie the game 14-14, but the Lady Indians would score six of the next seven points to go up 20-15, before take a 2-1 game lead in the match, with a 25-19 win.
Again the Lady Cougars would dig deep in Game 4, as they jump out to a 12-4 lead behind two kills and two aces from Charlsie Powers and a kill and block by Askew.
Powers finished with 13 kills and five aces, while Askew had three kills and three blocks.
East Robertson would make a charge to take a short-lived 16-15 lead, but the Lady Cougars closed out the game out scoring the Lady Indians 10-5 to even the match 2-2.
"In just about every loss we've had this season it can be traced back to our passing," East Robertson coach Clifton Horn said. "In the majority of our losses we come out and won the first set – most of the time convincingly – and then we just kick it into cruise control and make error after error.
"We win big in that first game and then we come out and act like we don't need to do anything but stand there to get the job done. We had the conversation in the locker room that if you do this in two weeks at the district tournament the season will be over and all the wins we've worked so hard for, everything, will be over."
The fifth and final game of the match was a classic, with both teams having clawing and scratching for each point.
Clarksville Academy got out early and build a 10- 6 lead, before East Robertson charged back to take a 13-11 lead and needing only two more points for the win.
But the Lady Cougars scored the next three points; to take a 14-13 lead and set up with would be a dramatic finish.
In want was supposed to be a game to 15, but the two teams kept trading points, with the game being tied seven times from 14-14 to 20-20.
But it would be East Robertson that would be the first to blink, with Clarksville Academy taking a 21-20 lead on a kill by Jenny Whitford, followed by Lady Indians Emily Hagewood hitting an attack long to give the Lady Cougars the game and the match, 22-20.
"The whole last game I kept thinking to myself how proud of them I was for not giving up and not giving in," Tooley said. "This is our biggest win and I won't stop smiling for a while."
Sedona Tooley would lead the Lady Cougars with 15 kills, while Whitford finished with six kills.
Bonnie Jones would lead East Robertson with 22 kills, with Clara Adams totaling 34 assists and Emily Long six aces.
Clarksville Academy returns to action September 26th, as they host Nashville Christian for a 5:30pm District 10-A match.