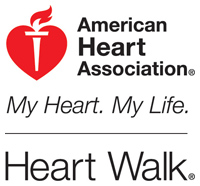 Nashville, TN – Someone has a heart attack every 34 seconds. Someone has a stroke every 40 seconds. Heart disease and stroke make a huge impact on the health of Middle Tennessee – but the upcoming Heart Walk aims to make an even bigger impact by fighting back against the no. 1 and no. 4 killers of Americans.
The American Heart Association's Greater Nashville Heart Walk will bring together more than 12,000 walkers at Vanderbilt University on Saturday, October 12th, 2013, in one of the largest non-competitive walks in all of Tennessee. The event is free and open to all, but fundraising and donations are encouraged.
The annual festival and Walk is a major fundraiser for the American Heart Association. Funds raised go to research, public health programs and community education about heart disease and stroke.
The Nashville edition of the Heart Walk is one of the largest in the country. Last year's walk raised $1.75 million. This year's goal is $2 million. About 150 companies and many hundreds of teams will participate.
Teams who wish to fundraiser are encouraged to sign up online. There is no registration fee.
The Heart Walk is also a featured event of Walk Nashville Month. The event is free but donations are encouraged.
For a donation of $10.00 on site, Walkers will receive a special "torch" to carry in the Walk in honor of those affected by heart disease and stroke.
The Walk is also family-friendly and dog-friendly.
The event will be at the corner of Natchez Trace and Children's Way on the Vanderbilt campus. Festivities start at 8:00am, and the Heart Walk itself kicks off at 10:00am. There are two routes, a 5K and a 1 mile.
Team fundraising, event details, online donations and more can be found at www.nashvilleheartwalk.org.
Ken Harms, President, UPS® Mid-South District and Gregg Morton, President, AT&T Tennessee are heading the effort as co-chairs of the Walk. WKRN News 2 will emcee the event.
The two-hour festival starting at 8:00am will feature about thirty areas of health-related games, quizzes and activities for the whole family.
Some of the festival fun includes
Top Walker Tent with special rewards (massages, food) to honor top walkers who raise $1,000+.
Team Photos
Kids Zone with games, jump ropes, Moon Walk, and rock wall
Live music by Soul Incision
Survivor Breakfast at 8:30am
Survivor Red Cap photo at 9:00am
Lifesize characters King Julian and Puss In Boots
Pearl Cohn marching band will perform
An all-walker warmup before the Walk start at 10
Memorial Wall to write stories and tributes
Hands-Only CPR and AED demonstration
Free blood pressure and cholesterol screenings
Go Red For Women information, helping women live heart-healthy
F.A.S.T. stroke warning sign app download
Fitness challenges and workouts
Nutrition games
You're the Cure advocacy network signup
Walk Nashville Month information
TV personality autographs
Team/company signmaking
Lifestyle Change Awards honoring local people who took steps to improve their health
Teaching Gardens showing children the connection between fresh food and heart health
The American Heart Association is a nonprofit organization whose mission is building healthier lives, free of cardiovascular diseases and stroke.
The Heart Walk is part of the American Heart Association's My Heart, My Life, movement, encouraging Americans to get physically active and eat a healthy diet as steps toward a heart-healthy lifestyle and improved health of the community.
Heart disease and stroke take the lives of 1 in 3 Americans, including 17,000 Tennesseans per year. But up to 80% of cardiovascular disease is preventable, through healthy activities such as exercise and good nutrition. More at www.heart.org.
The Heart Walk is nationally sponsored by Subway Restaurants and Jenny Craig, and locally sponsored by UPS® and Vanderbilt Heart.
Top-level sponsors include Balfour Beatty Construction, Earl Swensson Associates, Healthways, Humana, Lamar Advertising Co., The Nashville Business Journal, Philips, Saint Thomas Heart, SMS Holdings Corp., United Healthcare, Wayne Wise Wellness Fund, William T. Coakley Foundation and WKRN News 2.