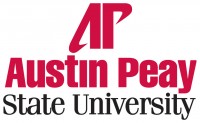 Clarksville, TN – Visual artist Favianna Rodriguez will visit Austin Peay State University this October and provide a presentation and poster design workshop as part of programming for Hispanic Heritage Month.
In preparation for her visit, students created several eye-catching posters that incorporated Rodriguez's artwork. Students in APSU associate professor of art Mark DeYoung's class, Design Center, created 19 posters.
The class selected three poster designs created by APSU students James Clouse, Arial Davis and James Elkins to highlight Rodriguez's visit to APSU on October 1st-2nd.
Her presentation, "Migration is Beautiful," will focus on cultural strategies through artwork and how it relates to immigration and economic justice. The main presentation will take place at 6:00pm, October 1st, in the Morgan University Center, Ballroom BC.
To learn more about her presentation topic, the APSU Hispanic Cultural Center, along with the support of sponsors, screened the documentary "Migration is Beautiful" on September 23rd. The film is part of a series called "Voices of Art," which originally aired on Pharrell Williams' iamOther YouTube Channel.
From noon to 2:00pm on October 2nd, APSU students and the public are invited to attend a poster design workshop with Rodriguez in the Trahern Printmaking Lab. Participants are encouraged to register by visiting the link below or calling the Hispanic Cultural Center. These events are part of the Hispanic Heritage Month events and are free and open to the public.
Rodriguez is an entrepreneur, printmaker, educator and cultural organizer whose posters have addressed a range of issues, including globalization, social movements, food justice and immigration. She has lectured widely on the use of art in civic engagement and the role of artists in bridging the community and museums, and the local and international.
Her work has appeared in collections at Bellas Artes (Mexico City), The Glasgow Print Studio (Glasgow, Scotland) and Los Angeles County Museum of Art (Los Angeles). Rodriguez has exhibited at Museo del Barrio (New York); de Young Museum (San Francisco); Mexican Fine Arts Center (Chicago); Yerba Buena Center for the Arts (San Francisco); Sol Gallery (Providence); Huntington Museum and Galería Sin Fronteras (Austin, Texas); and internationally at the House of Love & Dissent (Rome), Parco Museum (Tokyo), as well as in England, Belgium and Mexico.
She has co-founded programs dedicated to training young artists in the tradition of muralism and a bilingual design studio known as Tumis, Inc., which helps to integrate art with emerging technologies.
Rodriguez is also the co-editor of "Reproduce and Revolt!" with internationally renowned stencil artist and art critic Josh MacPhee.
The "Migration is Beautiful" series is co-sponsored by the APSU Hispanic Cultural Center, the APSU Department of Art, the APSU Department of Political Science, Hispanic Alumni Chapter and National Alumni Association. These events have been organized to encourage the development of APSU BRAVO Student Learning Outcomes such as awareness, values and outcome.
For more about the APSU BRVO Student Learning Outcomes visit http://www.apsu.edu/bravo
For more information about the "Migration is Beautiful" series and to view the posters created by APSU students, contact the Hispanic Cultural Center at 931.221.6645 or http://www.apsu.edu/hcc/favianna-rodriguez