Clarksville, TN – Austin Peay State University first-year head coach Kirby Cannon and his Governors football team are looking forward to playing their first home game of the 2013 season, as well as getting into Ohio Valley Conference play, after ending the longest stretch of road games in school history.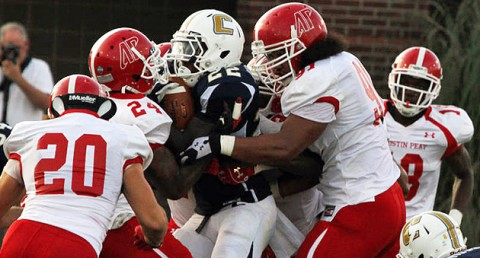 The Governors (0-5, 0-1 OVC) will be the last NCAA Division I football team in either the Football Bowl Subdivision or Football Championship Subdivision to play on its home field this season when it hosts OVC favorite Eastern Illinois University on Thursday Oct. 10
th
after playing five road games to open the 2013 season — including three coming against BCS Conference teams University of Tennessee, Vanderbilt University and Ohio University – as well as its OVC opener at Eastern Kentucky University.
"I think when you're conference opens, wither you're 4-0 or 0-4 or anything in between, it's a kind or rebirth of your season and we've tried to plan that out from day one," Cannon said. "We knew that we were playing three games up (FBS teams) and that we would have some rebuilding to do mentality as much as anything else.
"Our schedule gets a lot of negativity about it, but we've always tried to look at it as a challenge, but without this bye week before the conference season it would have really, really been a tough schedule."
But despite the OVC opening loss to Eastern Kentucky, Cannon feels the team is better in some aspects now than it was when the season opened.
"We're mentally tougher," he said. "We know more about our kids and what we're going to do in a game atmosphere, along with the experience level has added up to making a few of them much better players than they were going into that first game at Tennessee.
"That's what we wanted out of that four games (coming into OVC play), as much as anything else, to build at attitude of enjoying to play and being willing to play hard."
Still, the Governors have a lot of work still a head of them, as they make their first appearance in front of the home crowd at Governors Stadium.
"When I took the job, President (Tim) Hall said build it to last, build it with people that everyone will respect and that's what we've done," Cannon said. "It's not like this whole year has been kind of a free one where you can just kind of start the process. We want to start the process to a long term win every year type of program, but that'll happen faster and it happens with a lot less frustration on the kids if you can win now.
"Everything that you say and everything that you preach gets heard differently if it's in a winning environment versus a losing environment. That being said, every decision that we made every day at Austin Peay in 2013 is about where we want to be in 2015, 16, 17 and on. To our seniors, they don't want to hear that, they want to hear coach how can we win today and they're doing a great job of leadership and consistent effort. They're going to contribute to this being a winning program."
And winning OVC games is now front and center with the Govs, as they still have goals that can be met before the season comes to an end.
"No matter what you would have said in August or early September about the conference it really didn't have any relevancy," Cannon said. "But now its here and part of our team goals that we printed back in August when we reported was that we wanted to compete for the OVC championship and we also had interest in winning the (Alvin C.) York Trophy. I've tried to make a big deal out of it because it's an attainable goal.
"Those games are coming up and our kids are ready to play. We've had just enough success in some ways in those early games that no one is ready to pack it in, everyone is anxious to get into OVC play and see where we stand as a team."