Tennessee Titans (6-9) vs. Houston Texans (2-13)
Sunday, December 29th, 2013 | Noon CST
Nashville, TN | LP Field | TV: CBS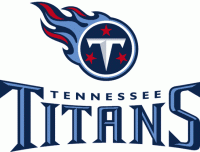 Nashville, TN – The Tennessee Titans (6-9) conclude their 2013 season this week, welcoming the AFC South rival Houston Texans (2-13) to LP Field (capacity 69,143). Kickoff is scheduled for noon CST on Sunday, December 29th.
In the first meeting this season, played on September 15th at Reliant Stadium, the Texans edged the Titans in overtime by a final score of 30-24. The Titans lead 14-9 in the overall series, which dates back to 2002.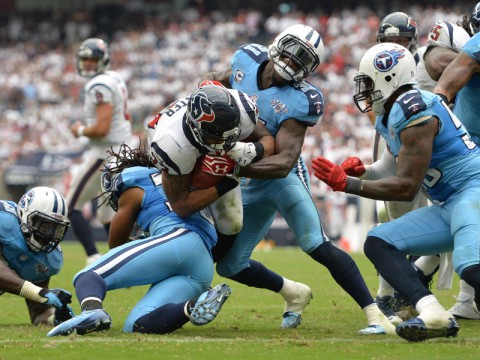 This week's game will be televised regionally on CBS, including Nashville affiliate WTVF News-Channel 5. Andrew Catalon will handle play-by-play duties while Adam Archuleta provides analysis.
The Titans Radio Network, including Nashville flagship 104.5 The Zone, will broadcast the game across the Mid-South with the "Voice of the Titans" Mike Keith, analyst Frank Wycheck, sideline reporter Cody Allison and gameday host Larry Stone.
The Tennessee Titans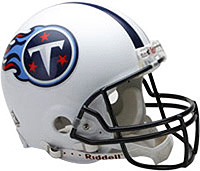 Last week the Titans traveled to Jacksonville, where they earned a 20-16 victory. Ryan Fitzpatrick's 30-yard touchdown pass to Nate Washington early in the fourth quarter provided the deciding points.
Washington led the team with 117 yards on six receptions, recording his eighth career 100-yard game and his third of 2013. He is 120 receiving yards away from his second career 1,000-yard season.
Another Titans wideout, Kendall Wright, is on the verge of capping one of the most prolific receiving seasons in franchise history. Wright enters Week 17 with 89 catches, already seventh on the team's single-season list. Seven more would put him third, while 11 would make him the third player for the team to reach 100 receptions in a season. He needs 12 more to reach Charlie Hennigan's team record of 101 receptions, set in 1964.
Additionally at Jacksonville, the Titans totaled 44 rushing attempts for 182 yards. Shonn Greene led the way with 91 yards and a touchdown on 19 attempts, while Chris Johnson had 90 yards on 22 carries. They became the team's first duo since December 7th, 2008 (Johnson and LenDale White at Cleveland) to each record at least 90 rushing yards in a game.
With 950 rushing yards through 15 games, Johnson has a chance to become the sixth player in NFL history to record 1,000 rushing yards in each of his first six seasons. He would join the select company of Barry Sanders, Curtis Martin, LaDainian Tomlinson, Eric Dickerson and Corey Dillon.
The Titans defense was not without big plays of its own against the Jaguars, particularly late in the day. The unit stuffed the Jaguars on fourth-and-one from the Tennessee 20-yard line, and to seal the outcome once and for all, safety George Wilson recorded an interception in the final minute of play.
The Houston Texans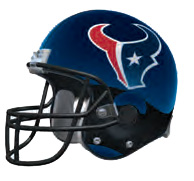 The Texans are searching for their first win since their victory over the Titans in Week 2. Last week, they hosted the Denver Broncos and fell by a final score of 37-13.
On December 6th, the team relieved head coach Gary Kubiak of his duties and named defensive coordinator Wade Phillips interim head coach. The decision ended Kubiak's tenure of seven-plus seasons leading the club.
Phillips, son of the late Oilers head coach Bum Phillips, owns a lengthy résumé that includes 37 years of coaching experience and 31 seasons as a defensive coordinator or head coach. He served as head coach of the Dallas Cowboys (2007-10), Buffalo Bills (1998-2000) and Denver Broncos (1993-94), as well as the interim head coach of the 2003 Atlanta Falcons (three games) and the 1985 New Orleans Saints (five games).
Led by Phillips, Houston's defense is ranked seventh in the NFL. Against the pass, the unit is ranked third. Defensive end J.J. Watt, the 2012 Associated Press Defensive Player of the Year, has been credited in 2013 with a team-high 9.5 sacks.
On offense, Texans wide receiver Andre Johnson leads the AFC and ranks second in the NFL with 103 receptions for 1,358 yards. Last week he matched Wes Welker's NFL record with his fifth career season registering 100 or more receptions.
Matt Schaub returned to the lineup at quarterback against the Broncos. He started the first six games of the season before Case Keenum took over for the following eight contests.
Titans-Texans Series At A Glance
Overall series (regular & postseason): Titans lead 14-9
Regular season series: Titans lead 14-9
Postseason series: None
Total points: Titans 496, Texans 501
Current streak: Three wins by Texans
Titans at home vs. Texans: 7-4
Titans on road vs. Texans: 7-5
Longest winning streak by Titans: 7 (2005-08)
Longest losing streak by Titans: 3 (2012-present)
Titans vs. Texans at LP Field: 7-4
Last time at LP Field: Texans 24 at Titans 10 (12/2/12)
Titans vs. Texans at Reliant Stadium: 7-5
Last time at Reliant Stadium: Titans 24 at Texans 30 in OT (9/15/13)
First time: Texans 10 at Titans 17 (11/10/02)
Mike Munchak's record vs. Texans: 1-4
Wade Phillips' record vs. Titans: 1-2 (incl. 0-1 postseason)
Mike Munchak's record vs. Wade Phillips: 0-0
A Titans Victory Would
Improve Mike Munchak's career record as a head coach to 22-26.
Improve quarterback Ryan Fitzpatrick's career record as a starter to 27-49-1.
Give the Titans a regular-season home record of 72-48 in 15 full seasons at LP Field.
What To Look For This Week
WR Justin Hunter (four touchdown receptions) needs one touchdown reception to give him the most by a Titans rookie since Chris Sanders (nine) in 1995.
RB Chris Johnson needs 50 rushing yards to become the sixth player in NFL history to record 1,000 rushing yards in each of his first six seasons (Barry Sanders, Curtis Martin, LaDainian Tomlinson, Eric Dickerson, Corey Dillon).
RB Chris Johnson needs 11 receiving yards to reach 2,000 career receiving yards. He would become the second player in franchise history to have 7,000 career rushing yards and 2,000 career receiving yards (Eddie George) and the fourth active NFL player to do so (Steven Jackson, Frank Gore, Maurice Jones-Drew).
CB Alterraun Verner (five interceptions in 2013) needs one interception to become the first Titans player since Michael Griffin in 2008 (seven interceptions) to record six or more interceptions in a season.
TE Delanie Walker (57 receptions) needs three receptions to become the only franchise tight end other than Frank Wycheck (five times) to reach 60 catches in a single season.
WR Nate Washington (880 receiving yards in 2013) needs 120 receiving yards for his second career 1,000-yard season. He needs 31 yards to pass Curtis Duncan (3,935 career) for ninth place on the team's all-time receiving yards list.
WR Kendall Wright (89 receptions in 2013) needs one reception to become the first Titans player to record 90 catches in a season since Derrick Mason (96) in 2004. Wright needs 11 receptions to become the third player in team annals with 100 in a season, and he needs 12 catches to match Charlie Hennigan's franchise record of 101 receptions in a season (1964).
Titans-Texans Series History
The Titans-Texans rivalry is in its 12th year since the expansion Texans began play and the AFC South was formed in 2002. In 23 games, the Titans are 14-9 against the Texans, including a 7-4 mark at LP Field and 7-5 record at Reliant Stadium.
The Texans have won each of the last three games in the series. At Houston on September 30th, 2012, Texans quarterback Matt Schaub passed for two touchdowns, and the Houston defense returned a pair of interceptions for touchdowns to defeat the Titans 38-14.
On December 2nd, 2012, the teams squared off at LP Field, and despite 309 passing yards from Jake Locker and an advantage in total yards by the Titans (354 to 332), the Texans forced six turnovers to pull away with a 24-10 win. Locker was sacked six times, while Schaub was not sacked at all during a 21-of-35 performance with a pair of passing touchdowns.
Then, in Week 2 of the 2013 season (September 15th), the Texans came back from an eight point deficit in the final 3:07 of the fourth quarter. Schaub completed a three-yard touchdown pass to DeAndre Hopkins on the first drive of overtime to give Houston a 30-24 victory.
The Titans have separate winning streaks of four games and seven games in the series, the latter of which was ended at Reliant Stadium on December 14th, 2008.
The Titans franchise has a rich and storied history with the city of Houston. Under late owner K.S. "Bud" Adams Jr., the Titans existed as the Houston Oilers from 1960-96. In Houston, the Oilers won the first two American Football League Championships and made a total of 15 playoff appearances. Nine players that wore a Houston Oilers uniform are enshrined in the Pro Football Hall of Fame, including most recently former quarterback Warren Moon, defensive tackle Curley Culp and offensive lineman Bruce Matthews, who currently serves as Titans offensive line coach.
The team moved to Tennessee in 1997 and in 1999 adopted the "Titans" moniker.
Titans-Texans: The Last Meeting
Tennessee Titans 24 at Houston Texans 30
Sunday, September 15th, 2013
Reliant Stadium | Houston, TX
| | | | | | | |
| --- | --- | --- | --- | --- | --- | --- |
| | 1 | 2 | 3 | 4 | OT | Final |
| Tennessee Titans | 7 | 3 | 0 | 14 | 0 | 24 |
| Houston Texans | 7 | 0 | 7 | 10 | 6 | 30 |
Matt Schaub's three-yard touchdown pass to DeAndre Hopkins on the first drive of overtime gave the Texans a 30-24 victory over the Titans at Reliant Stadium.
Hopkins' touchdown ended a dramatic late comeback by the Texans, who trailed by eight points with 3:07 on the clock in the fourth quarter. That was when Schaub began to lead an eight-play, 87-yard drive, which included three consecutive completions to Hopkins for 64 total yards and a 21-yard reception by Andre Johnson that put the Texans on the Tennessee two yard line. On the next play, Arian Foster crossed the goal line on a two yard run. Foster then tied the score on a run for the two-point conversion.
The Texans got the ball back with less than a minute remaining in regulation and appeared ready to end the game there. However, Randy Bullock's 46-yard field goal bounced off the left upright.
But after the Texans won the overtime coin toss and received the kickoff, they wasted little time attacking a Titans defense that was on the field for more than 20 minutes combined in the second half and overtime.
They went 78 yards on 11 plays, including a 25-yard catch by Hopkins and his game-winning touchdown reception on third-and-goal.
The Texans totaled 452 yards in the game, compared to 248 for the Titans. Schaub completed 26 of 48 passes for 298 yards and three total touchdowns, while Foster and Ben Tate combined for 172 rushing yards.
Hopkins finished the game with 117 yards on seven receptions. Defensively, the Texans limited the Titans to four conversions on 16 third downs and forced eight of the Titans' 14 drives to end in three or fewer plays.
But two long drives for the Titans, no turnovers and a pair of takeaways kept them in the game and even provided a fourth-quarter lead. The Texans jumped out to an early advantage in the first quarter on a one-yard touchdown pass from Schaub to tight end Garrett Graham.
The Titans responded to tie the score at 7-7 on the ensuing possession.
After a 17-yard pass from Jake Locker to Nate Washington converted a third-and-six, the Titans faced another third down—this time from the six yard line. Locker found Kendall Wright for the touchdown, capping the 14-play, 80-yard drive that took more than seven minutes.
With less than two minutes remaining in the second quarter, Schaub's pass intended for Andre Johnson was tipped by linebacker Akeem Ayers.
The ball sailed to the hands of safety Bernard Pollard, who returned it 32 yards to set up a 47-yard field goal by Bironas as time expired in the half.
Houston recaptured the lead midway through the third quarter, taking advantage of four three-and-outs by Tennessee. Tight end Owen Daniels made a leaping grab of a 12-yard touchdown pass from Schaub.
The Texans added to their lead with a safety early in the fourth quarter.
Three penalties helped to pin the Titans on their own one-yard line. Chris Johnson then took a handoff from Locker, only to be stopped at the goal line by linebacker Joe Mays. Initially, officials ruled Johnson had gotten out of the end zone, but after a Houston challenge, the play was ruled a safety.
The Titans found themselves on their one-yard line again to begin their next series. This time, however, they would drive the length of the field.
Locker found Washington for a 31-yard gain, and on the ninth play of the drive, he passed to tight end Delanie Walker for a 10-yard touchdown. The extra point gave them a 17-16 lead with 6:37 remaining in the fourth quarter.
On the subsequent series, Schaub was intercepted by cornerback Alterraun Verner, who went untouched 23 yards for a touchdown to help extend the lead to 24-16.
With the Texans needing late-game heroics, they received them from Schaub, who would soon lead the drive to tie the game and then win it in overtime.