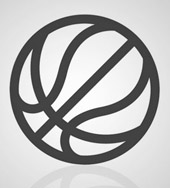 Clarksville, TN – Only two weeks remain until the conference tournaments and with bad weather looming, ready to postpone or cancel any game, chances of earning another win are precious. At this point the cream has risen to the top. Now they have to stay healthy and find that extra gear because the finish line is in sight.
Girls Basketball
With their 11th straight District 10-AAA win against the Northeast Lady Eagles Tuesday, January 28th, 60-24, the Rossview Lady Hawks have proven they are the top seed and the road to any Regionals will have to go through them.
The West Creek Lady Coyote's win over the Kenwood Lady Knights Tuesday helped them hold the second spot in the conference, only two games behind the undefeated Lady Hawks.
Although the Lady Knights lost to West Creek, they earned a win Monday, January 27th at home against Springfield. The split this week puts them at 7-4, tied with the Clarksville High Lady Wildcats who put down the Northwest Lady Vikings Tuesday, 38-23.
Both the Montgomery Central Lady Indians and the Springfield Lady Yellow Jackets suffered losses this week.
High Scorers:
Alonja Thomas 26 against West Creek Tuesday, Jan. 28th
Shayla Smith 20 against Kenwood Tuesday, Jan. 28th
Janie White 18 against Northeast Tuesday, Jan 28th
Conference Records:
10-AAA
Rossview 11-0
West Creek 9-2
Clarksville 7-4
Kenwood 7-4
Henry Co. 5-5
Northeast 2-9
Northwest 2-9
Springfield 0-10
10-A
Clarksville Academy 1-9
11-AA
Montgomery Central 2-11
Boys Basketball
The Kenwood Knights revealed a flaw in their armor and got stung by the Springfield Yellow Jackets, 52-50, at home Monday. However, they bounced back with a win against the West Creek Coyotes Tuesday to hold the top spot in the conference.
The Knights will have to stay sharp in the last few games to stay at the top. Only four games separate them from four other teams, including Henry County who are two games back and the Rossview Hawks who are three games back despite a loss this week.
The Hawks were grounded by the Northeast Eagles Tuesday, January 28th. The win gave them the same conference record as the Coyotes at 5-6.
Tramon Moore led the Northwest Vikings past the Clarksville High Wildcats Tuesday, 68-50. However, the Vikings are currently one game behind the Wildcats with a 2-8 conference record.
The Montgomery Central Indians fell to Creek Wood Tuesday, 80-50. Creek Wood is third in the conference with double-digit conference wins. Right now the Indians are in the middle of the pack at 6-6.
High Scorers:
Tramon Moore 35 against Clarksville High Tuesday, Jan. 28th
Jachin Almon 20 against Kenwood Tuesday, Jan 28th
Jimario Rivers 19 against West Creek Tuesday, Jan 28th
Conference Records:
10-AAA
Kenwood 9-2
Henry Co. 7-3
Rossview 6-4
Northeast 5-6
West Creek 5-6
Springfield 4-5
Clarksville 3-7
Northwest 2-8
10-A
Clarksville Academy 4-6
11-AA
Montgomery Central 6-6
To insure your team's information is posted in the weekly recap please send records and scores via e-mail to Marlon Scott at