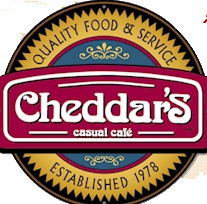 Lexington, KY – Greer Companies is pleased to announce that Cheddar's was voted number one among the best restaurants in the nation according to Zagat and Consumer Reports.
That's right! The number one restaurant in the country is right in our own backyard.
Join us for our Thank You Celebration on Tuesday, March 11th at Cheddar's located at 2697 Wilma Rudolph Boulevard, Clarksville, TN.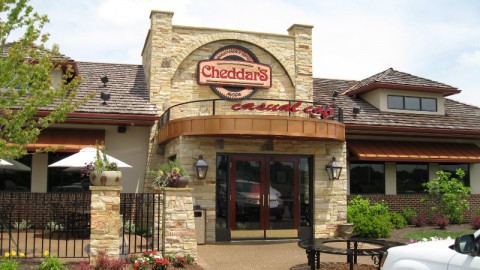 Enjoy a complimentary dessert and chips & queso per dine in table during lunch or dinner on Tuesday, March 11th.
Simply purchase lunch or dinner and you will receive one complimentary chips & queso and a dessert per table. Why? It's our way of thanking you for your continued support.
In 2013, Nation's Restaurant News voted Cheddar's one of its 2013 Golden Chain Award recipients.
In 2012, Cheddar's swept the prestigious Zagat ratings for full-service restaurants, ranking first overall and dominating the categories of cuisine, food, décor, and facilities.
In 2012, as they had done in 2009, Consumer Reports readers voted Cheddar's their number one choice for casual dining.
According to Nation's Restaurant News, Cheddar's also leads the way in casual dining performance and was the fastest-growing full-service chain last year.
Cheddar's is an upscale casual dining restaurant, open for lunch and dinner, with a nearly all made from scratch menu that offers everything from ribs to steaks to salads to sandwiches.
The original Cheddar's was opened in 1979 by two friends in Arlington, Texas.
It was intended to be a relaxed sort of place, where friends and neighbors could drop by for real, good food, and feel really good about doing so. Little did Aubrey Good and Doug Rogers know then that the vision of value, comfort, and hospitality they embedded in the DNA of Cheddar's, would turn it into a national phenomenon.
Good luck finding a can opener in a Cheddar's kitchen, because homemade favorites like Chicken Pot Pie and Honey Barbeque Baby Back Ribs are still fixed from scratch.
And out in the dining room, a genuine welcome and attentive service still make every guest feel like a VIP.
The Cheddar's in Clarksville is owned and operated by Greer Companies, a family-owned, hospitality and commercial real estate development company headquartered in Lexington, Kentucky.
Greer Companies is a franchisee of casual dining and hospitality chains including Cheddar's, Marriott hotels, and Hilton hotels and employs over 6,100 people in eight states.
The company's franchise operating entity, Mint Julep Restaurants, runs 40 Cheddar's restaurants in Indiana, Kentucky, North Carolina, Ohio, Tennessee, Virginia, and West Virginia.
Said Greer Companies President Lee Greer, "We always get real excited about giving hard working families a really nice place to enjoy good food at super reasonable prices and be made to feel really special. We try to add as much cool stuff as we can – like an enormous freshwater aquarium, a double-sided rock water feature, a nicely landscaped patio. We use the best materials in our buildings like authentic fieldstone, granite, and mahogany. And hang the work of local and regional artists and photographers on the walls for our guests to enjoy. If we don't do it right, we don't do it."
Greer Companies restaurant portfolio also includes three unique and world-class independent concepts: Coba Cocina, Cobar Cantina, and Cocoh! Confectioner.