Education Standards Continue to be Scrutinized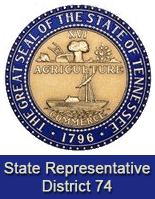 Nashville, TN – After many months of concerns being raised by parents and teachers across Tennessee, Democrats and Republicans joined together on the House floor to push a series of amendments to a bill that would delay the further implementation of Common Core and the PARCC tests associated with them for two years.
Governor Bill Haslam opposed the House version while this week the Senate has voted a different path which is not necessarily the Governor's path. These actions are brewing for a real fight for the rest of the session.
Power to Expand Medicaid Taken from Governor
The Insurance and Banking subcommittee voted down a proposal to expand Medicaid to cover up to 330,000 Tennesseans for as long as the federal government would pick up 100% of the tab.
Under the Affordable Care Act, states can expand their Medicaid populations to cover working men and women who make up to 138% of the federal poverty level. According to the law, the federal share of that cost will be 100% for the first three years, phasing down to 90% in the year 2021 and going on. By comparison, the current federal/state share of Medicaid is roughly 2.2 million per day.
Religious Viewpoints Anti Discrimination Act
The House voted for legislation that seeks to strengthen existing protections for religious expression by students in public schools. Under the new law, schools would be required to treat a student's voluntary expression of a religious viewpoint in the same manner that they would treat a secular viewpoint on an otherwise permissible subject.
The bill would further strengthen and clarify the first amendment rights that students enjoy
Books from Birth
The House unanimously passed on Thursday. The bill prohibits the intentional destruction of imagination library program books intended to be delivered to children enrolled in the program. It addresses an issue with the postal service whereby current policy requires undelivered books to be destroyed.
Instead, the books will be made available to be picked up and delivered to pre-K, kindergarten or elementary programs.