APSU Sports Information

Cape Girardeau, MO – Behind a dominating doubles performance, Austin Peay State University women's tennis team closed the book on its 2014 campaign with a 5-2 win at Southeast Missouri, Sunday, at the Redhawks Tennis Complex.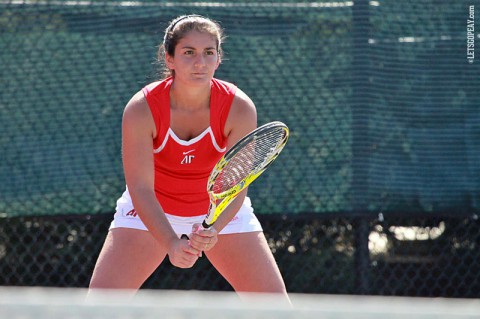 The Lady Govs finish the season with a 6-13 mark, earning their third Ohio Valley Conference win to finish 3-7 in conference play.
The match also served as the season finale for Southeast Missouri, who finished 9-13 (3-7 OVC).
For the first time since March 1st, Austin Peay came away with a doubles point, winning the No. 1 and No. 3 matches. In her last match as a Lady Gov, senior Andra Cornea teamed with junior Ornella Di Salvo to earn a hard-fought 8-7 win against Valeriia Kashina and Ekaterina Donetckova at No. 1, while the No. 3 pairing of freshman Hannah Tatlock and junior Jovana Karac destroyed Annisa Warasanti and Katy Brady, 8-0.
Tatlock concluded her first season in an Austin Peay uniform as the squad's top winner, earning her 10th  victory of the 2014 spring campaign with a 7-6, 6-2 win against Melissa Martin at No. 5.
Di Salvo and fellow junior Vanessa Tavares each earned their ninth win on the season's final day. Di Salvo knocked off Kashina 6-2, 6-1 at No. 1 singles, while Tavares defeated Donetckova 6-4, 6-2.
Austin Peay's final singles win on the day came from freshman Isabela Jovanovic; the Brazilian defeated Brady in straight sets, 6-1, 6-0.
Although the match saw the conclusion of Cornea's Austin Peay career, head coach Ross Brown is scheduled to return the rest of this season's squad.
Box Score
Austin Peay 5, Southeast Missouri 2
Sunday, April 13th, 2014
Cape Girardeau, MO | Redhawks Tennis Complex
Singles competition
1. DI SALVO, Ornella (APSUW) def. KASHINA, Valeriia (SEMO) 6-2, 6-1
2. NAGOVITCINA, V. (SEMO) def. CORNEA, Andra (APSUW) 4-6, 6-3, 1-0 (10-9)
3. TAVARES, Vanessa (APSUW) def. DONETCKOVA, E. (SEMO) 6-4, 6-2
4. WARASANTI, Annisa (SEMO) def. KARAC, Jovana (APSUW) 6-4, 6-2
5. TATLOCK, Hannah (APSUW) def. MARTIN, Melissa (SEMO) 7-6, 6-2
6. JOVANOVIC, Isabela (APSUW) def. BRADY, Katy (SEMO) 6-1, 6-0
Doubles competition
1. DI SALVO, Ornella/CORNEA, Andra (APSUW) def. KASHINA, Valeriia/DONETCKOVA, E. (SEMO) 8-7
2. MARTIN, Melissa/NAGOVITCINA, V. (SEMO) def. TAVARES, Vanessa/JOVANOVIC, Isabela (APSUW) 8-3
3. TATLOCK, Hannah/KARAC, Jovana (APSUW) def. WARASANTI, Annisa/BRADY, Katy (SEMO) 8-0
Match Notes
Austin Peay 6-13, 3-7 OVC
Southeast Missouri 9-13, 3-7 OVC