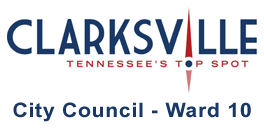 Clarksville, TN – Well it is budget time in Clarksville again. I will do several reports to keep you up to speed on what the Mayor is proposing for our city.
Here are some of the basics in the proposed FY 2015 budget for the City of Clarksville:
Clarksville FY 2015 budget
Projected FY 2015 Revenue: $80,445,962 (increase of $1,418,340 over FY 2014)
Projected FY 2015 Spending: $85,291,486 (increase of $3,801,324 over FY 2014)
Projected FY 2015 Deficit: -$4,845,524 (increase of $2,382,984 over FY 2014)
Fund Balance Reserve as required by code: $17,058,297 (represents 20% of budget spending)
Money left that has not been obligated to spending or deficit coverage: $1,163,911
Current city debt (principal): $117,614,305 million (almost another $10 million is being requested in this budget)
Clarksville Gas & Water Department debt (principal): $234,167,639
Clarksville Department of Electricity debt (principal): $80,782,508
Total principal debt of the listed city departments (principal): $432,564,452
There are other entities associated with the city that either ratepayers and/or taxpayers can be held accountable for debt when borrowed. Examples are the Parking Authority and Natural Gas Acquisition Corp. Ratepayers pay for the debt of utilities as no taxpayer funding is provided for their operations. Debt term for the city and associated functions run from 2014 up to 2038 with combined principal and interest payments of about $800,000,000.
The Mayor is proposing a 3.05% raise for employees, along with a cost adjustment update of the job classification pay ranges. Updating of the employee pay ranges was not a concern for the Mayor for the past three years, but then again this is an election year. Cost of this combined salary update action (including benefit cost) is almost $1.5 million.
The Mayor continues to be generous to her direct staff when it comes to pay raises. Last year, you may recall, the Mayor gave pay increases to two of her staff to the tune of $4,000 and $7,000. This year the other direct staff member is receiving an $8000 pay raise over last year.
Fire Stations
In the FY 2014 budget, money was approved to build the long needed fire station (Station 11) in the Exit 1 area of Clarksville. The fire chief had been pushing for this for several years. The Mayor had previously said it was a "desperately needed" fire station. If readers from my budget report last year recall, I tried to fund some new firefighter positions for that station. The Mayor cast the deciding vote that defeated that effort.
It was not prudent planning to be building a new station and then not fund for the firefighter personnel needed to operate it. That issue was one of several important issues that showed a lack of rational staffing and financial planning, which resulted in me not supporting that budget. Recent actions may explain why the Mayor would not support funding those firefighter positions.
The station, approved for building in July 2013, was to have been finished around May-June 2014. However, the money to build the station was not borrowed until April 2014. If you recall in my council reports of April 10th, 2014, I provided the story I got from the Mayor on when would Station 11 be built.
A variety of excuses were given with the bottom line being the Mayor had no idea. The Mayor "hinted" the money could go to Station 12 at Exit 8. That station must be activated by January 2016 per the Hankook Tire agreement. The Hankook project was made public in October 2013, but actions had been going on behind the scene for months. Council members were briefed some time before the announcements was made.
In our first budget workshop session last week I asked the administration when Station 11 was going to be built. The answer is it will not.
We just borrowed $1.44 million to build it, ten months after it was supposed to have started. The two fire trucks for Station 11 are already here, and the land donation for the station is final and in hand.
However, the Mayor is now reneging on a "desperately needed" (her words) station in that area. Mayor McMillan has responded that she has not reneged but is continuing to "move forward" with Station 11.
However, when the fire trucks have been placed elsewhere, the Mayor will not support staff funding, and a "bait and switch" approach on money borrowed for Station 11 is to be pulled for another project, it looks, walks and talks like "reneging". Especially, when there is no plan or timetable for future actions on Station 11.
The folks in the Exit 1 area now know where they stand when the Mayor is comfortable with overspending by almost $5 million in this proposed budget and none of it goes to the documented fire safety needs of these citizens.
What came out of the discussion on this issue with Mayor McMillan and her staff is they seem unable to find the approximately $250,000 to pay to staff Station 11 (if built) for one fiscal quarter (4th) in the FY 2015 budget; and then pay to staff both Station 11 and 12 in the FY 2016 budget in the combined amount of approximately $1.5 to $1.75 million.
Based on this public admission of not being able to pay for the complete fire stations we need to build, I questioned the administration twice as to our projected financial solvency in FY 2016 if she is reneging on providing documented fire service needs. Especially in light of the deficit spending spree Mayor McMillan is on in her FY 2015 budget proposal.
In the public budget workshop, neither the Mayor nor her Finance Director would answer my questions or address my concerns with what this proposed budget would do to Clarksville in the next budget. It was stated that state law required only a yearly budget. So officially, this administration only plans the city's finances 12 months at a time and will not project or take an educated guess as to future needs… at least publicly.
The Mayor admits the city can't afford to pay for the full operation of two fire stations in FY 2016 with the way they are spending now. Yet, she will not show or explain why this is so and what needs to be done to correct that situation.
However, we may have seen a clue as to where the Mayor may be going in FY 2016. The Finance Director's May 12th budget presentation discussed the property reappraisal that is underway. State law requires that a city adjust its property tax rate to be revenue neutral after such a reappraisal.
The Director alluded to seeing additional funding if we adjust the tax rate back up to where it was before the reappraisal next year. She stated we are going to have to address the "hits" we have in the coming years.
Mayor McMillan's "open government" concept for addressing budgeting concerns seems only to apply to the items and issues she has orchestrated for your viewing pleasure. When this administration states it now cannot afford to build and support two required fire stations in FY 2016, but refuses to address financial questions as to why that is happening, then we have a problem.
More to come.