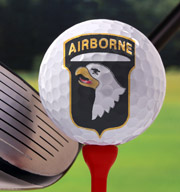 Clarksville, TN – Being the only player to post two under-par rounds, June 14th and 15th at Cole Park Golf Course, Brian Balthrop recorded his second Commanding General's Golf Tournament win in the past three years with a one-shot victory.
Balthrop finished with a two-round total of 139 (71-68), edging Wendy's Invitational champion Tyler Phillips (72-68—140) by a shot, while first round leader Josh Black took third place (68-74—142), three shots back.
"I just tried to go bogey free," Balthrop said. "Bogies early in the second round really hamper the momentum you have going in.
"I got off to a quick start (starting on the back nine holes) with a birdie on 12 and 14 – having advantage of both par fives – and was able to turn at two-under."
This weekend's finish was a much better result for Balthrop, who opened the Clarksville Golf Association season at the Wendy's with a fourth-place finish.
"I was kind of struggling at the Wendy's scoring," he said. "I came into this weekend concentrating on the par fives to see if I could get under par early.
"Yesterday I played well; I just didn't make as many putts, today I just tried to manage the par fives, hit a lot of fairways and greens and tried to keep myself out of trouble."
Hunter Richardson (74-69—143/1-under) and Drew Miller (73-71—144/even) rounded out the players who finished under or at even par in the tournament.
In the Open Division First Flight, Lafran Marks and Weston Sartain posted identical rounds of 78-77—155 to tie for first place in the fight, while Michael Wilkins (83-77—160) and Tyler Britt (80-80—160) tied for third place.
The Open Division Second Flight was won by Johnathan Sewell (86-79—165), who edged Ryan Campbell (85-81—166) by a stroke.
Colby Krug (87-82—169) took third, while Scott Thigpen (86-86—172) and Barry Cunningham (85-87—172) tied for fourth place.
In the Senior Division, Brad Van Kirk rallied from five shots down, by posting the low round of the day – in either division — to win his third straight Commanding General's, with a two-day total of nine-under 135 (69-66).
"This is my third straight (Commanding General's) win and I'm speechless," Van Kirk said.  "I thought I was out of it after the first day being five (shots) back, but I just went out today and played my heart out and it worked out.
"I felt coming out today I was going to have to shoot a 65 to have a chance. I made one bogey on my 16th hole and wound up shooting a 66 and it just happened to be good enough. The chips just kind of feel my way today."
First-round leader Joe Hodge (64-73–137/7-under) settled for second place, while Jim Duttweiler (69-71–140/4-under) took third place.
Joey Long (72-70–142/2-under) and Marcus Sartain (69-74–143/1-under) rounded out the under-par scoring and finished in fourth and firth pace respectively.
In the Senior Division First Flight, Ted Crozier posted and even-par round to take first place in the grouping, finishing with a two-day total of 152 (80-72) to edge Bobby Bracey (78-75—153) and David Graham (78-75—153) by a single shot, as they tied for second place.
Bill Wilkinson (79-75—154) finished two shots back in fourth place, while Ted Purdom (78-78—156) took fifth.
Finally in the Senior Division Second Flight, Harold Gabhart (84-77—161) was the run-away winner of the flight, finishing eight strokes ahead of Rod Lowell (86-83—169) and Jack Smith (84-85—169), who tied for second place.
James Austin (90-80—170) and Roger Gray (90-80—170) tied for fourth place.