Nashville, TN – The Nashville Venom, of the Professional Indoor Football League, will be hosting the Columbus Lions Saturday night at Municipal Auditorium at 7:00pm.
Columbus is third in the league in total offense and second in scoring offense. Nashville is second in the league in total defense and is only giving up 42.1 points per game which is tops in the league.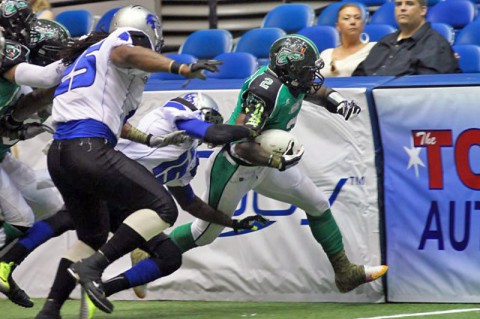 Columbus RB Kendrick Perry leads the league in rushing yards and is tied for second in rushing TDs (15). In the second game against Nashville in Columbus, Perry scored three TDs. The Venom defense held him to nine yards in Nashville. Nashville's defense is the stingiest against the run in the PIFL. The final two games they played against three out of the top six rushers in the PIFL so they should be prepared.
Columbus QB Luke Halpin has a record of 2-1 this season with his lone loss coming against Nashville. He earned the PIFL Offensive Player of the Week in Week 14.
In all three games, he has led his team to 60 points or more. Halpin has thrown 11 TDs and one interception. WR James Fortson leads his team with 66 receptions and 921 yards. His 22 TDs ranks him third in the league among WRs. Perry has been lethal catching passes out of the backfield. His 10 TDs give him a combined 25 TDs.
Former Tennessee Titan Chris Davis has made 14 catches in three games this season. Nashville's passing defense has grabbed a league leading 26 INTs. The team credits a relentless pass rush that has been in the faces of QBs all season. DBs Scooter Rogers and Corry Stewart are tied for second with eight picks. Stewart is the Week 14 PIFL Defensive Player of the Week. He also was honored in Week 2.
The Nashville Venom
Nashville is leading the league total offense and in scoring offense. Columbus is last in total defense and sixth in scoring defense.
Nashville running game is lethal around the goal line. They are third in the league with 25 TDs and boast three players in the top 10 in rushing TDs. Mack Ogletree leads the team with nine. QB Charles McCullum has scored six times and FB Stanlee "Dump Truck" Bradley is a 315 pound wrecking ball that has also scored six TDs. Columbus has the third best defense against the run in the league.
McCullum leads the PIFL in total offense. In six games he has thrown for 30 TDs and only four INTs. McCullum has a plethora of receivers to throw to. WRs Jordan Jolly (1,107) and Phillip Barnett (1,047) both eclipsed the 1,000 yard mark. Barnett leads the league with 28 TDs receiving. His 79 receptions place him tied for third in the PIFL.
Jolly is leading the league in yards per catch at a 14.4 clip. WR George Murray (51 receptions 554 yards and 11 TDs) has been steady all season. He has also stepped to play QB when needed. Ogletree has stepped in and caught 34 passes for 358 yards and four TDs.
Columbus DBs Roshawn Marshall and Damien Daniels have combined for 18 interceptions on the season. Daniels leads the league with 14 pass breakups. They have both scored returned two interceptions for TDs.
Two of the PIFL's best kickers will be on the field. Columbus Kicker leads all kickers with 113 points. He has 21 Unos with six coming in one game.
Nashville Kicker Christian Reed is money on extra points. The rookie out of Wofford University is kicking at 91% and he has 11 Unos in only seven games.
Columbus kick returner Leroy Vann leads the PIFL will 299 kickoff return yards. For Nashville Mack Ogletree has come close to taking one the distance for Nashville on a couple of occasions.
Columbus Head Coach Jason Gibson is entering his eighth season and is the only head coach in franchise history.
The Lions are 64-34 under Gibson and have made the playoffs in seven out of eight years. The Lions is the only franchise to make the playoffs all three years of the PIFL existence.
Venom Head Coach Billy Back has a career 51-13 record as a Head Coach and a perfect 6-0 record in the playoffs.
One of the most difficult tasks in football is to defeat an opponent three times in one season. Both games have gone down to the wire, with Nashville WR Phillip Barnett making the game saving play in both contests.
Columbus is 0-2 in the playoffs in the PIFL so they have a lot to play for. Nashville is on a seven game winning streak and is the top team in the PIFL. No PIFL team has lost a home playoff game.

Game Preview
What: The Professional Indoor Football League American Conference Finals Game between the Columbus Lions (8-5) and the Nashville Venom (10-2).
Where: Nashville Municipal Auditorium 417 4th Avenue North Nashville, Tennessee 37201
When: Saturday, July 5th, 2014 7:00pm CST
History: Nashville is 2-0 against Columbus winning 58-44 on May 25th in Nashville and 60-56 on June 14th in Columbus