Clarksville, TN – The weekly Clarksville Parks and Recreation Department Recreation Report provides Clarksvillians with a glimpse at the activities and events that are available from the Parks and Recreation Department for them to enjoy together as a family.
This weeks highlights include: Clarksville Sports Festival seeks vendors, Riverfest 2014 Headliner, Extended Outdoor Pool Season, Fishing Derby for special needs children and adults, and Fun with Fido.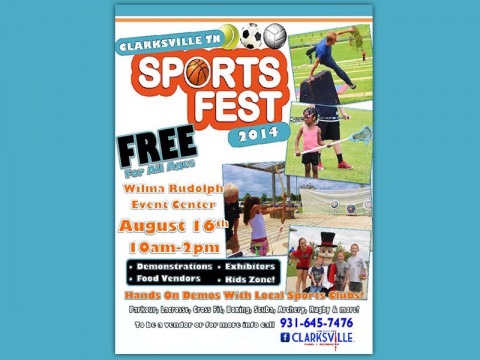 Clarksville Sports Festival seeks vendors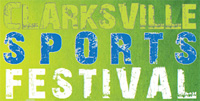 Clarksville Parks and Recreation will be hosting its fourth-annual Clarksville Sports Festival from 10:00am until 2:00pm on Saturday, August 16th, at the Wilma Rudolph Event Center located within Liberty Park at 1188 Cumberland Drive, with a variety of sports, athletic and outdoor activities for the entire family.
Any sports-minded businesses, groups or organizations are welcome to participate in the Clarksville Sports Festival! Sports Festival exhibitors will be provided a 10′ x 10′ booth space including one 6-foot table and two chairs. Registration fee for non-profit vendors is $25.00.
Registration for businesses is $100.00 plus a door-prize valued at $25.00. Activities at individual booths are strongly encouraged and must be sports-related. Deadline to register is July 31st. Registration forms are available online at www.cityofclarksville.com/events
Riverfest Announces 2014 Headliner
Riverfest is excited to announce that the multi-platinum CMA and ACM award winning recording artist Tracy Lawrence will be the featured headliner at the 2014 Festival. Tracy Lawrence will take the main stage as the headlining event on Saturday, September 6th, 2014. The concert is free and open to the public.
Tracy Lawrence is one of the most recognizable voices in Country music with songs such as "Paint Me A Birmingham," "Time Marches On," "Alibis," and "Find Out Who Your Friends Are."
"We are very excited to be bringing Grammy Award winning artist, Tracy Lawrence to this year's Riverfest," said Jennifer Byard, Festival Director. "He has so many number one hits that even if you are not a country music fan, you'll recognize his songs."
Riverfest is a two-day music and arts festival that includes a wide variety of food vendors, art exhibits, an area just for kids, and of course multiple stages of live music!
For more information, visit www.clarksvilleriverfest.com
Extended Outdoor Pool Season
Summer break may be coming to an end, but two of Clarksville's outdoor pools will remain open thru September 1st. Beginning August 4th, Beachaven and New Providence pools will operate on the following schedules:
Beachaven Pool
Saturday: 10:00am-6:00pm
Sunday: 1:00pm-6:00pm
Monday, September 1st: 10:00am-6:00pm
New Providence Pool
Monday-Friday: 6:30am–12noon
Saturday: 12noon-6:00pm
Sunday: 1:00pm-6:00pm
Monday, September 1st: 6:30am–6:00pm
Fishing Derby for special needs children and adults
Bel-Aire Pool, located at 124 Marie Drive, is excited to host the 2nd Annual Adaptive Fishing Derby on Saturday, August 23rd from 8:00am to 12noon.
The Adaptive Fishing Derby provides an opportunity to fish, right out of the pool! The event is open to children and adults ages 5 and older, with mental or physical disabilities and their families. The Adaptive Fishing Derby is free to attend and will feature prizes and giveaways to participants!
Pre-registration is available online at recpro.cityofclarksville.com.
New 'Fun with Fido' event series
Event continues August 9th with a pooch pool party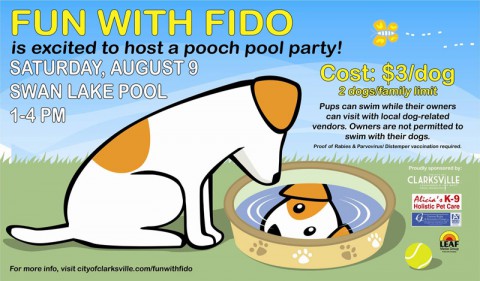 The City of Clarksville's Parks and Recreation Department, Alicia's Complete Holistic Petcare, and Gateway Realty/A+ Property Management introduced Fun with Fido, a new, event series to promote an active lifestyle for you and your four-legged family member in June.
The series will continue its season with a pooch pool party Saturday, August 9th from 1:00pm to 4:00pm at Swan Lake Pool, 2002 Sanders Drive. Dogs will be able to take a dip in the pool and their owners can visit with dog-related businesses and organizations from around town.
Admission is $3.00 per dog, with a limit of two dogs per family. All dogs must be at least 6 months old and have proof of current vaccinations (rabies and parvovirus/distemper) to participate. Registration is easy! Register on-site at the event or download the event registration form online at www.cityofclarksville.com/funwithfido and bring with you!
People are not allowed in the large pool during the party, but will be able to wade in the baby pool with their dogs. Lifeguards will be on-site and ramps will be available to provide dogs with easy access to the pool. Dogs must be on leashes when they are out of the water.
Become a vendor at out Pooch Pool Party! Businesses that promote dog-related programs, services and products are encouraged to apply by downloading an application form from our event webpage at www.cityofclarksville.com/funwithfido . Applications must be received by August 1st, 2014.
Additional 'Fun with Fido' events include a shopping event at the Clarksville Downtown Market on September 20th and then the final event of the series at King's Run Bark Park at Liberty Park on October 11th.