Austin Peay Sports Information Office

Clarksville, TN – Chattanooga scored on its last possession of the first half and the first three times it touched the ball in the second as the Mocs rolled to a 42-6 victory against Austin Peay State University, Saturday, ruining the debut of new Governors Stadium.
The loss left APSU 0-2 on the season while Chattanooga, the Southern Conference favorite, recorded its first victory after two difficult early-season losses.
The 28-point mid-game run was highlighted by a 42-yard pass from Jacob Huesman to Xavier Borishade and a 58-yard Tommy Hudson punt return.
The 36-point loss belied a defensive effort that saw the Governors tallied nine tackles for loss and a fumble recovery. Unfortunately, the Governors offense could not match the defense's production.  The Govs gained just 180 yards in total offense, just 58 in the second half.
Chattanooga gouged the Govs defense in the early going, taking the opening drive and marching 82 yards in seven plays, culminated by Keon Williams' three-yard TD run.
The Mocs got the ball right back after quarterback Darrien Boone, starting in place of the injured Trey Taylor, fumbled on a third-down play with Chattanooga taking over at the APSU 33. One player later quarterback Jacob Huesman hooked up with Tommy Hudson for a 33-yard score for 14-0 lead less than four minutes into the game.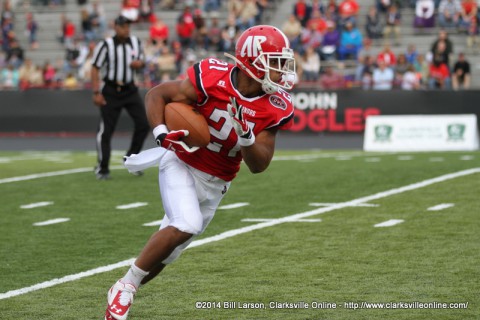 The Govs got back into the game when they took advantage of a Chattanooga fumble forced by Benedict Louis and recovered by fellow freshman linebacker Zach Stuart.  On first down Boone hooked up with Javier Booker for a 45-yard score. But sophomore Evan Toby, attempting his first college point after, sailed it wide right.
That would be the last time the Governors would threaten to score.  APSU's defense settled in to force three Chattanooga punts before the Mocs took momentum into half, going 61 yards in 13 plays with Williams scoring his second touchdown, this one from one-yard out with 48 seconds left in the half.
Chattanooga maintained that momentum entering the second half and quickly put away the game, the crunching blow coming on Hudson's 58-yard punt return.
Huesman, the SoCon Offensive Player of the Year in 2013, finished 18 of 23 passing for 224 yards and two TDs. Hudson finished with seven catches for 102 yards and a TD to go with his long punt return. Williams ended with a difficult 53 yards on 18 carries.
APSU's leading rusher was Justin Roberson, who ended with just 27 yards on 11 attempts. The Govs ended with only 42 rushing yards on 36 carries while Boone finished 15-of-20 passing for 124 yards.
APSU's offensive woes resulted in Ben Campbell, who punted a school-record 90 times a year ago, punted 10 times for a second game in a row.
On the flip side, defensive tackle Malcolm Goines collected a pair of tackle for losses while linebacker Antonio Turner led the way with nine total tackles while safety Damien Whitfield added eight.
Photo Gallery
Video – Kirby Cannon
Box Score
Austin Peay (0-2) vs. Chattanooga (1-2)
| | 1st | 2nd | 3rd | 4th | Total |
| --- | --- | --- | --- | --- | --- |
| Chattanooga | 14 | 7 | 21 | 0 | 42 |
| Austin Peay | 6 | 0 | 0 | 0 | 6 |
| Qtr | Time | Scoring Play | UTC | APSU |
| --- | --- | --- | --- | --- |
| 1st | 11:57 | UTC – Keon Williams 3 yd run (H. Ribeiro kick), 7 plays, 82 yards, TOP 3:03 | 7 | 0 |
| 1st | 11:02 | UTC – Tommy Hudson 33 yd pass from Jacob Huesman (H. Ribeiro kick) 1 plays, 35 yards, TOP 0:06 | 14 | 0 |
| 1st | 07:37 | APSU – BOOKER, Javier 45 yd pass from BOONE, Darrien (TOBY, Evan kick failed) 1 plays, 45 yards, TOP 0:06 | 14 | 6 |
| 2nd | 00:48 | UTC – Keon Williams 1 yd run (H. Ribeiro kick), 13 plays, 61 yards, TOP 5:21 | 21 | 6 |
| 3rd | 09:46 | UTC – X. Borishade 42 yd pass from Jacob Huesman (H. Ribeiro kick) 8 plays, 62 yards, TOP 4:24 | 28 | 6 |
| 3rd | 07:54 | UTC – Tommy Hudson 58 yd punt return (H. Ribeiro kick) | 35 | 6 |
| 3rd | 05:11 | UTC – Derrick Craine 2 yd run (H. Ribeiro kick), 6 plays, 28 yards, TOP 2:38 | 42 | 6 |
| | UTC | APSU |
| --- | --- | --- |
| FIRST DOWNS | 19 | 9 |
| Rushing | 6 | 3 |
| Passing | 9 | 5 |
| Penalty | 4 | 1 |
| NET YARDS RUSHING | 119 | 42 |
| Rushing Attempts | 42 | 36 |
| Average Per Rush | 2.8 | 1.2 |
| Rushing Touchdowns | 3 | 0 |
| Yards Gained Rushing | 138 | 78 |
| Yards Lost Rushing | 19 | 36 |
| NET YARDS PASSING | 232 | 138 |
| Completions-Attempts-Int | 19-28-0 | 18-26-0 |
| Average Per Attempt | 8.3 | 5.3 |
| Average Per Completion | 12.2 | 7.7 |
| Passing Touchdowns | 2 | 1 |
| TOTAL OFFENSE YARDS | 351 | 180 |
| Total offense plays | 70 | 62 |
| Average Gain Per Play | 5.0 | 2.9 |
| Fumbles: Number-Lost | 1-1 | 2-2 |
| Penalties: Number-Yards | 5-40 | 5-43 |
| PUNTS-YARDS | 6-227 | 10-362 |
| Average Yards Per Punt | 37.8 | 36.2 |
| Inside 20 | 2 | 1 |
| 50+ Yards | 0 | 0 |
| Touchbacks | 0 | 2 |
| Fair catch | 0 | 0 |
| KICKOFFS-YARDS | 7 – 447 | 2 – 110 |
| Average Yards Per Kickoff | 63.9 | 55.0 |
| Touchbacks | 4 | 0 |
| Punt returns: Number-Yards-TD | 3-65-1 | 3-17-0 |
| Average Per Return | 21.7 | 5.7 |
| Kickoff returns: Number-Yds-TD | 2-30-0 | 3-53-0 |
| Average Per Return | 15.0 | 17.7 |
| Interceptions: Number-Yds-TD | 0-0-0 | 0-0-0 |
| Fumble Returns: Number-Yds-TD | 1-2-0 | 0-0-0 |
| Miscellaneous Yards | 0 | 0 |
| Possession Time | 32:08 | 27:52 |
| Third-Down Conversions | 4 of 13 | 4 of 18 |
| Fourth-Down Conversions | 1 of 2 | 2 of 2 |
| Red-Zone Scores-Chances | 3-3 | 0-0 |
| Sacks By: Number-Yards | 3 – 18 | 0 – 0 |
| PAT Kicks | 6-6 | 0-1 |
| Field Goals | 0-0 | 0-0 |