Austin Peay Sports Information

Charleston, IL – Austin Peay State University's volleyball team rallied to force a fifth set, but for the second straight day dropped a five-set decision (22-25, 17-25, 25-21, 25-23, 7-15), Saturday, to Eastern Illinois in Ohio Valley Conference action at Lantz Arena.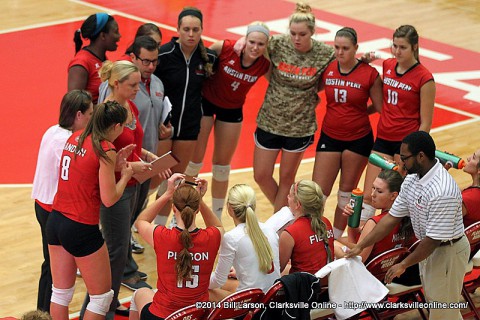 Eastern Illinois (8-11, 2-4 OVC) won the first two sets, claiming the wins in different fashions.
The Panthers broke open the first set with a 4-0 run to build an 8-4 lead only to was the Lady Govs battle back to tie the set at 22-22.
However, a well-timed timeout broke APSU's momentum and EIU got three straight kills from Maria Brown to claim the set. Eastern Illinois won the second set in wire-to-wire fashion after scoring the first five points of the set.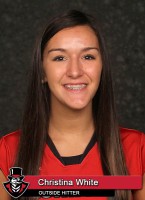 Austin Peay (10-12, 4-2 OVC) battled back to win the next two sets in hard-nosed fashion. The third set featured 12 ties and six lead changes. The Lady Govs took control with a 7-2 run to turn a 14-13 deficit into a 20-16 lead that it held en route to a 25-21 win.
A fourth set win saw Austin Peay battle back from a 14-9 deficit with seven straight points to take a 16-14 lead. Yet, APSU found itself trailing again at 22-20 before scoring five of the final six points, including a pair of kills by freshman Christina White to clinch the set, 25-23, and force a tiebreaker.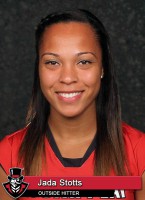 That fifth set tiebreaker was controlled by Eastern Illinois which jumped out to a 6-1 lead and never looked back. The Panthers had eight kills without an attack error while the Lady Govs scored just six kills but committed six attack errors.
"We had the same trouble passing the ball as last night (at SIUE)," said Lady Govs head coach Taylor Mott. "Our passing was poor and our defense was poor, we never got in rhythm. We battled in the third and fourth sets, but we committed to many errors in the fifth."
Senior outside hitter Jada Stotts led Austin Peay with 17 kills. Sophomore outside hitter Sammie Ebright added 13 kills and six blocks. Senior middle blocker Liz Landon chipped in 10 kills and six blocks.
Austin Peay scored 60 kills but could not overcome its error-filled outing. The Lady Govs committed 29 attack errors, five service errors, seven reception errors and eight blocking errors – a total of 49 miscues.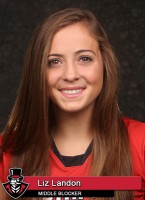 Brown led Eastern Illinois with 16 kills, one of four players to reach double-digit kills. The Panthers scored 67 kills and posted a .209 attack percentage for the contest.
Austin Peay will resume its four-match OVC road trip with a 6:00pm, Friday contest at Tennessee State. The Lady Govs will enter the upcoming weekend tied for second place, one game behind the league lead.
Box Score
Austin Peay 2 vs Eastern Illinois 3
| Set Scores | | 1 | 2 | 3 | 4 | 5 | Team Records |
| --- | --- | --- | --- | --- | --- | --- | --- |
| Eastern Illinois | (3) | 25 | 25 | 21 | 23 | 15 | 8-11 (2-4 OVC) |
| Austin Peay | (2) | 22 | 17 | 25 | 25 | 7 | 10-12 (4-2 OVC) |
Austin Peay (10-12 4-2 OVC)
| ## | Player | SP | K | E | TA | PCT | A | E | SA | SE | RE | DIG | BS | BA | Points |
| --- | --- | --- | --- | --- | --- | --- | --- | --- | --- | --- | --- | --- | --- | --- | --- |
| 4 | EBRIGHT, Sammie | 5 | 13 | 6 | 43 | .163 | 0 | 0 | 0 | 0 | 0 | 10 | 0 | 6 | 16.0 |
| 6 | SLAY, Ashley | 5 | 6 | 4 | 24 | .083 | 1 | 0 | 0 | 0 | 0 | 3 | 1 | 2 | 8.0 |
| 7 | MARSELLIS, Aubrey | 5 | 5 | 4 | 13 | .077 | 49 | 0 | 0 | 2 | 0 | 15 | 0 | 1 | 5.5 |
| 8 | LANDON, Liz | 5 | 10 | 4 | 29 | .207 | 3 | 0 | 0 | 0 | 0 | 4 | 1 | 5 | 13.5 |
| 10 | STROTHER, Samantha | 2 | 1 | 2 | 9 | -.111 | 0 | 0 | 0 | 0 | 1 | 2 | 0 | 0 | 1.0 |
| 14 | STOTTS, Jada | 5 | 17 | 4 | 50 | .260 | 1 | 0 | 1 | 2 | 3 | 16 | 0 | 2 | 19.0 |
| 3 | ADAMS, April | 4 | 0 | 0 | 0 | .000 | 0 | 0 | 0 | 1 | 0 | 12 | 0 | 0 | 0.0 |
| 5 | BALES, Lizzy | 2 | 0 | 0 | 0 | .000 | 0 | 0 | 1 | 0 | 0 | 0 | 0 | 0 | 1.0 |
| 11 | WHITE, Christina | 4 | 8 | 5 | 24 | .125 | 2 | 0 | 1 | 0 | 3 | 10 | 0 | 0 | 9.0 |
| 13 | LITCHFIELD, Syd | 1 | 0 | 0 | 0 | .000 | 0 | 0 | 0 | 0 | 0 | 6 | 0 | 0 | 0.0 |
| | Totals | 38 | 60 | 29 | 192 | .161 | 56 | 0 | 3 | 5 | 7 | 78 | 2 | 16 | 73.0 |
Team Attack By Set
Set
K
E
TA
Pct
1
9
8
38
.026
2
11
7
41
.098
3
18
2
42
.381
4
16
6
48
.208
5
6
6
23
.000
Total Team Blocks: 10.0
LEADERS:Kills-Aces-Blocks: STOTTS, Jada (17-1-2); EBRIGHT, Sammie (13-0-6); LANDON, Liz (10-0-6); WHITE, Christina (8-1-0); SLAY, Ashley (6-0-3); MARSELLIS, Aubrey (5-0-1); STROTHER, Samantha (1-0-0)Assists: MARSELLIS, Aubrey (49); LANDON, Liz (3); WHITE, Christina (2); SLAY, Ashley (1); STOTTS, Jada (1)

Digs: STOTTS, Jada (16); MARSELLIS, Aubrey (15); ADAMS, April (12); EBRIGHT, Sammie (10); WHITE, Christina (10); LITCHFIELD, Syd (6); LANDON, Liz (4); SLAY, Ashley (3); STROTHER, Samantha (2)
Eastern Illinois (8-11 2-4 OVC)
| ## | Player | SP | K | E | TA | PCT | A | E | SA | SE | RE | DIG | BS | BA | Points |
| --- | --- | --- | --- | --- | --- | --- | --- | --- | --- | --- | --- | --- | --- | --- | --- |
| 1 | WINNER, Josie | 5 | 10 | 2 | 15 | .533 | 0 | 0 | 0 | 0 | 0 | 3 | 1 | 1 | 11.5 |
| 4 | SAALFRANK, Abby | 5 | 7 | 3 | 26 | .154 | 0 | 0 | 0 | 0 | 0 | 0 | 0 | 2 | 8.0 |
| 9 | HUESTON, Allie | 5 | 13 | 1 | 33 | .364 | 0 | 0 | 1 | 0 | 0 | 0 | 0 | 6 | 17.0 |
| 10 | BRADBURY, Marah | 5 | 6 | 3 | 18 | .167 | 53 | 0 | 1 | 0 | 0 | 9 | 1 | 2 | 9.0 |
| 12 | BROOKE, Kelsey | 5 | 0 | 0 | 0 | .000 | 3 | 0 | 0 | 1 | 0 | 20 | 0 | 0 | 0.0 |
| 13 | BROWN, Maria | 5 | 16 | 6 | 41 | .244 | 0 | 0 | 1 | 1 | 1 | 21 | 0 | 3 | 18.5 |
| 2 | LEE, Chelsea | 5 | 15 | 14 | 49 | .020 | 0 | 0 | 0 | 0 | 0 | 6 | 0 | 0 | 15.0 |
| 6 | WALLACE, Stephanie | 5 | 0 | 0 | 0 | .000 | 6 | 0 | 2 | 0 | 1 | 22 | 0 | 0 | 2.0 |
| 8 | SPRINGER, Dakota | 5 | 0 | 0 | 0 | .000 | 1 | 0 | 2 | 0 | 1 | 11 | 0 | 0 | 2.0 |
| | Totals | 45 | 67 | 29 | 182 | .209 | 63 | 0 | 7 | 2 | 3 | 92 | 2 | 14 | 83.0 |
Team Attack By Set
Set
K
E
TA
Pct
1
16
11
43
.116
2
15
5
37
.270
3
16
6
39
.256
4
12
7
44
.114
5
8
0
19
.421
Total Team Blocks: 9.0
LEADERS:Kills-Aces-Blocks: BROWN, Maria (16-1-3); LEE, Chelsea (15-0-0); HUESTON, Allie (13-1-6); WINNER, Josie (10-0-2); SAALFRANK, Abby (7-0-2); BRADBURY, Marah (6-1-3)Assists: BRADBURY, Marah (53); WALLACE, Stephanie (6); BROOKE, Kelsey (3); SPRINGER, Dakota (1)

Digs: WALLACE, Stephanie (22); BROWN, Maria (21); BROOKE, Kelsey (20); SPRINGER, Dakota (11); BRADBURY, Marah (9); LEE, Chelsea (6); WINNER, Josie (3)