Hopkinsville, KY – Senior Tucker Wallace and freshman Jonas Vaisanen each fired third round 70s to help Austin Peay State University men's golf team expand its lead en route to the team title at the F&M Bank APSU Intercollegiate, Tuesday, at The Links at Novadell.
Austin Peay entered the round with an eight-shot lead, but thanks to Wallace and Vaisanen expanded its lead to eight shots at tournament's end. The Govs, who won their home tournament for the ninth time in 15 tries, finished with an 842 (278-280-284) total that was 22-under par. UT Martin (850) finished second followed by Eastern Kentucky (851). Belmont and Southern Illinois were tied for fourth with 854s.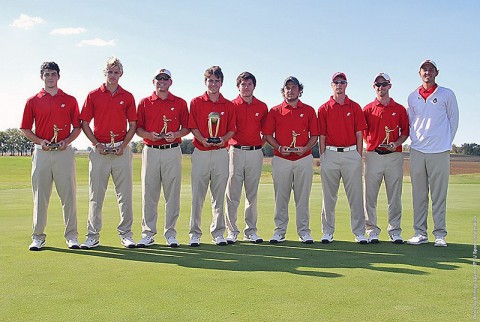 "Everybody stepped up in great fashion today," said Govs head coach Dustin Korte. "The theme of this week was 'It's Novadell;' we had to be patient out there and the guys did a great job of that. Down the stretch when we had a wave coming behind us but they battled back and finished strong. I'm very proud of the guys."
Wallace used his 70 to finish the tournament with a 206 and a career-best third-place finish out of 74 individuals. Vaisanen's 70 helped him move up four spots and into the top 10, finishing tied for ninth – also a career best.
While Wallace and Vaisanen were under par, they were supported by even-par performances from senior Chris Baker and Austin Kramer. Baker also finished among the top 10, his 210 total finishing tied for sixth. Kramer's 72 helped him move up two spots in the final round and a 15th-place showing. Andres Navarrete fired a final-round 74 and a 224 total to finish tied for 49th.
"Jonas has done a great job this year and if you look at him he came in after the round and looked like he felt he should have played better," said Korte. "That's the thing with this team; they all feel like they can be better at any time. Even our individuals had great performances. It was an incredible performance by everyone."
The Govs individuals enjoyed the home meet as much as the five-man team. Justin Arens finished his tournament with a 72 and a 215 three-round total to lead all individuals with a 20th-place finish. Colton Godwin also had a steady weekend, topped with Tuesday's 74 to finish with a 219, good for 25th place. Erik Hedberg round out the Govs performance with a 77, Tuesday, and ended the tournament tied for 41st with a 222.
The F&M Bank APSU Intercollegiate concludes the Govs fall schedule. They return to action in four months, February 23rd-24th, at the Wexford Plantation Intercollegiate in Florence, South Carolina.
Video – Tucker Wallace