Austin Peay Sports Information

Clarksville, TN – A furious late rally came up short Friday in Austin Peay State University's matchup with rival Murray State. The Lady Govs battled to the last second but came out on the wrong side of a 3-2 decision.

Austin Peay (4-11-1, 3-4-1 OVC) now needs results and a little help the rest of the way; with two matches remaining for each, the Lady Govs trail Morehead State by a point for the final spot in the Ohio Valley Conference Tournament. Murray State moves to 10-7-0 (6-2-0 OVC).

"I thought it was a great game," said head coach Kelley Guth. "It was unfortunate for us to go up early and not be able to hold the lead. I never want to make excuses – we battled and worked hard against a good team and I'm proud of that effort."
The Lady Govs got going quick, with sophomore Gina Fabbro netting a fourth-minute tally. After making a solid defensive play on the ball to win possession, then carried it to just outside the 18-yard box, launching a low, bouncing shot that got under Shelby Haworth's hands for the opening salvo.
Murray State would answer later in the half. Winning a ball to the corner, Pavlina Nepokojova sent a short cross to Julie Mooney in the top left corner of the 18-yard box. Mooney, the OVC's leading scorer, aimed for the lower right corner and just slid the shot by junior Nikki Filippone to even the contest.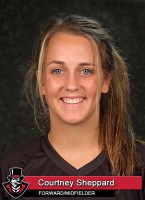 Filippone preserved the tie by clearing off a point-blank attempt from Harriet Withers in the 33rd minute, but Murray State would find the back of the net one more time in the first half. On a scramble following a corner kick and attempted clear, Destiny White bounced a pass off Taylor Richerson and past a diving Filippone to put the Racers ahead by one entering the break.

The Racers tacked on an insurance goal in the 63rd minute, with Nepokojova hitting a rocket that Filippone was able to get a hand on but couldn't keep out of the net.

Filippone made two incredible saves from point-blank range later in the half off back-to-back attempts from Rebecca Bjorkvall and Mooney to keep the Lady Govs close.

Austin Peay wasn't done, however. With less than five minutes remaining, junior Courtney Sheppard slammed home a goal with an assist from freshman Sophia Fabbro to keep the Lady Govs alive. Unfortunately, time ran out as the comeback bid came up wanting.

"Maybe if there's a little more time left, the outcome is different after Shep scores that beauty, but it was too little, too late," Guth said. "Murray's a good team near the top of the league for a reason. I think we proved tonight we can battle with anyone; now we have to refocus and hopefully fight our way into the tournament."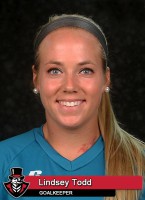 Filippone made five saves before being giving way to freshman Lindsey Todd in the 68th minute; Todd made three saves in relief. Haworth made four saves for the Racers.
The Lady Govs have to bounce back quickly, with the regular season road finale on deck at UT Martin, Sunday.
Austin Peay and the Skyhawks kick off at 2:00pm (CT).
Box Score
Austin Peay (4-11-1 (3-4-1 OVC)) vs Murray State (10-7-0 (6-2-0 OVC))
| Goals By Period | 1 | 2 | Total |
| --- | --- | --- | --- |
| Murray State | 2 | 1 | 3 |
| Austin Peay | 1 | 1 | 2 |
| Goal | Time | Team | Goal Scorer | Assists | Description |
| --- | --- | --- | --- | --- | --- |
| 1. | 03:19 | APSU | Gina Fabbro (6) | | Steal and low shot from 22 to lower left |
| 2. | 13:59 | MUR | Julie Mooney (13) | Pavlina Nepokojova | Short cross to left corner of 18, shot to lower right |
| 3. | 37:55 | MUR | Taylor Richerson (1) | Destiny White | Header off scramble in box |
| 4. | 62:59 | MUR | Pavlina Nepokojova (1) | | 18-yards out, deflected by keeper and trickled into net |
| 5. | 86:14 | APSU | Courtney Sheppard (1) | Sophia Fabbro | Laser from 20 yards out to left side |
Murray State
| ## | Goalie | Minutes | GA | Saves |
| --- | --- | --- | --- | --- |
| 1 | Shelby Haworth | 90:00 | 2 | 4 |
Pos
##
Player
Sh
SOG
G
A
Fouls
GK
1
Shelby Haworth
0
0
0
0
0
3
Julie Mooney
4
2
1
0
0
6
Lyssie Wright
0
0
0
0
0
D
7
Nyomi Devine
0
0
0
0
0
8
Sonja Murphy
0
0
0
0
0
11
Halle Pinkham
0
0
0
0
0
F
12
Harriet Withers
1
1
0
0
0
13
Pavlina Nepokojova
2
1
1
1
0
20
Rebecca Bjorkvall
4
3
0
0
0
21
Taylor Stevens
3
2
0
0
0
C
23
Ali Critcher
0
0
0
0
0
–Substitutes–
TM
TEAM
0
0
0
0
10
F
4
Destiny White
0
0
0
1
0
5
Taylor Richerson
1
1
1
0
0
C
9
Aaron Lankster
0
0
0
0
0
10
Bronagh Kerins
2
1
0
0
0
F
25
Marissa Burroughs
0
0
0
0
0
Totals
17
11
3
2
10
Austin Peay
Sections
Sports
Topics
APSU, APSU Athletics, APSU Soccer, APSU Sports, APSU Women's Soccer, Austin Peay State University, Clarksville TN, Courtney Sheppard, Destiny White, Gina Fabbro, Harriet Withers, Kelley Guth, Lady Govs, Lindsey Todd, Morehead State, Murray State, Nikki Filippone, Ohio Valley Conference, OVC, OVC Tournament, Pavlina Nepokojova, Racers, Rebecca Bjorkvall, Shelby Haworth, Skyhawks, Sophia Fabbro, Taylor Richerson, UT-Martin