Austin Peay Sports Information

Clarksville, TN – Fans will get the first of two preseason glimpses of the 2014-15 Austin Peay State University women's basketball team when it hosts NAIA foe St. Catharine in a 4:00pm, Saturday exhibition contest at the Dunn Center.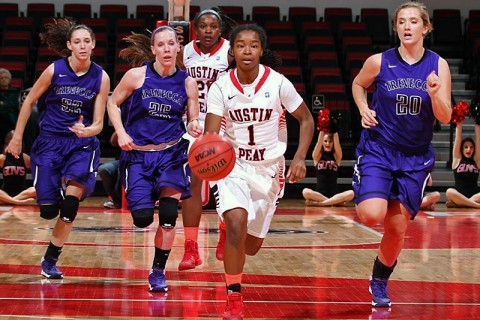 Head coach
Carrie Daniels
, in her ninth season, sees four starters return among 10 letter winners.
However, after 20 preseason practices Daniels will turn to a new starting five in the exhibition affair. Senior guard Kristen Stainback, junior guard Tiasha Gray and sophomore forward Beth Rates will reprise their starting roles.
Joining them will be sophomore center Tearra Banks, who made eight starts last season, and freshman guard Falon Baker.
"Obviously we still have a ton to get better at with just 20 practices under our belts," said Daniels.  "We're good for where we are in the preseason schedule. I'm anxious to see us play against someone other than ourselves – that's going to be the big thing, stepping up to a challenge and seeing how we compete."
Beyond the starting five, junior forward Jennifer Nwokocha will provide a lift as the first person off Austin Peay's bench. Other returners expected to provide minutes in the exhibitions will be sophomore guard April Rivers and sophomore guard Jacey Scott.
While Baker will be the first newcomer Austin Peay fans will see, the rest of the five newcomers will see time on the court. Guard Brianne Alexander, guard Madison Rich, guard Savannah Foister and forward Sydney Gooch have made an impact during the preseason slate.
"I've been really pleased by the competition level in practice," said Daniels. "But I've also told them they have to keep increasing their competition level and intensity. We want our practices to be the toughest competition we see this year so we're not surprised by our opponents."
St. Catharine will enter the exhibition with its regular-season slate already underway. The Patriots opened their campaign with a loss at 64-57 Midway College, Wednesday.
"Playing the two exhibitions will be good," "It will allow us to develop some consistency with our starting five and our rotation off the bench. I've talked to all the players and I believe everyone is settling in and understands their role. The key to our success is going to be everyone knowing their role and accepting their role. The exhibitions will give us a good opportunity to demonstrate that."
Austin Peay hosted St. Catharine in a December 9th, 2012, regular season contest it won 84-62. Three members of the current Lady Govs played in that contest – Stainback started and scored 10 points while Gray and Nwkocha came off the bench to score four and three points, respectively.
Video – Carrie Daniels