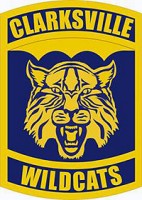 Clarksville, TN – Clarksville High School all-state catcher had hoped and dreamed about to go to school and playing in the Orange and White at the University of Tennessee since she was little.
Well dreams do come true, as the left-hander, power hitting, backstop officially signed her NCAA National Letter of Intent to play for the Lady Vols on November 12th, in a ceremony held in the school's cafeteria.
"I'm excited because I've worked very hard and it's paid off finally," Bearden said. "It truly is a dream come true for me getting a chance to play for the University of Tennessee."
Bearden was named all-state, all-region, all-district and Leaf-Chronicle All-Area Player of the Year after her junior season after putting together one of the best campaigns every in the area by a softball player – batting .470, with 62 hits, 20 doubles, two triples and 18 home runs. She all drove in 72 runs.
"For a player like Haley that's always dreamed to go to UT and for them to want her is just that perfect fit and it couldn't have worked out for a better person," Clarksville High softball coach Brian Rush said. "It's been a thrill to watch her grow from Richview Middle School to here and she's just gotten better and better. As a coach there's nothing better than to watch your players improve and she's really done that.
"And going to Tennessee, she just going to get better. She's not peaked yet as a softball player and she's still growing and learning the game. We'll never see her best here at CHS, but going to the college level I think she will explode."
Bearden got on the Lady Vols radar early in her prep career.
"We went to a play day (in Knoxville) when I was a freshman, or sophomore, and I hit a home run over the fence and they really started watching me through summer ball," Bearden said. "After the national tournament in Colorado, and literally right as I got back home, I got a call from my summer ball coach asking me to call them. I called and they asked me to verbally commit.
"I was really excited when they asked because that is where I really wanted to go. It's amazing and a dream come true for sure."
Bearden has played almost exclusively as a catcher for Clarksville High the past three years, but the Lady Vols coaching staff have indicated she will have the chance to play in several positions to keep her power-hitting, left-handed bat in the lineup.
"They like me at first (base), at catcher and probably play some in right field," Bearden said. "But they really like me a first and they really like my hitting. They said I would definitely hit, so I'm excited for the chance."
Photo Gallery